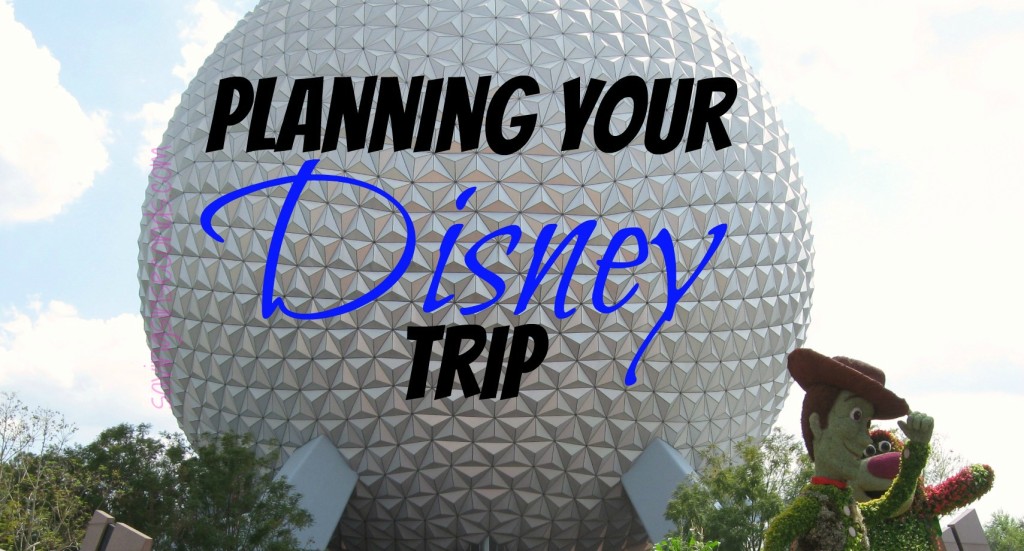 You might not have realized that there are different types of vacations.  At least, I didn't know this until I went to Disney.  Sure, you might check out TripAdvisor for some restaurant or hotel suggestions before you head to the beach.  You might even browse some apps to find local entertainment options.  Most people, though, don't spend a lot of time planning the actual days of their trip.  If you're headed to Disney *especially if it's your first trip* let me implore you to take the time to plan.  Disney definitely has a learning curve; ask anyone who has been there and they're likely to give you a bazillion tips and hints.  It really can be overwhelming.  Our family had a downright awful, exhausting first trip.  Yet we persevered and have visited several times since.  Each trip gets better than the last!  Let me share our mistakes and successes with you.
1.  Decide if you want to stay "on property."  That means your hotel is a Disney-owned hotel.  Many people stay off-site in order to get more space, better rates, or to visit other attractions like Sea World.  Our family always, always stays on property.  We stayed at a hotel that was "minutes from Disney" — seriously, just outside the gates, yet it still took a long time to get into the park.  Disney offers perks to those who stay on-site, including extra hours for their hotel guests and the ability to get a package deal with your room. For us, this is the way to go.
2.  Decide if you want the Dining Plan.  On our first two trips, we purchased the Deluxe Dining Plan.  Basically, this gives you the opportunity to eat at a sit-down restaurant 3 times per day (depending on the restaurant.)   This was a fabulous package and we loved it!!  However, it was way too much food for us.  We found that we were spending most of our day eating or waiting to eat.  So the next few trips, we bought the basic Dining Plan instead.  We like this one much better.  We typically pay out-of-pocket for breakfast and use our meal credits for lunch and dinner.   Many people will argue that the dining plan is too expensive; you can certainly eat for less if you choose to opt out of the meal plan and adhere to a stricter budget.  For us, though, the dining plan allows us the luxury of not worrying about the cost of meals during our trip.
3.  Make your dining reservations early.  The earlier, the better!  If you are taking your daughter to Disney for the first time and you want her to have the Cinderella's Royal Table experience, this must be booked well in advance.  Like, yesterday.   Other restaurants that can be difficult to get into are Be Our Guest (dinner) and any character breakfast.  If you are going soon and don't have the reservations you wanted, keep checking online — the window will open up if someone cancels.  I'll share the secrets on that in another post. If you stay on-property, you can use your hotel confirmation number to link your reservation to your vacation package.  See Tip #4 below, because it is directly related to your dining reservations!
4.  Decide upon your itinerary.   Which parks are the priority?  How much time will you devote to each park?  For our family, Hollywood Studios and Animal Kingdom are half-day parks.  We could spend multiple days at Epcot and Magic Kingdom.  I typically ask each person on the trip for their #1 must-do while we're there, and then I schedule that in.  If there are any special events (like the Mickey's Not So Scary Halloween Party, for example) I make sure we're at the corresponding park for that day.  Check the online crowd calendars for recommendations about which parks will be least crowded.   Depending upon how long your trip is, you also want to schedule in some down time.  That sounds like an oxymoron, but it's true — you'll be so tempted to run everyone ragged trying to enjoy it all, that you won't enjoy anything.
5.  Schedule your Fast Passes.  I can't emphasize this enough —- use the Fast Pass system!!  This is a way to hold your place in line for the most popular rides while you enjoy other attractions.  We really like the new option to schedule these in advance.  Some Disney-goers complained that the new system takes all the spontaneity out of the trip, and it kind of does.  But for us, it's a relief to know that we WILL get to ride that must-do ride because we've got an appointment for it.  We can take our time enjoying the rest of the park while we wait for our time.
Now, I'll have a Disney 101 post for each of these concepts down the road.  For now, this gives you a starting point if you're planning your first trip!
To keep track of our plans, my friend Michelle made a great spreadsheet for our first trip together.  I still use the basic idea for our trips now.  Disney has an online portal to store this information, but I like to have a hard copy as well.   I also print all of our confirmation numbers on this spreadsheet so I can access them in case my phone doesn't work.  Want to save it and modify it?  Here's the link.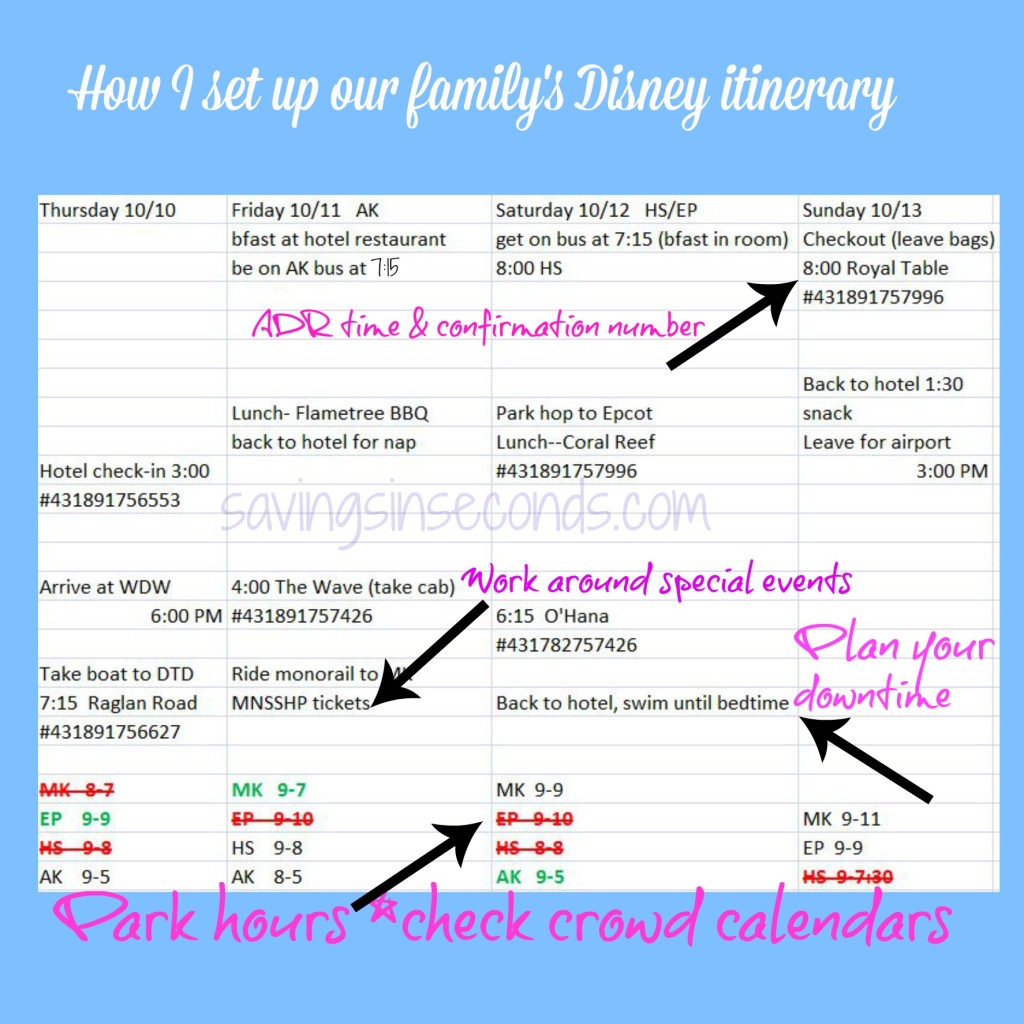 For me, planning our Disney trips is almost as fun as the actual trip itself!   I love thinking about what will make each of my family members happy.  Reading about new Disney sites and attractions gets me excited for the vacation.  When we get there, all the work has been done and I can just relax!
How much planning do you put into your vacations?
---