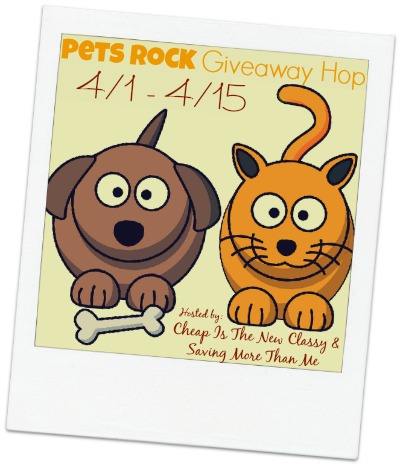 Welcome to the Pets Rock giveaway event hosted by Cheap Is The New Classy and Saving More Than Me. Raise your paw if you think pets rock!  In this giveaway, we're celebrating our pets by offering prizes just for the four legged (or winged…or whatever) kind.
The Savings in Seconds mascot, our little sweet pea, has become quite spoiled with her treats from Best Bully Sticks.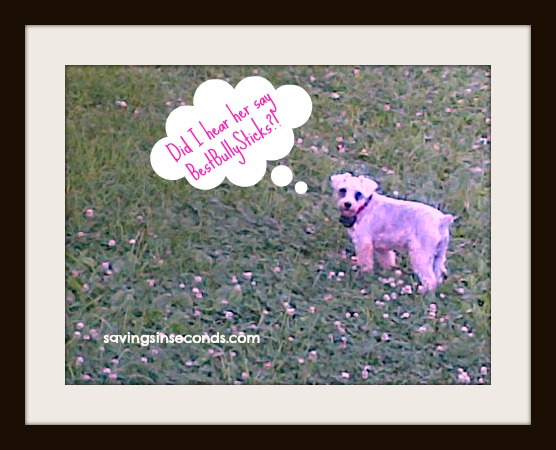 My dog could eat these treats all day long. They are quite long-lasting so a bag of 25 should keep your pet going for quite a while.  My dog likes to chew these outside (she takes them out as a toy) but she also settles down with one as a late-night snack when the kids have gone to bed.  They're natural which suits us just fine; our dog has some sensitivities and sometimes has reactions to storebought treats.  We've tried many of the Best Bully Sticks varieties and the sticks are our dog's favorite. We wholeheartedly recommend the odor free treats, by the way. The odorific kind are quite appealing to dogs but not so much to the human nose. Thanks to Best Bully Sticks, one lucky reader will receive a 25-pack of the odor free sticks (valued at approximately $36). To enter, visit the Rafflecopter form below. The giveaway is open to US readers ages 18+. Void where prohibited by law. Good luck!