Disclosure: I received this title as part of a book tour. Opinions shared are mine.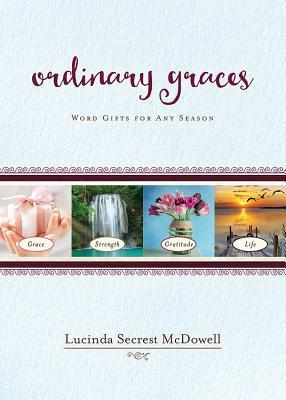 Remember when I told  you about Dwelling Places?  The same author, Lucinda Secrest McDowell, takes readers on a journey of the heart in her recently released devotional.  As of the past few years, announcing a "word of the year" has been the big trend for New Year's Day.  Ordinary Graces takes a similar approach, but makes the word fun last all year 'round.
McDowell writes from a mother's perspective, a friend's heart, and a woman's mind.  Her words are my thoughts — or at least, the ideas I wish I knew how to express.  Rarely will you see me recommend an ebook over printed format, but this is one that I'd like to access from my phone.  It's precious enough that I'd actually read it daily. These messages are short, most falling at just one page each.  Still, it's enough to set my day on the right foot so that I have emotional strength for what the daylight holds, and spiritual strength for anything that comes my way.
Are you ready to receive gifts of ordinary grace and abundant life from God and His Word? Join Lucinda in focusing on one word a day through devotional readings and short benedictions in her new book, Ordinary Graces. God has given us many gifts, such as his grace-the gift we don't deserve and can never earn. Promises from the One who declares we are already loved, already accepted, already created in his image. The question becomes, will we truly receive that gift? Will the reality of it actually change the way we think and notice and reach out?
Celebrate the release of Lucinda's new book and grace your holiday season with a $75 Etsy gift card giveaway!
One grand prize winner will receive:
A copy of Ordinary Graces
A $75 Etsy gift card
A grace bracelet
A set of Ordinary Graces greeting cards
Enter today by clicking the icon below, but hurry! The giveaway ends on November 24. The winner will be announced on the Litfuse blog.