Disclosure: This post contains affiliate links and I will be compensated if you make a purchase after clicking on my links. Opinions shared are mine.
I'll be haunting the DollarTree doorway several times over the next few weeks. You see, it's nearly time to attend packing parties for Operation Christmas Child! National collection week starts on November 14. The school where I teach hosts a packing party, and we'll be packing boxes to send through our church. If you're not familiar with that organization, I encourage you to find a drop-off location and join in on the fun. It's a great project for scouts, Sunday School classes, and neighborhood organizations. The DollarTree has everything we need to pack several boxes for various age groups and genders. I can even have my items shipped directly to my door for just $4.95!
There are 5 families in the small group we attend, and I think we'll likely put together a few boxes for Operation Christmas Child. It would be a great activity for us to do together!  If you'd like to host a party like this at your house, invite several families and ask them to bring small items to include in the shoeboxes.  The items can be shared among the party, so there's  no need to specify who brings what.  Just put it all together potluck-style and make as many boxes as you can!  As the hostess, I'll provide several items that can be included in boxes.  Here are some things I found at DollarTree that will be perfect to add to the boxes.
1. Practical items like cups and toothbrushes will see frequent use. Choose something colorful that a child would enjoy! DollarTree often has these items in multi-packs, so it's simple to prepare 5 or 6 boxes from one package. For example, these character cups come in a pack of 5.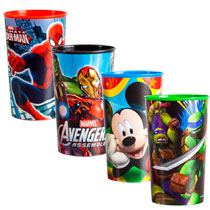 2.  Consider party favors!  Naturally engaging for kids, music makers and silly straws are perfect to pack in your shoebox.
3. School supplies are always good to pack in a shoebox.  Think beyond crayons and pencils.  Highlighters and erasers are welcome additions to any backpack!
4.  Craft supplies are inexpensive when you get them at the DollarTree.  You can easily customize these boxes to different age ranges for children.  For a younger child's box, include Play-doh or glitter glue.  For an 8 year old child, include pom poms, sticker art sets, and rubber stamps with ink.
5.  Teens might enjoy ribbon, jewelry, or even a pair of sunglasses.  Take a look down the personal care aisle and find pretty haircare items.
6.  Stuffed animals — my kids can never get enough of the plush! I can only imagine the smiles that these will bring to a little child across the world. To think that just $1 can provide such comfort.

What DollarTree items would you include in an Operation Christmas Child shoebox?
Thanks to DollarTree for partnering with us on the post.
---
 DOLLARTREE GIFT CARD giveaway bonus word list
10/27   ornaments
10/28   garland
10/29   crafts
10/30   candy
10/31   toys
11/1      stickers
11/2      puzzles
11/3      books
11/4      wrapping paper
11/5      cards
11/6      ribbon
11/7       lights
11/8      mittens