I"m the first to admit when I'm wrong.
When I agreed to review this book, I was initially put off by the synopsis.  While trying to stay open-minded, I'm pretty set in my ways when it comes to my faith.  After all, my minor in college was Bible.
I expected The Tragedy of Fidel Castro to be garishly sacrilegious, mocking Christianity via one of the most famous dictators of all time.  And I wasn't wrong about that….the book did mock Christianity but in a casual, generally non-offensive way.  The part I was wrong about was whether I would like the book.  It's hard to put aside one's preconceived notions, especially when the implied characters have such well-documented pasts.  There was enough consistency in the characters to keep their personae in the back of my mind (Castro's ubiquitous fatigues and cigars, for example.)  However, this is a satirical novel.  The situations are fictitious.  The characters aren't really who you initially think they are.   Once I was able to look past what I had in my head, the book was pretty enjoyable.
If you're a reader who can't look beyond what you have in your mind about God, Jesus, JFK, or Castro, I 'm not judging you.  I'm just not sure if you'll like this book.  On the other hand, if you are looking for a fairly entertaining read that will challenge your thinking at least on a surface level, then give it a try.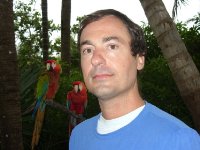 Check out the author's website (be sure to click "En" on the homepage if you need it in English) and you'll find that João Cerqueira  is well-educated and often published.  His works are filled with irony and a tongue in cheek humor.  Cerqueira draws influence from authors such as Flanary O'Connor and Erasmus.  It's no wonder that his novel is a bit philosophical in nature!