Disclosure: I received this book from Litfuse. Opinions shared are mine.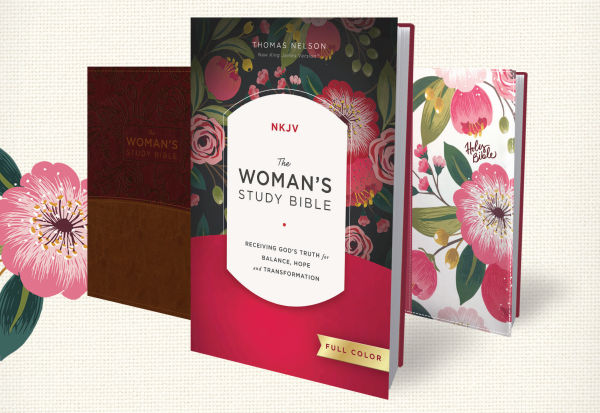 Our pastor challenged the congregation to read the Bible on a regular basis. While this might seem like an obvious activity for most Christian churchgoers, it's definitely one area where many busy people slack (myself included).  I was excited to receive the NKJV Woman's Study Bible for review because I knew that I could really grow with it. 
This Bible went along to church the first Sunday after I received it.  My daughter was particularly interested in the full-color pages.   It really is lovely.  The detailed cover and floral page accents make it a beautiful reading experience. I appreciated that the print wasn't too small — we could share the text during the sermon.  The pages seem thicker than the other Bibles I've owned, too.  Notes written in the pages don't bleed through to the back (using an InkJoy gel pen.)  That's a huge bonus for you Bible journaling readers!
What I liked most about the NKJV Woman's Study Bible was the way that it addresses specific areas of life within a woman's point of view.  The footnotes provided helpful information to put the cultural and social issues into context. The historical background for each book proved helpful to me as our small group started a study of James.  The only thing that would make this Bible better suited to my needs is if it were available in the ESV translation.  That's the version we primarily use at church.  Still, it's fine for my Bible reading, and it has helped me to be more motivated to read on a regular basis.
You're invited to receive God's truth for balance, hope, and transformation in the fully revised and redesigned The NKJV Woman's Study Bible. The new edition features a beautiful, full-color redesign and poignantly reveals the Word of God with Scripture insights and the contributions of more than eighty women from a wide variety of ethnic, denominational, educational, and occupational backgrounds. Special features designed to speak to a woman's heart appear throughout the Bible text, revealing Scripture-based insights about how godly womanhood grows from a woman's identity as a Christ-follower and a child of the Kingdom.
This spring, cultivate your heart's spiritual roots and enter to win the Grow in the Word Giveaway!
One grand prize winner will receive:
A copy of The NKJV Woman's Study Bible (winner's choice of design)
Enter today by clicking the icon below, but hurry! The giveaway ends on April 27. The winner will be announced April 28 on the Litfuse blog.