Disclosure: I received this books in exchange for an honest review. Post contains affiliate links (which makes it possible to host self-sponsored giveaways like this one). Opinions shared are mine.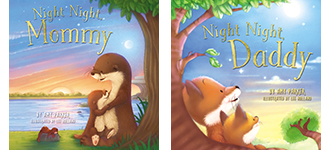 Bedtime is a precious moment….that can often tend to stretch out into an hour of routine-fulfillment.  Bath? Check. Snack? Check. Extra hug and kiss? Check, check.  Bedtime stories? Check.
If you're looking for a new book to add to your bedtime story rotation, check out the Night Night books. 
Night Night Mommy features a mommy-and-baby front cover. The gentle rhythm of the poetic pages is meant to be read aloud, which is the perfect setting for a bedtime story.  Each illustration has a quiet beauty, featuring some child-friendly part of the day.   What I liked best is that the rhyme is told from the child's point of view.  Ordinary situations, such as eating spaghetti and meatballs, become fun and memorable.  As you read with your child, discuss the fun events of your own day together.  The hardest part of this scenario (for me) is that we don't do "big activities" like visit the zoo or  even the library together on a regular basis. Those are special events for us, since I work full-time.  However, I do think the rest of the story is easy to relate to.
Similarly, Night Night Daddy has a wind-down kind of vibe.  You're sure to hear the kids finishing each rhyme for you, as the simple rhyme pattern ends with familiar words each time.  This book has a more whimsical feel, as the Daddy and Baby Fox enjoy pancakes for dinner (why not?) Also, the story tends to describe more engaging father-child interaction than the Night Night Mommy book.  It's an endearing story that will find its pages dogeared and curled from being read so often!
In addition to these two books, the winner of the giveaway will also receive a $5 Amazon gift card. Use it to purchase a soft throw to snuggle with as you read with your little one, or perhaps grab another book by author Amy Parker. The giveaway is open to US readers ages 18+. Void where prohibited by law. Good luck!