Disclosure: I received this book as part of the Litfuse tour. Opinions shared are mine.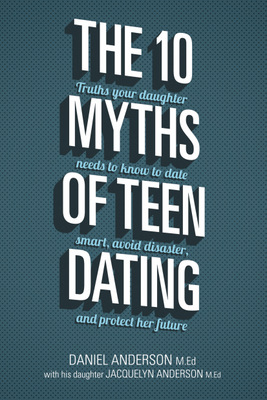 It's pretty fair to say that no matter what decade you grew up, dating rules have changed since then.  The The 10 Myths of Teen Dating is a great resource for teens and adults. 
I was rather boy-crazy as a teen; a self-induced drama fest took place on a weekly basis.  Thankfully, my little girl is more interested in school and activities.  She's comfortable with friends who are boys, but doesn't have an interest in something more right now.  You'd think that being a middle school teacher for nearly 20 years would give me the information I need to impart deep wisdom to my own kids, but teaching kids about dating isn't exactly part of the curriculum.  As she gets older, I want my daughter to feel like she has the tools she needs to stay afloat in the dating pool.  This book offers practical insight that addresses many of today's issues, and helps parents (like me!) learn how to navigate those churning waters.
What I appreciated most about The 10 Myths of Teen Dating was….
the personal stories. They are realistic and relevant, making it a little easier to bridge that gap between parent and child in a discussion.
the reflection questions at the end of each chapter.  These were thought-provoking.  They couldn't be answered with a simple "yes" or "no" so they make great fodder for conversation.
the candid discussion about sex.  Don't be shy about it when your teen asks.  Don't be shy about it because you NEED to have those talks.  It bothered me a bit that the author asked a student (however delicately) if she was having sex with her boyfriend.  I actually cringed at that!  As a parent, I would never want my child's teacher to have such a discussion.  However, if the girl had been talking with her parents about the boyfriend/relationship/sex, the teacher probably wouldn't have even been prompted to bring it up.  Bottom line — I want my kids to be able to talk with me about anything. That means I have to swallow my embarrassment a bit, and be honest.   Clearly my children were not conceived through some immaculate manner, so they know I know the deal.  Giving them anything less than the truth is hiding honestly from them.
Although the 10 Myths of Teen Dating is primarily geared toward girls, I think it has benefits for boys as well.  Many of the myths are struggles for boys and girls.  Also, imagine how helpful it would be for your son to know these things before he starts dating!   It's a great option for Sunday School groups, small groups, and accountability partners.  I'm definitely going to be reading this with my daughter so that we can keep those lines of communication open.
What's the biggest dating myth you struggled with?