Disclosure: This post contains my affiliate link. The opinions shared here are 100% mine.

Every kid I know loves umbrellas.  It's kind of funny since most grownups groan when it's time to pull one out.  Somehow when you're older rain just makes you want to curl up in bed and sleep.  When you're a kid, though, you just want to go outside and splash.  Isn't that one of the wonders of childhood?  Umbrellas represent fun and frolic.  Kids don't need umbrellas for adults because they're just, well, boring.  Check out the cute options at Kidorable and you'll want one for yourself.  The matching sets are completely perfect for kids and available in several different themes.  In fact, if you hear a fierce roar it must be my little Dinosaur.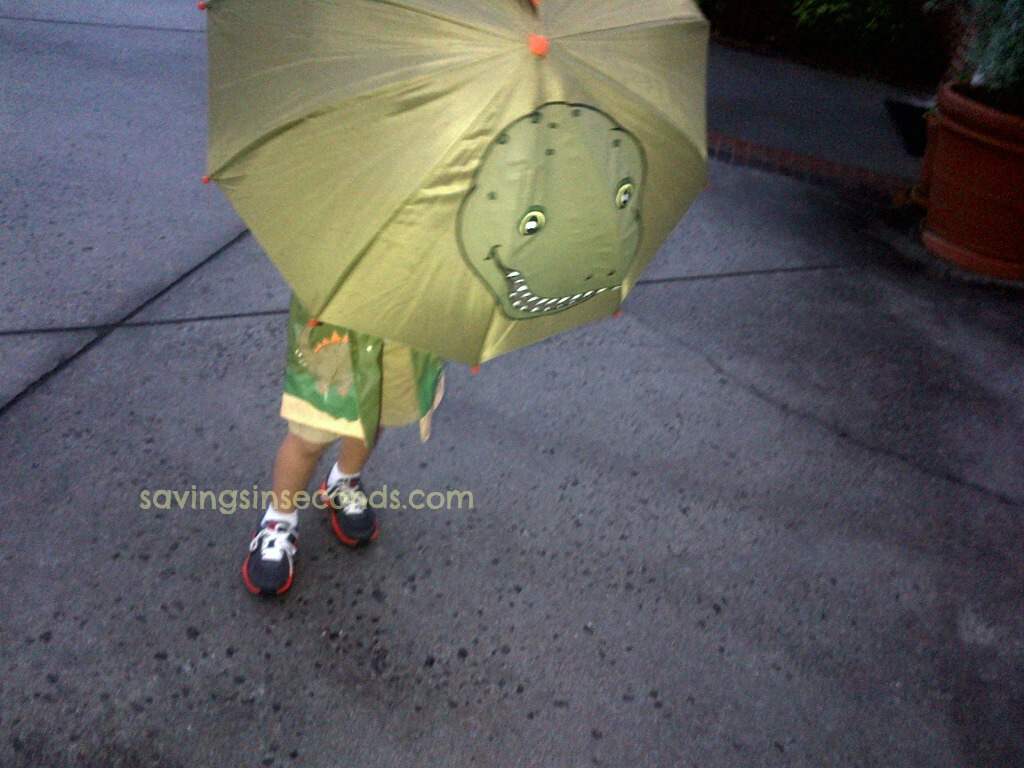 I took MANY pictures of this ensemble and this was the only one that was even remotely clear.  My son never stops moving; every picture is a green blur.  He was in heaven with the raincoat and umbrella from Kidorable.  The umbrella was so easy to open that he could do it himself.  That's always a bonus for a four year old.  I got the size 5-6 jacket which was long in the sleeves so I know there's plenty of room for growth in it.  He'll be able to wear that raincoat for a couple of years at least.  The details on this little jacket are so fun.  For example, the spikes on the dinosaur's back form the pockets.  The liner inside makes it so easy to slide on and take off.  We keep the raingear in the car for drizzly mornings like this.  After all, there's no better way to bring out the sunshine like playing in the rain!
Kidorable Coats are changing from PVC to a lined PU (same quality and materials as their Dora the Explorer and SpongeBob coats) and are currently available to ship. These are lighter, more comfortable and more attractive than PVC. They added a printed pattern liner and it makes their coats very special.  The nylon liner is water proof and matches the feel of the PU.   This is a jacket that can be worn daily spring and fall.  You won't need to save it for rainy mornings!    Kidorable umbrellas all now have a fun custom handle.  This sets Kidorable apart from other kids' umbrellas and, in my opinion, makes the umbrella a bit easier for little hands to hold.  At the price point of $13.95, they're even less expensive than the umbrellas I bought at the department store. Win-win, don't you think?   To put the whole outfit together, you'll want to get the boots, too.  Kidorable boots now have a custom printed lining.  The fun custom sole adds to the cuteness.  
A friend of mine had a fun rhyme for the Christmas gifts she gets for her kids.  She gets them 4 gifts — Something you wear, something you read, something you want, something you need.   Isn't that cute?   Getting your little ones a set from Kidorable is one Christmas gift that's sure to make them smile.   You might just WISH for a rainy day!