Flashback!  This was originally posted on October 15, 2011.  I've updated it!
If you're looking for a low-cost Christmas gift (who isn't?!) be sure to sign up at Disney Movie Rewards.  It's a free program that makes it easy to grab some rewards.  If you have kids at home, chances are good that you have some points sitting around your home.  Check inside Disney movie cases that you have (including Baby Einstein videos).  If you go to the movie theater to see a Disney movie, you can earn reward points on those too!     Just save your tickets and upload a picture to the website.  Now redeem those points for DVD's, music, and other goodies.
Sound easy?  It sure is!!   Get started tonight and see what you can earn!
When I first signed up, I looked through our DVD shelf and scored about 2000 points in one night.  You can also earn points by answering surveys, entering codes, and completing easy tasks such as signing in through Facebook. There are often printable coupons there too, so you can also save on movies you're buying as Christmas gifts. Many rewards are available for free.  You can download printable puzzles, stickers, and iron-on projects! My kids love to do these little freebies on the weekends or rainy days at home.  This is a great way to pass the time on a road trip, too!
Freebie items like this mini-book are great to tuck in your purse.  You never know when you'll be sitting in a waiting room with a bored little one.
Today I received an email letting me know that my points were about to expire.  It seems that I had 2 different accounts linked to my email.  I probably forgot the password and just opened a new account at some point.  I had around 800 points that were almost at expiration, so I redeemed them today for a movie.   Meet The Robinsons was available for 600 points with free shipping (or 480 points + shipping). I'm saving this as a stocking stuffer! The same DVD is currently $14.96 on Amazon, so this is a great deal!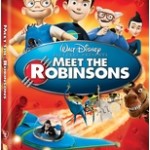 Brother Bear 2 and Tinkerbell are also available for 550 points each; both are priced at $9.96 on Amazon right now!  Grown-up movies are listed, too. Sometimes there are gift cards available!  You can also snag some collectibles and accessories.  This is a great way to fill up your gift closet without spending any extra money.  When those DVDs arrive, don't forget to enter their codes for even more points!  Be sure to read your monthly newsletter, which often contains bonus points.  Occasionally they'll also offer a survey that can be completed for 50 points or so.  Also, there are frequent sweepstakes offered on the site with one free entry per member.
Do you have any movies sitting around that could earn you some points?  Check now and start your holiday shopping — for free!
(I received no compensation for this post.  The opinions shared here are 100% mine.)