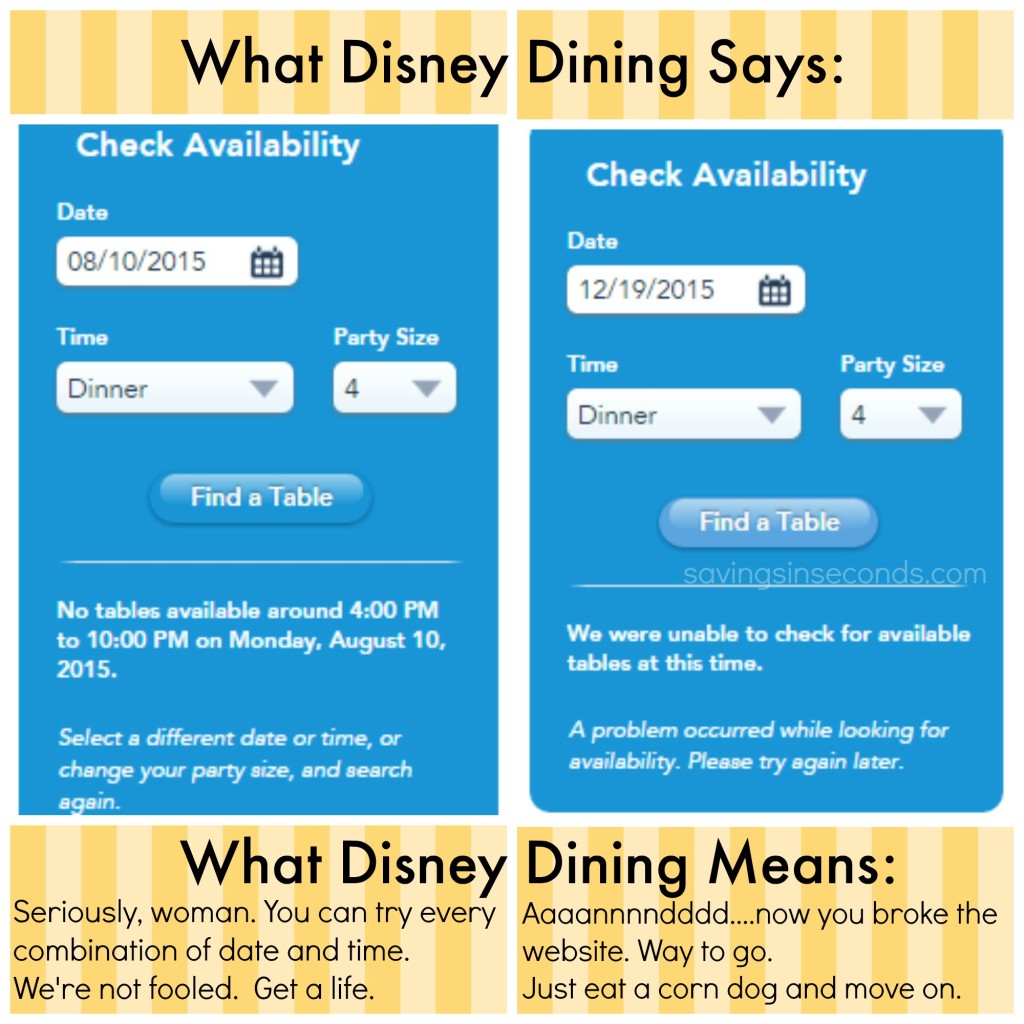 For many people, going on a Disney World trip is a once-in-a-lifetime experience.  Parents scrimp and save to make the dream a reality, then spend hours on the planning process to make it perfect.  In the past few years, the online dining reservation site has become super popular.  For those hard-to-get restaurants, such as Be Our Guest and 'Ohana, you've got to do your homework to make sure your family will have a table.  You can't count on walking up and getting in the door. Paired with free dining promotions, and it's really tough to grab those reservations early.
So what to do? Here are some options!
1.  If you plan your Disney trip WAY in advance, you can reserve up to 180 days in advance of your arrival day. It sounds like it would defy logic to plan a vacation, but for me, it's relaxing to know what we'll be doing (and where we'll enjoy meals) in advance.  Staying on Disney property gains you an extra 10 days of reservation time!  Take advantage of this if you can; we never seem to plan our trips this far in advance, so I've never taken advantage ofo the opportunity.
2.  Take a look at the menus before you head out to the parks.  It's helpful to know which restaurant or kiosk will serve some well-timed chicken nuggets for your kiddo.  If you've got a picky eater in the party, glancing at the menu might save a disastrous mealtime.  Considering that you pay a pretty penny for Disney World meals, you want to make sure that you can all find something.  My favorite resource for menus is AllEars.
3.  Sign up for a sniping service to help you look for open reservation slots. I started using Disney Dining Scout, and have been pretty happy with it. There's a free version, but I paid the extra ($5.99, I think?) for additional searches.  Personally, it was worth it.  Dining Scout has sent me 3 texts about open reservations that I really wanted, and I was able to claim 2 of them.  I had a reservation scheduled for the third, and the delay in cancelling meant that someone else grabbed it.  I'm still somewhat obsessive about checking the reservation site throughout the day, but this gives me a little breather.
4.  Check again before you give up — as late as the day of your trip!  Several years ago, we arrived a whole day earlier than planned. I called when we were about an hour outside of Orlando and was able to get a reservation for that day's lunch. It was so easy!  Many people cancel their plans at 45 days out (when full payment is due) or 24 hours before their meal (otherwise they'll be charged a cancellation fee.)  If you've got a place that you just can't live without, it may be worth it to stalk the site for a little while.
If you're planning your family's Disney trip, there are lots of ways to save time and money while having the time of your lives!