Disclosure: I received this book to review. Opinions shared here are 100% mine.
Looking for a new middle school book to introduce to your class or your homeschooled kids?  Lucas Mackenzie and the London Midnight Ghost Show is it!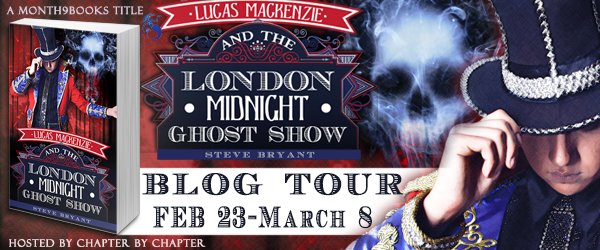 This book takes an imaginative spin on the wildly popular magic theme with the card-trick kind of magic.  How fun! 
Lucas Mackenzie and the London Midnight Ghost Show is rich with literary devices.  You could base an entire lesson on figurative language on its chapters, with examples such as alliteration (appreciative applause), onomatopoeia (Ka-boooooooooom!)  and personification (the words danced).  Introduce Spanish and French vocabulary, the nuances of regional dialects, and inference skills, all while captivating your young audience.  Supplement the story with a side studies on circus history and geography.  Introduce classic literary figures such as Shakespeare and Edgar Allen Poe.  Take a moment for artwork and create the posters described in the story.  Even Disney fans are rewarded for reading this book.  See all the possibilities?
There are some supernatural events that take place in the story that might conflict with Christian beliefs.  Concepts such as Ouija boards and ghosts are mentioned in the story. While I'm pretty relaxed about this sort of thing when it comes to a fictional story, I realize that not all readers will be. Lucas Mackenzie and the London Midnight Ghost Show has a deeply engaging story line that is high-interest.  Since it's only 173 pages, it's perfect for a mini-unit or a good read for a hesitant reader.  Give it a try and see what you think!
Check out the rest of the tour and see what other bloggers had to say about this cool book.
Purchase here: Chapters Indigo | Amazon | Barnes & Noble | Kobo | TBD | Indiebound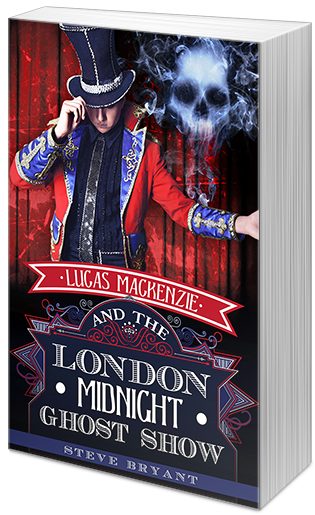 ABOUT LUCAS MACKENZIE AND THE LONDON MIDNIGHT GHOST SHOW
 Title: Lucas Mackenzie and the London Midnight Ghost Show
Publication date: November 18, 2014
Publisher: Month9Books, LLC.
Author: Steve Bryant
Lucas Mackenzie has got the best job of any 10 year old boy. He travels from city-to-city as part of the London Midnight Ghost Show, scaring unsuspecting show-goers year round. Performing comes naturally to Lucas and the rest of the troupe, who've been doing it for as long as Lucas can remember.
But there's something Lucas doesn't know.
Like the rest of Luca's friends, he's dead. And for some reason, Lucas can't remember his former life, his parents or friends. Did he go to school? Have a dog? Brothers and sisters?
If only he could recall his former life, maybe even reach out to his parents, haunt them.
When a ghost hunter determines to shut the show down, Lucas realizes the life he has might soon be over. And without a connection to his family, he will have nothing. There's little time and Lucas has much to do. Can he win the love of Columbine, the show's enchanting fifteen-year-old mystic? Can he outwit the forces of life and death that thwart his efforts to find his family?
Keep the lights on! Lucas Mackenzie's coming to town.
ABOUT STEVE BRYANT:  Steve Bryant is a new novelist, but a veteran author of books of card tricks. He founded a 40+ page monthly internet magazine for magicians containing news, reviews, magic tricks, humor, and fiction; and he frequently contributes biographical cover articles to the country's two leading magic journals (his most recent article was about the séance at Hollywood's Magic Castle).
Connect with the Author:  Website | Twitter | Goodreads