Disclosure: I received this book as part of the blog tour; post contains affiliate links. Opinions shared are mine.

The Lost Causes could have been a 1980s movie starring Molly Ringwald.  Well, if Molly Ringwald had a black-hair buzz cut.
I think it's interesting that this book is classified under the teen loners and outcasts genre.  Think of traditional outcasts stories (like, The Outcasts?) and add a paranormal twist.   In my years of working with teens, a definite pattern can be observed when it comes to social groups.  Kids really do tend to "find" each other whether it's through a common activity or the shared perception that they're on the fringes.
The characters in The Lost Causes have well-defined roles to play.  Immature, insecure, intelligent or not….it reminded me a little bit of the X-Men or similar superhero stories, where each character uses his strengths or her talents. What made them special was the way that each of them came from different walks of life.  The sad part was the feeling that these kids really might be on the outside taking care of business, while the rest of us (me included…) could just be sitting unaware of the dangers in the world around us.
The Lost Causes includes a fair amount of mystery while also appealing to teen sensibilities.  Overall, it's an engaging read that will keep fans guessing about the next plot twist!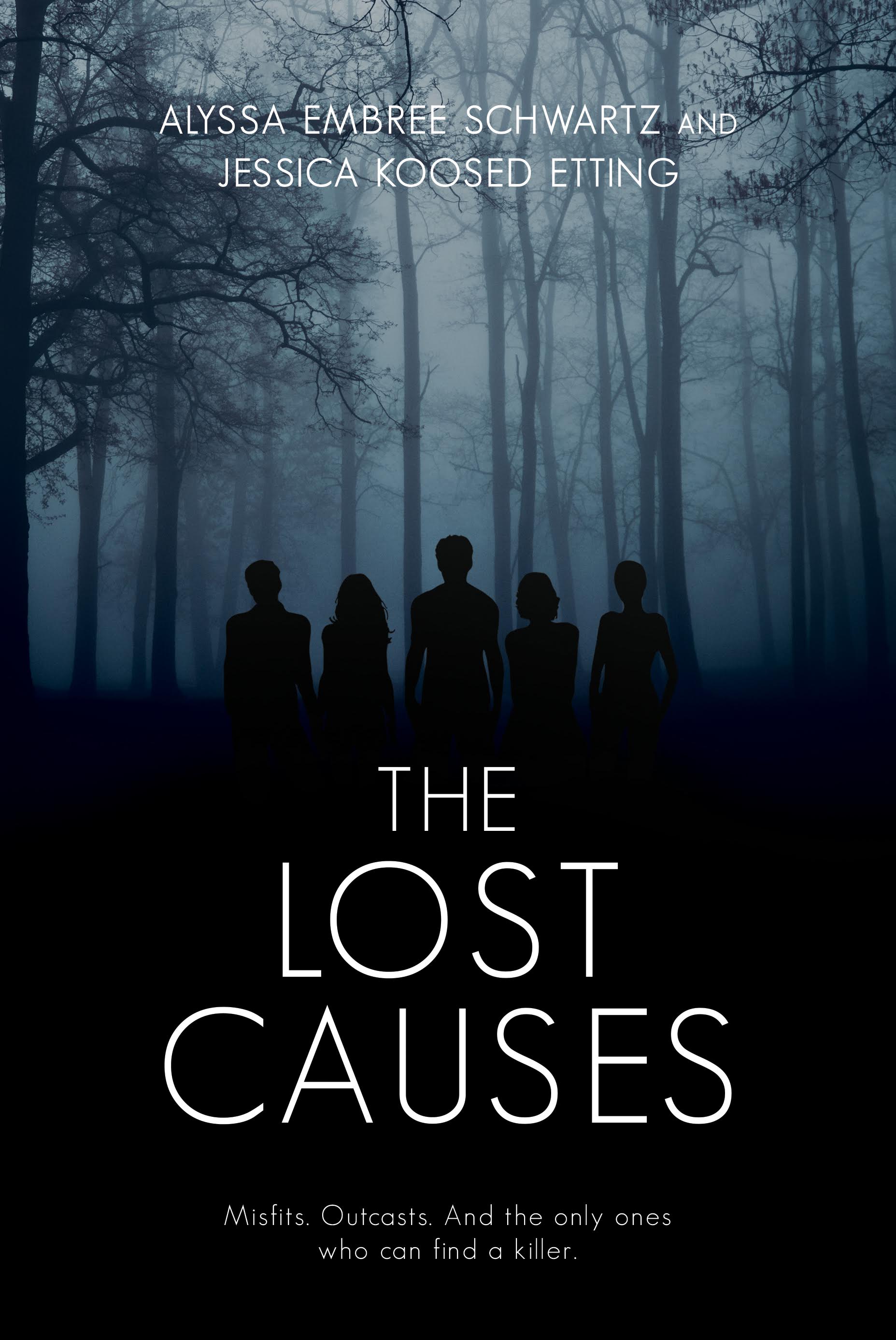 Giveaway Details:
(3) winners will receive a finished copy of THE LOST CAUSES, US & Canada.
Ends on September 19th at Midnight EST!
a Rafflecopter giveaway

About The Book:
Title: THE LOST CAUSES
Author: Jessica Etting & Alyssa Schwartz
Pub. Date: September 5, 2017
Publisher: Kids Can Press
Pages: 344
Formats: Hardcover, eBook
Find it: Amazon, B&N, TBD, Goodreads
They're the kids that no one knows — or no one wants to know. The rich depressive, the OCD chick, the hypochondriac, the drug abuser, the athlete with anger management issues. All chosen for intensive group therapy because they're out of other options. They're lost causes, the therapist tells them. She promises this support group will help them heal.
There's only one problem. She's not a therapist. And that water she offers? It contains a dangerous serum that gives each of the kids a psychic power.
Suddenly, they can think clearly, speak to ghosts, see the past, even move objects with their mind. Their earlier problems have vanished, but their new freedom comes with a price.
Sabrina, Gabby, Z, Justin and Andrew are to help the FBI solve the grisly murder that has rocked their small town. Their new powers will help them uncover clues and follow leads that have eluded the authorities. Their outsider status gives them the perfect cover.
But the same traits that make them top investigators also make them vulnerable. As they close in on the murderer, they expose a much larger conspiracy that puts them directly in harm's way and makes them wonder who — if anyone — they can trust.
About Jessica and Alyssa:
Hi, we're Jessica & Alyssa!
We're best pal writing partners who have been obsessed with reading since we each used to hoard The Babysitters Club books in our bedrooms across the country from one another in Los Angeles (Jess) and Virginia (Lyss).
We finally met on the first day of college at USC, long enough ago that Rocket Dog platform flip-flops were fully acceptable night-out shoes and our biggest life decision was whether to watch Dawson's Creek or Beverly Hills, 90210 on Wednesday nights (90210, obviously).
​We started writing together right after college when we took the "write what you know" adage to heart and wrote a TV pilot that sold to Fox about how life sucks when you're 22, broke and a freshman in life. We spent the next many, many years writing for TV and film before we jumped into the book world, a major lifelong dream of ours.
​The number one question everyone always asks us is how we write as a team so here's the rundown…After being best friends and writing together for so long, our brains now officially occupy a shared space. Ninety percent of the time, we know what the other person is going to say before she even opens her mouth. Our husbands think it's creepy, but we think it's awesome. After this many years, we've honed it to a pretty efficient process….except for when we digress on Facetime to catch each other up on the few hours we weren't in contact with each other (which takes especially long if we've both finished the same book and need to discuss, if one of us needs justification for an argument we picked with our husband or if we've discovered a new hair product, self-tanner or blog).
Website |  Twitter | Facebook | Intstagram
Tour Schedule:
Week One:
9/4/2017- The Autumn Bookshelf– Interview
9/4/2017- Kourtni Reads– Review
9/5/2017- Morbid Romantic Reviews– Guest Post
9/5/2017- Mama Reads Blog– Review
9/6/2017- Owl Always Be Reading– Excerpt
9/6/2017- What the Cat Read– Review
9/7/2017- BookHounds YA– Guest Post
9/7/2017- Bibliobakes– Review
9/8/2017- Book Princess Reviews– Interview
9/8/2017- Savings in Seconds– Review
Week Two:
9/11/2017- Smada's BookSmack– Excerpt
9/11/2017- Jessica's Reading Room– Review
9/12/2017- Portrait of a Book– Interview
9/12/2017- Texan Girl Reads– Review
9/13/2017- Cindy's Love of Books– Review
9/13/2017- A Gingerly Review– Review
9/14/2017- Comfort Books– Interview
9/14/2017- The Desert Bibliophile– Review
9/15/2017- Rainy Day Reviews– Excerpt
9/15/2017- Here's to Happy Endings– Review
Thanks to Rockstar Book Tours for allowing me to review this book!