Disclosure: Many thanks to Cents of Style for sending me these items to wear! **This post contains affiliate links and I will be compensated if you make a purchase after clicking on my links. The opinions shared are mine.
Now that the morning are a bit chilly, you might find yourself wondering if you could get away with wearing your winter coat. Don't break it out just yet!  Get through these cool temperatures wearing the fabulous Long Sleeve Swing Dress.  I got to enjoy this dress with one of my sweet furbabies today.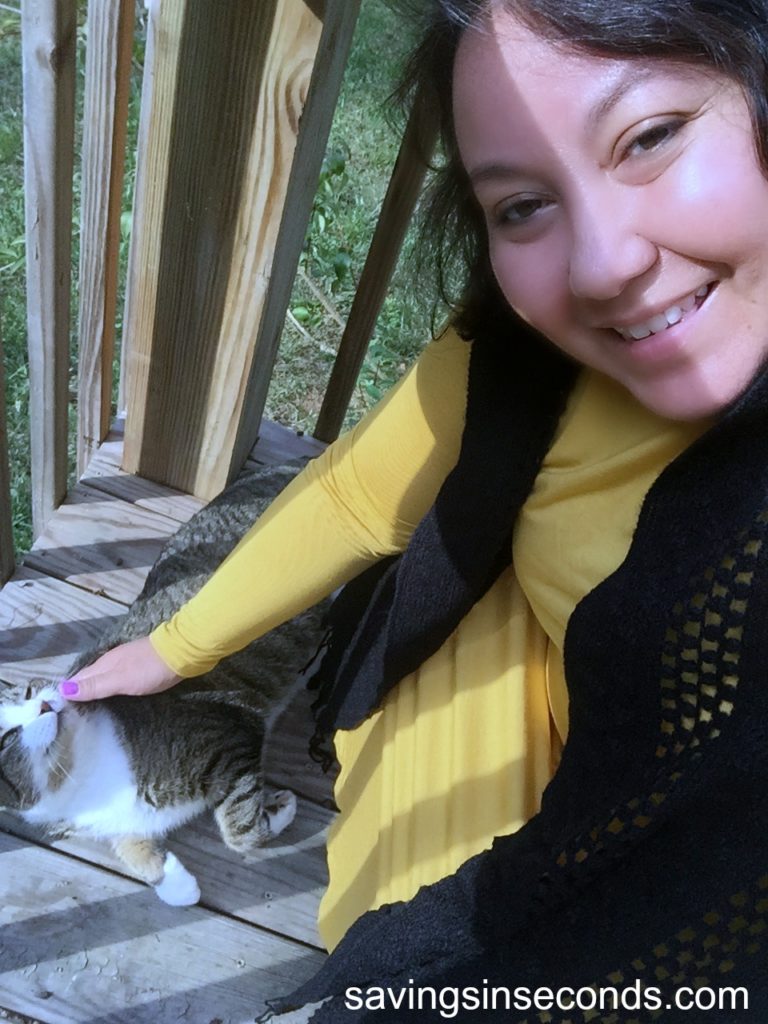 We adopted two cats this summer, a few short weeks after our sweet Pepper cat was killed by a car.  These cats belonged to a dear friend who moved out of the country.  Tigger, the one in the photo above, was prickly and testy when he adjusted to our home.  It took him a couple of months to get used to us.  Once they acclimated to our home, we eventually allowed the cats to start going outdoors for a little while each day.  They really enjoyed the outdoors in their old home, so this was a big thrill for them!   Tigger loves to be in the sunshine. When I went outside to see him this afternoon, he was so happy to have company in his lair. He rolled around on his back, meowing and purring to beat the band.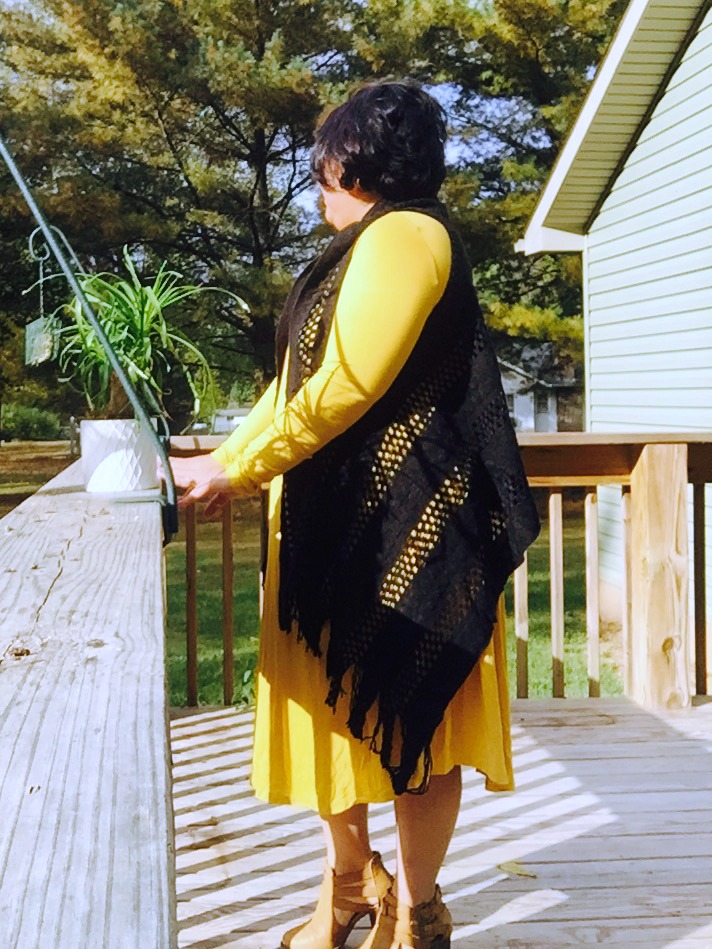 The long sleeve swing dress is easy to pair with items you already have in your closet.  Wear it with ballet flats for a casual look, or with heeled booties like this for on-trend style.  It looks great with pendant necklaces or blanket scarves.  I wear a lanyard every day, one that holds my teacher ID, so I don't like to wear something else around my neck.  Instead, I paired the long sleeve swing dress with the Denise Open Knit Vest Kimono.  This versatile piece gives just enough of a layer to create interest, but doesn't add bulk to my outfit.   The boho handkerchief fringed hem is the right length for the dress, adding a slimming factor with the angle of the cut.  Bonus: the kimono will be just right with jeans, too.
On the chilly mornings when I wait for Tigger to make his way back home, the long sleeve swing dress will keep my heart warm!
PS.  While I browsed the Cents of Style sales, I also purchased this adorable Winnie Striped Shawl Scarf.  It will look awesome with my dress, don't you think?   It's only $9.95 right now!
Not sure if the long sleeve swing dress will work for your body shape or skin tone?   Don't fret…it is one of those one-dress-flatters-all kinds of things.   Watch the video and see what I mean!

This weekend, use coupon code DRESS2016 at checkout.  It will make each dress $21.95 + FREE SHIPPING in the cart.  What a great price point for gifts!!
Please share YOUR fall fashion story with us!