In our town, there's a local legend about haunted Sensabaugh Tunnel.  It's the rite of passage for some teens, who try to prove their YOLO theory by visiting the graffiti-filled tunnel the way that we used to do "Bloody Mary" in the mirror at slumber parties.  Like Kingsport, the town of Mattingly has a spooky place called Happy Hollow.  It's said that The Devil walks in Mattingly;  Happy Hollow is so scary that only the sheriff would investigate when something awry happens in the creepy wooded area.  Fast forward twenty years and it doesn't appear that things have become any less scary! 
When I received this book for review, I filed it in my mind as a murder mystery.  The Devil Walks In Mattingly goes so far beyond that in its depth that I didn't even really consider who was the murderer.  The important thing was how so many people perceived their own responsibility in the death of young Phillip.  This story reminds me how glad I am that I didn't stay in my hometown as I grew up.  Everyone seems to know Kate and Jake's business, whispering behind their backs about the mistakes they made as kids.  Both of them try to find some kind of redemption for past sins by making their adult lives something to be proud of.  Still, they're haunted by old ghosts.  The past is catching up with them.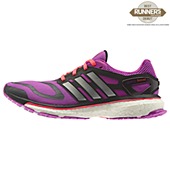 Part of the story centered on the tracks made by a certain shoe.  It was intriguing that someone can be tracked by their tread!  Now that spring is here, our family takes a lot of walks together.  I wonder what kind of trail we're leaving behind?  My shoes are probably not giving much of a track because they're old. Time to get some new ones, maybe these Women's adidas Energy Boost  will be my next shoe.  If the tread in the book was left by Adidas, they might have been able to find the person more quickly!
The story moved rather slowly by the middle and I wasn't sure I would finish it.  Author Billy Coffey has a beautiful, mesmerizing way of writing that kept me intrigued.  I did reach the end of the book and am so glad I did; the final chapters were stunning.  I loved the way Coffey worked his way into the minds of his characters, giving each one an objective view.  Although this book is from a Christian publishing group, it's definitely not an evangelical read.  In fact, it's a little bit on the Stephen King side without the bad language and graphic scenes.  I highly recommend this book if you like feeling a little thrill of fear while reading!
Billy Coffey is celebrating his new book, The Devil Walks in Mattingly, with a Kindle Fire HDX giveaway.
One winner will receive:
A Kindle Fire HDX
The Devil Walks in Mattingly by Billy Coffey
Enter today by clicking one of the icons below. But hurry, the giveaway ends on April 5th. Winner will be announced April  7th on Billy's blog. Watch Billy give the backstory of the book here.
Don't miss a moment of the fun; enter today and be sure to stop by Billy's blog on April 7th to see if you won.