Disclosure: I received this DVD as an NCircle Entertainment ambassador. Opinions shared are mine.

Summer road trips and lazy mornings call for new DVDs to watch.  This summer, get The Little Prince from NCircle Entertainment!  My kids watched this DVD on a weekend morning.  At first, we were all taken aback by the story. It's very different from what I expected!  It's an interesting introduction to sci-fi for kids, with the main story taking place on a fictional planet.  Fantasy elements abound, as one of the characters is a talking flower, and there are many speaking animals. The characters learn many core values of friendship, such as trust and loyalty.  I wasn't familiar with The Little Prince before, but will be looking for more episodes in this series!  Thanks to NCircle Entertainment, one lucky reader will win 2 DVDs – The Little Prince: Planet of Bubble Gob and The Little Prince: The Planet of Bamalias.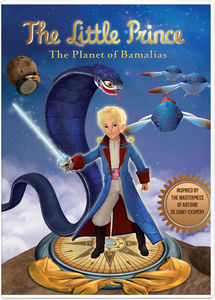 Story summary: Accompanied by his trusted companion, the Fox, the prince travels from planet to planet, braving danger and discovering vast and enchanted worlds. On Planet Bamalias, the Little Prince will go through a terrible experience – he will lose his memory! Fox is trying everything to help the Little Prince recover his lost memory. Fox tells him their story: why they are here, planet-hopping chasing the snake and how it all started. Slowly the Little Prince remembers… but will he remember in time to save the Bamalias constellation?
Enter to win these 2 DVDs via the giveaway form below. The contest is open to US readers, ages 18+. Void where prohibited by law. Good luck!