Now that the kids are headed back to school, it'll be time to sign those reading logs again!   My son has reading homework every night; he's pretty bored with the books we already read a zillion times.  He really likes the new Little Critter board books from Tommy Nelson because they're so easy for kids to relate to!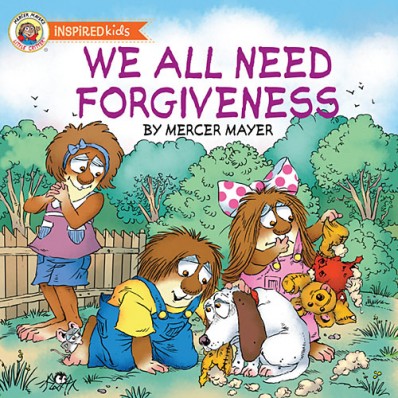 The first book we received for review was We All Need Forgiveness.   The book uses biblical principle to explain why forgiveness is needed for both the victim and the wrongdoer.  My son's biggest battle is apologizing when something is an accident.  He seems to feel that "I'm sorry" only needs to be said when an injury was intentional.  However, this Little Critter book helped me to explain that offering forgiveness helps the injured person to get over the emotional pain, too.  That's all pretty deep for a 5 year old to understand, but we're working through it!  And believe me, we have lots of opportunities to practice!  Little Critter does some typical things to make his friends angry.  As he takes a little self-initiated time out, he realizes that everyone needs forgiveness.  The only complaint that I had with this book was that Little Critter never actually takes the step of apologizing to those he hurt.  We needed to discuss that important process because the words that are said, and how they are said, are so important!
The second book we received was Being Thankful.  It's really hard to teach gratitude because kids are often so self-centered.  They are raised with the impression that the adults in their lives are there to love, serve, and sometimes obey them.  Now, that's all well and good when the child is an infant but when they're old enough to ask for things (toddler age, perhaps) it's time to introduce the habit of saying "Thank you."   I've tried to impress upon my children the concept of being thankful for our blessings.  When we see the rain, for example, we say a prayer of thanks because we have an umbrella to keep us dry.  We thank God for the rain that will provide water for us to drink, for the flowers to grow, and to fill up  our pool.  Those examples of being thankful might sound silly but it's important to stick with the concrete examples when kids are learning to be grateful.  Little Critter helped to make that lesson completely relevant to my kids.    Let me suggest that when you read this book with your child, try to have a little momento to use as an object lesson.  In the book, Little Critter receives a special rock from his grandma as a reminder to be thankful.  It's an easy thing to do and will make the book more meaningful for your child.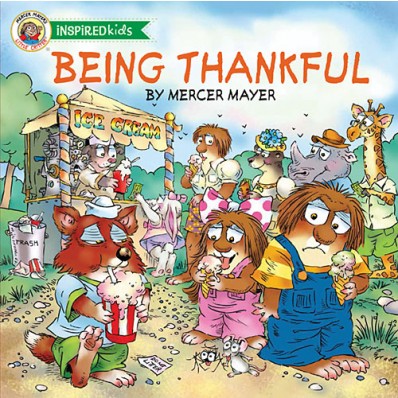 Would your kids enjoy reading the Little Critter books, too?  One lucky Savings in Seconds reader will win a copy of both books.  The giveaway is open to US readers ages 18+. Void where prohibited by law.  If you have a chance, please thank our sponsor (showing that gratitude again!)  Good luck!