Disclosure: I requested this book from Blogging for Books. Post contains affiliate links; opinions shared are mine.
Normally when I settle down with a book, it requires me to carve out time that I'd otherwise spend doing something productive like laundry or cleaning.  In other words, it's gotta be worth it!  That's why most of my book picks are "mind candy" — they help me escape from the reality of the daily grind.  As refreshing as it is to always have a happy ending, sometimes it's just as rewarding to hear a story that mimics real life. If realistic fiction is your genre, check out Life After by Katie Ganshert (available 4/18/17).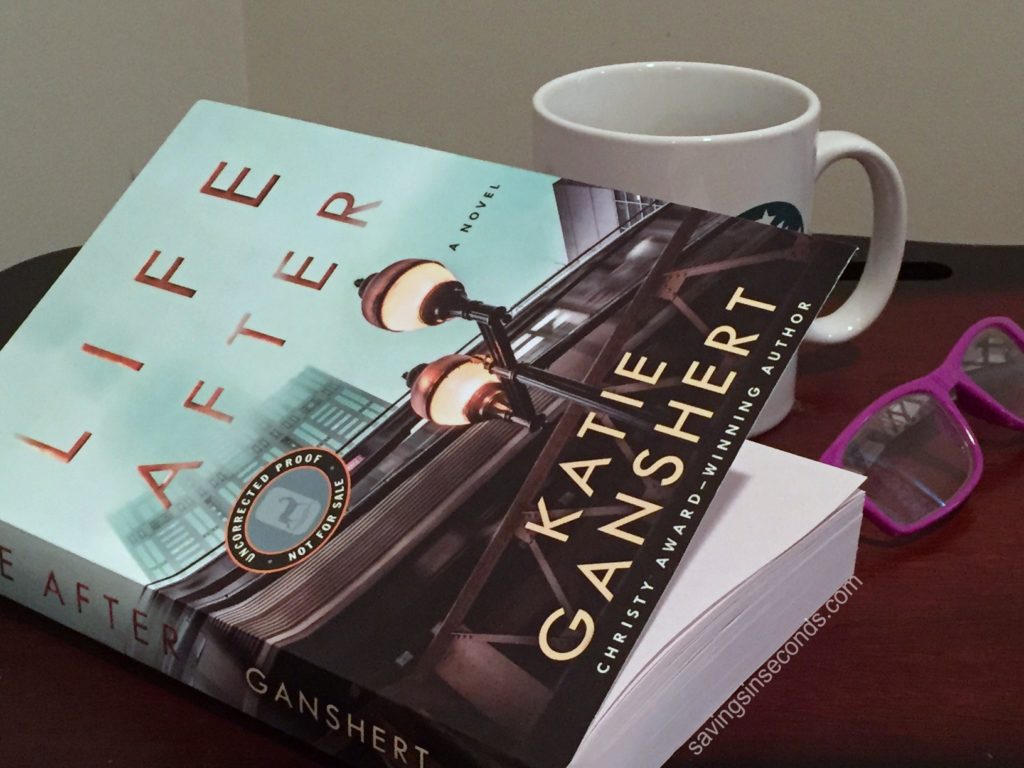 The story is based on a cast of characters who were all impacted by a train bombing.  One lone survivor, Autumn Manning, suffers from survivor's guilt.  As her world slowly implodes, she struggles to get back to her old self.  You can't help but love her and want the best for her.  There were adorable characters, such as precious Tate (reminded me so much of my son), the steadfast father figure (Dad the cop), and even a Big-Birdesque secretary.
I found this book to be completely engrossing. My tender heart broke, swelled, warmed, and flipped throughout the amazing journey.  Author Kate Ganshert writes in such a beautiful style; the words just soaked into my mind.  The character dynamics were so true to life….the sibling relationships, marital woes and joys, desire to appear "normal" to the world at large.  Above all, Autumn's gradual adjustment to life after the disaster showed true determination and strength.  I savored every page….every word.
One thing that surprised me about Life After was the near-absence of explanation as to "WHY."  Though the bomber was subtly mentioned, the reason for the bombing wasn't an important part of the book.  That question droned on in my mind, but perhaps a survivor of such a tragedy wouldn't dwell upon the why.  This topic was touched on, but I never felt complete closure about it.
There are few books that have shattered and rebuilt my soul the way that Life After did.  Ganshert revealed just enough information at just the right moments.  It made me feel like part of the book and made the story seem so real.  This was one of the best books I've read in a very long time!