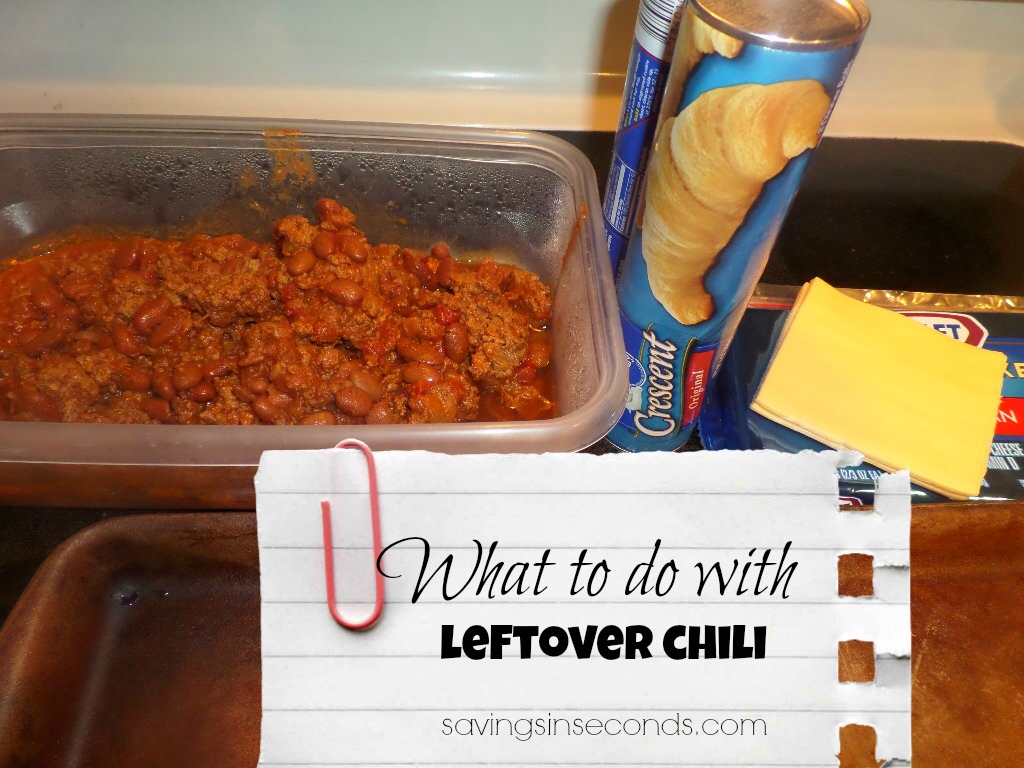 Determined to limit our household food waste, we've been trying to use up the last bits of food in our fridge.  This is not only because of trying to stick to a budget, although it helps in that area too!  We're also trying to teach our children to be good stewards of our resources, which includes the food we've purchased.  This morning we woke up with a minor crisis in the house (my son has a huge splinter lodged in his nailbed) and my husband took him to the ER.  Thankfully my son chose my husband to take him because I'm not sure my mama's heart could have handled it!!  In the end, the doctor decided to do nothing and let's see if it grows out. In celebration, I wanted to make something hearty for the boys so they'd have a hot meal when they got home.  There was this lone bowl of leftover chili in the fridge that wasn't going to polished off, so I decided to make it into something a little more hearty.  
We don't often have a problem with leftover chili at our house.  My family usually finishes it off, but maybe I made an unusually large pot this time or something.  Normally we would serve the chili on top of a bowl of noodles, baked potatoes, or chili dogs.  Today though, these two cans of crescent rolls that were a few days past their expiration date called to me; I wanted to use them up, too.  Behold these little handheld sandwiches with a chili filling and a slice of melted cheese inside.  It couldn't have been easier or more delicious.  Isn't it great when one dish makes two full meals?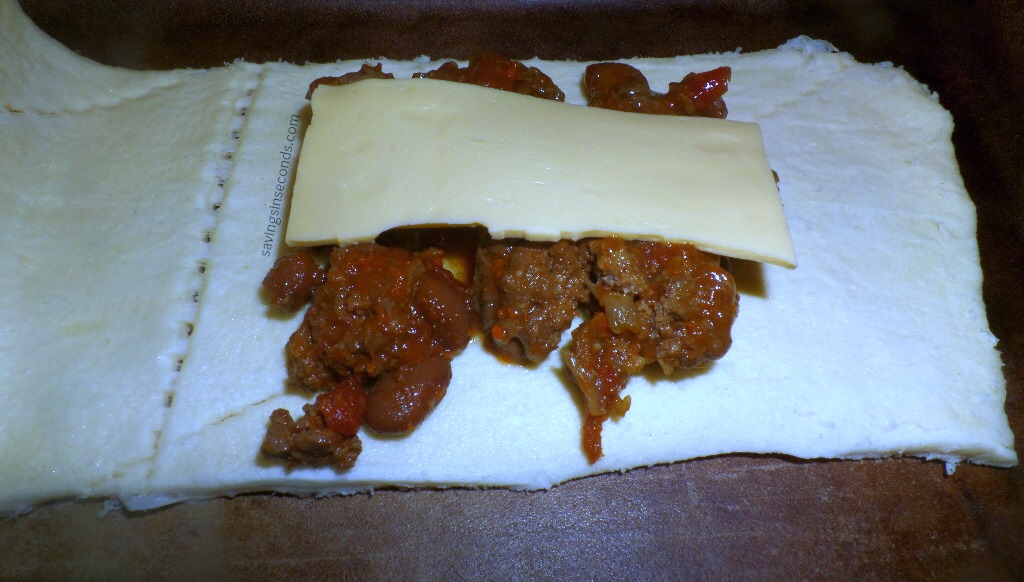 1.  Preheat oven to 375 degrees.  While the oven heats, open up the crescent roll can and separate into halves.  I used 4 crescent rolls for each pocket. If you buy the jumbo size, you could probably use less.  You could also spread them out a little more and make triangular pockets instead.  One pocket was plenty for each person.
2.  I used about 1/2 cup of chili inside each pocket.  After spreading out the mixture, each chili dollop was topped with half a slice of American cheese.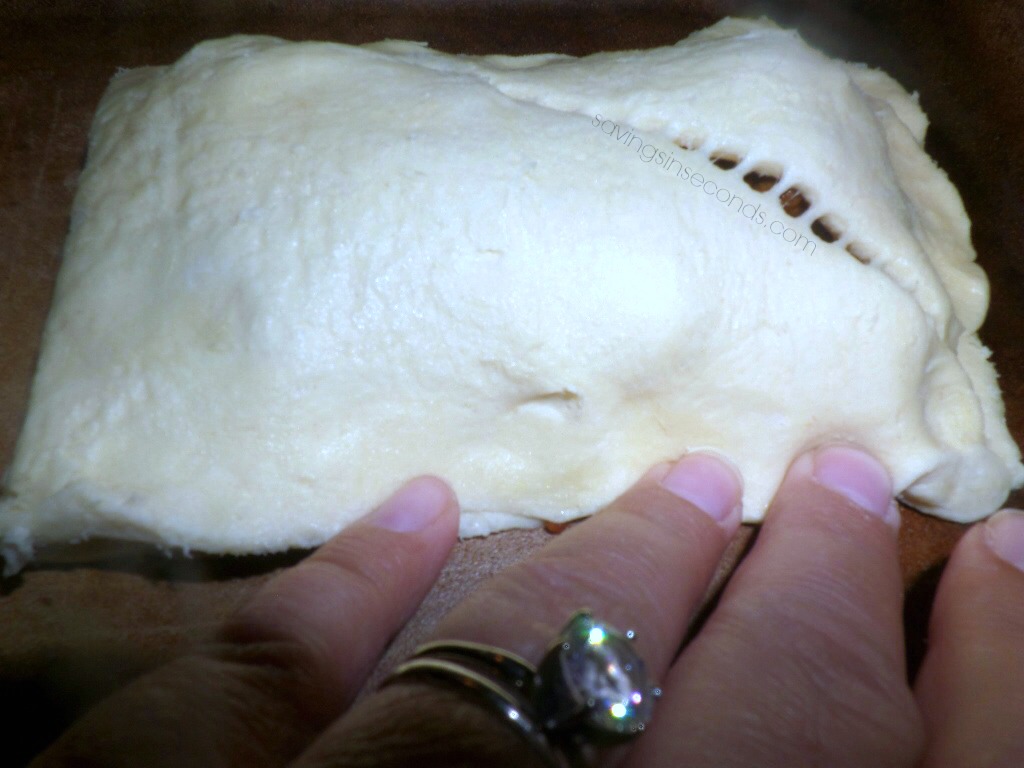 3.  Seal the edges with your fingers or the tines of a fork.  Don't worry if the top opens up a bit.
4.  Bake for 20 minutes.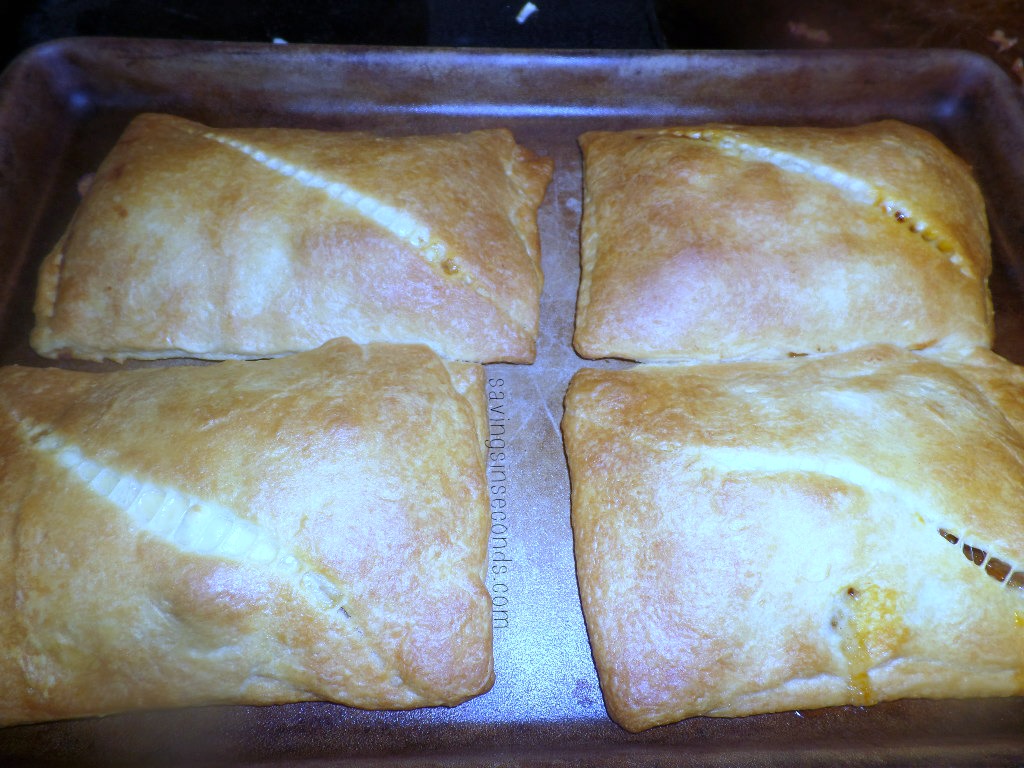 They turned out beautiful with a golden brown crust.  The crescent rolls were perfectly baked; I was concerned that they  might be a little doughy with the filling but it was fine.  These would be a great way to reinvent leftovers for an easy handheld lunch!