Disclosure: I am a Parragon book blogger and received this book for review. Post contains Amazon affiliate links. If you make a purchase through these links, I may earn a commission. Opinions shared are mine.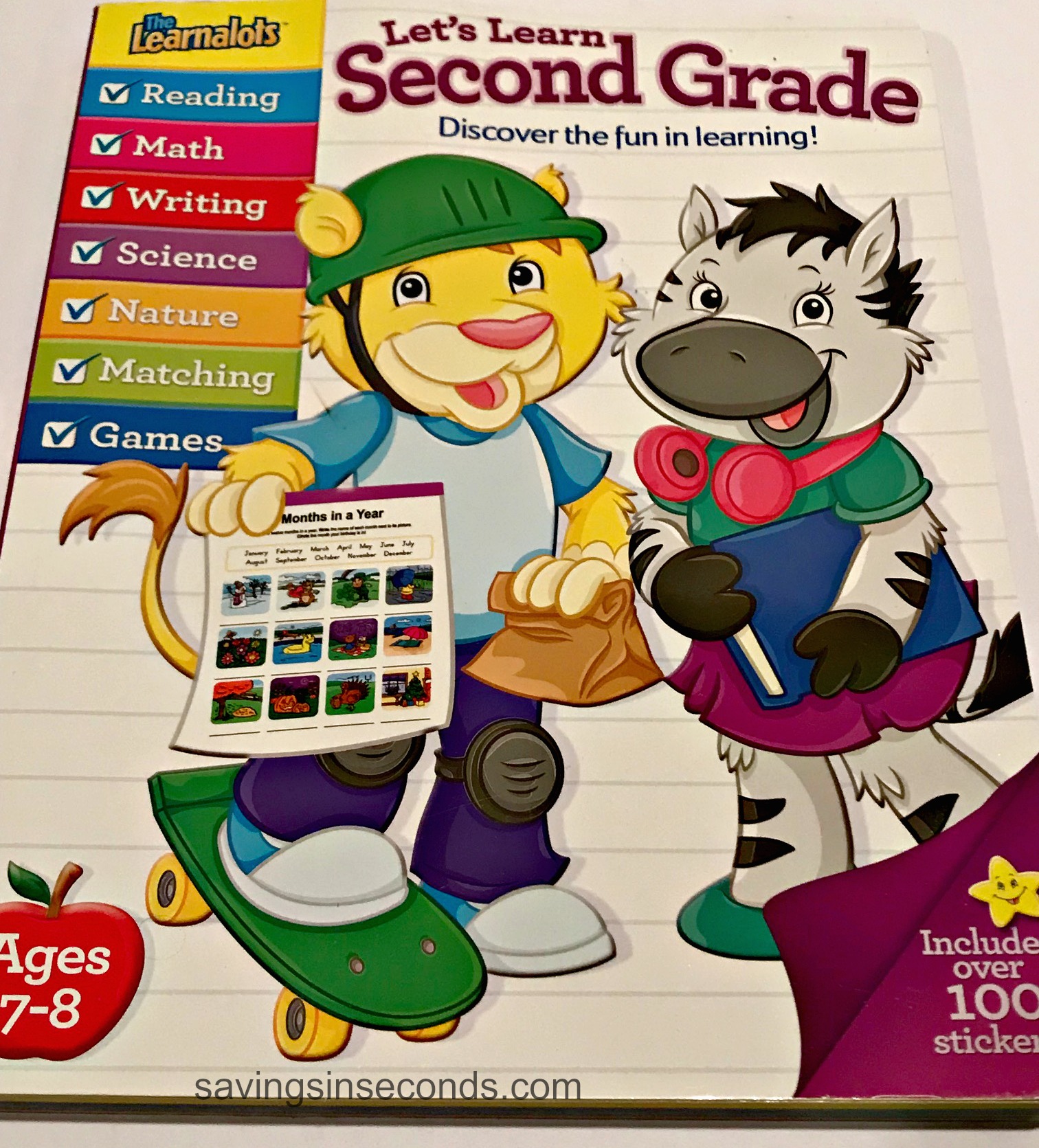 If you have a little one, there are many reasons to consider a supplemental learning program for your child.  If you are homeschooling, you may need a variety of resources to fully introduce a topic.  If your child attends a public school, you may consider reinforcing skills learned in the traditional classroom.  If your child needs a challenge, consider introducing these ideas early to "frontload" the information.  Finally, your child might need additional practice to master a concept.  For early learners, The Learnalots are a fun brand that make learning seem like child's play.  We received the Second Grade interactive workbook for review.  For me, this workbook stood out from the rest in terms of academic substance and visual appeal.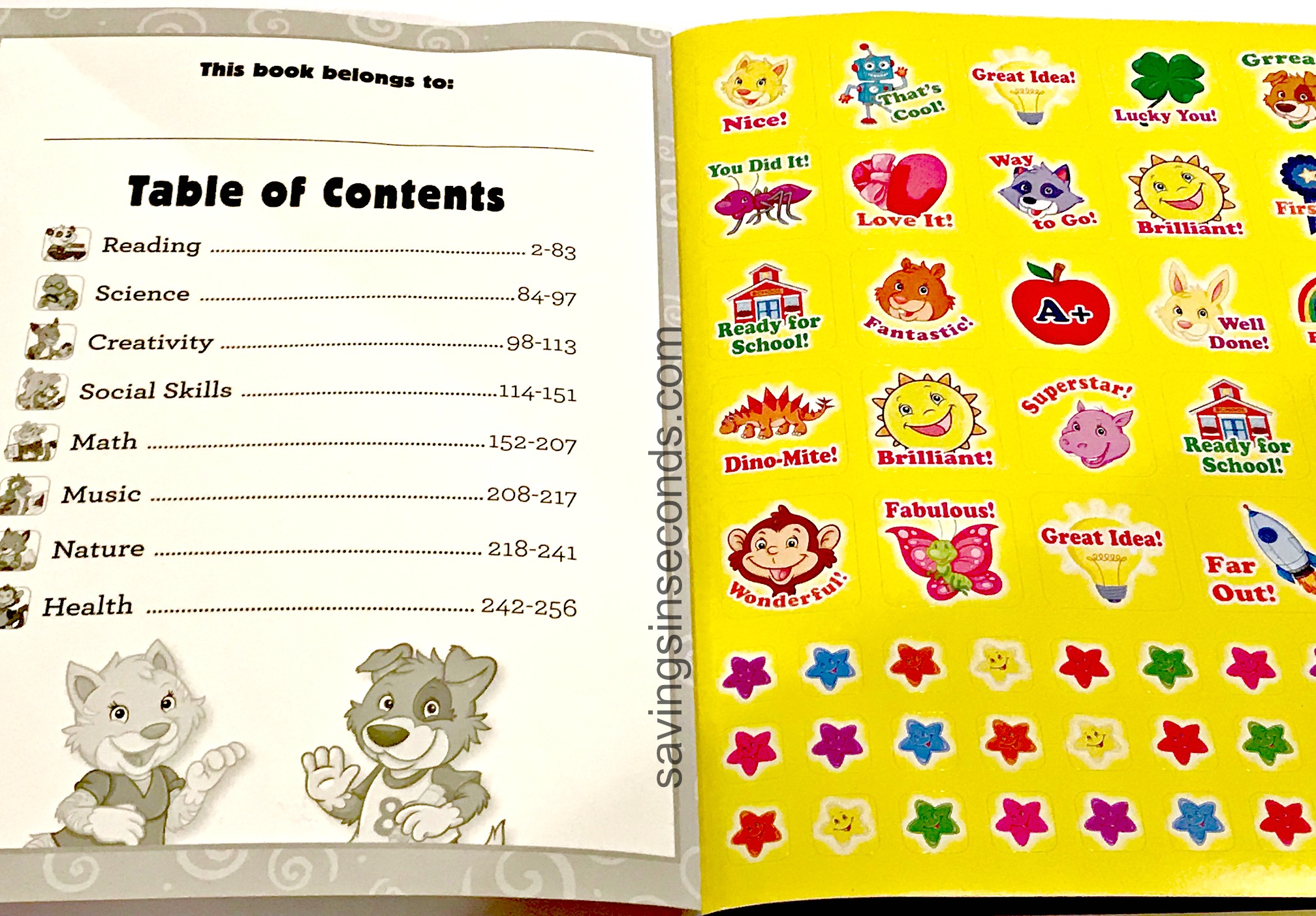 The table of contents (shown at left on this photo) show several topics for learning.  You could make this a fun daily activity by allowing your child to select a page to complete each morning.  On the right, you can see some of the available stickers.  Many are more detailed and have specific pages where they belong. The first thing I noticed about the workbook pages was the color print.  It's brighter and more visually engaging than printable blacklines. Children tend to be attracted to color, so this is one of the first things I noticed about the workbook.  The child in me was eager to check out the stickers because, as I've said before, I still love stickers!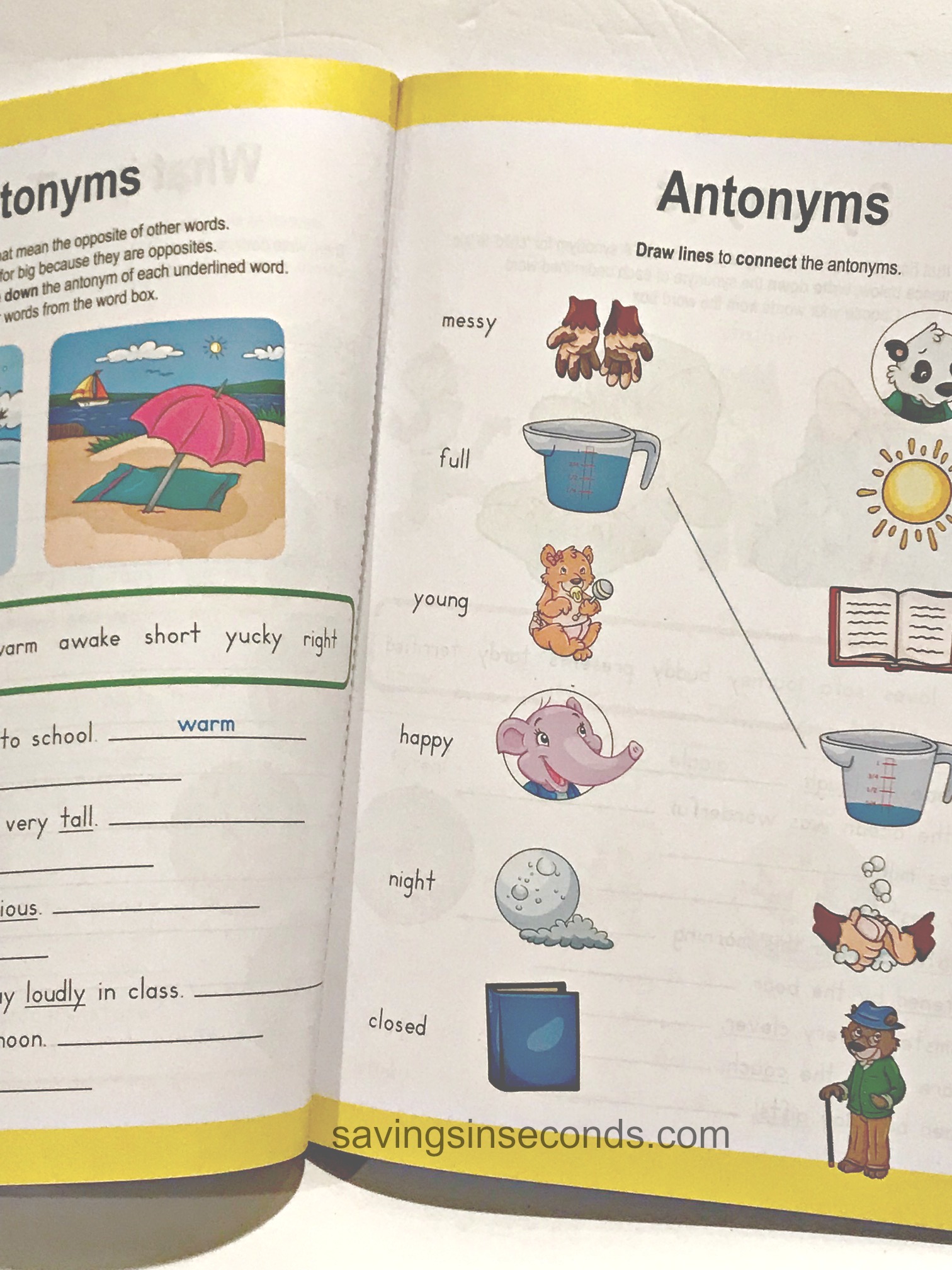 I was impressed by the academic content of these seemingly-simple activities.  I teach 6th grade language arts, and some of my students are still stymied by terms like "antonyms."  Obviously they've learned these skills in earlier grades, but the information has been forgotten by the time they reach 6th grade.  Though this workbook employs a skill-and-drill tactic, it reviews valuable skills that students will use throughout their academic career.  The activities are short and sweet, requiring only a few minutes to complete.  This sets up your child for success right off the bat.  No need to make the lesson too long, right?
In addition to answering the questions, children learn how to follow instructions using practice pages like this.  Look carefully at the Antonyms page pictured above. See how the "important" words draw lines and connect are boldfaced?  This is what educators call a teachable moment.  Show your child how to look for those keywords.  Highlight them, underline them, or circle them.  Whatever you do, you're reinforcing the idea that it's important to notice the instructions.  Encourage your child to point out instructions in other areas of life, too.
A workbook like this could be very helpful in showing your child how to complete homework.  If you have an older child who is required to do homework on a regular basis, your younger children might want to mimic that activity as well.  Maximize this interest by providing your child with homework, too!  Set up a homework area, complete with school supplies and materials, and ask your child to complete a page each day.  Celebrate when the workbook is complete, or tear out one page at a time.  This habit will pay off when your little one brings home papers from school and has to work independently.
Be sure to check out Parragon Books for other educational titles!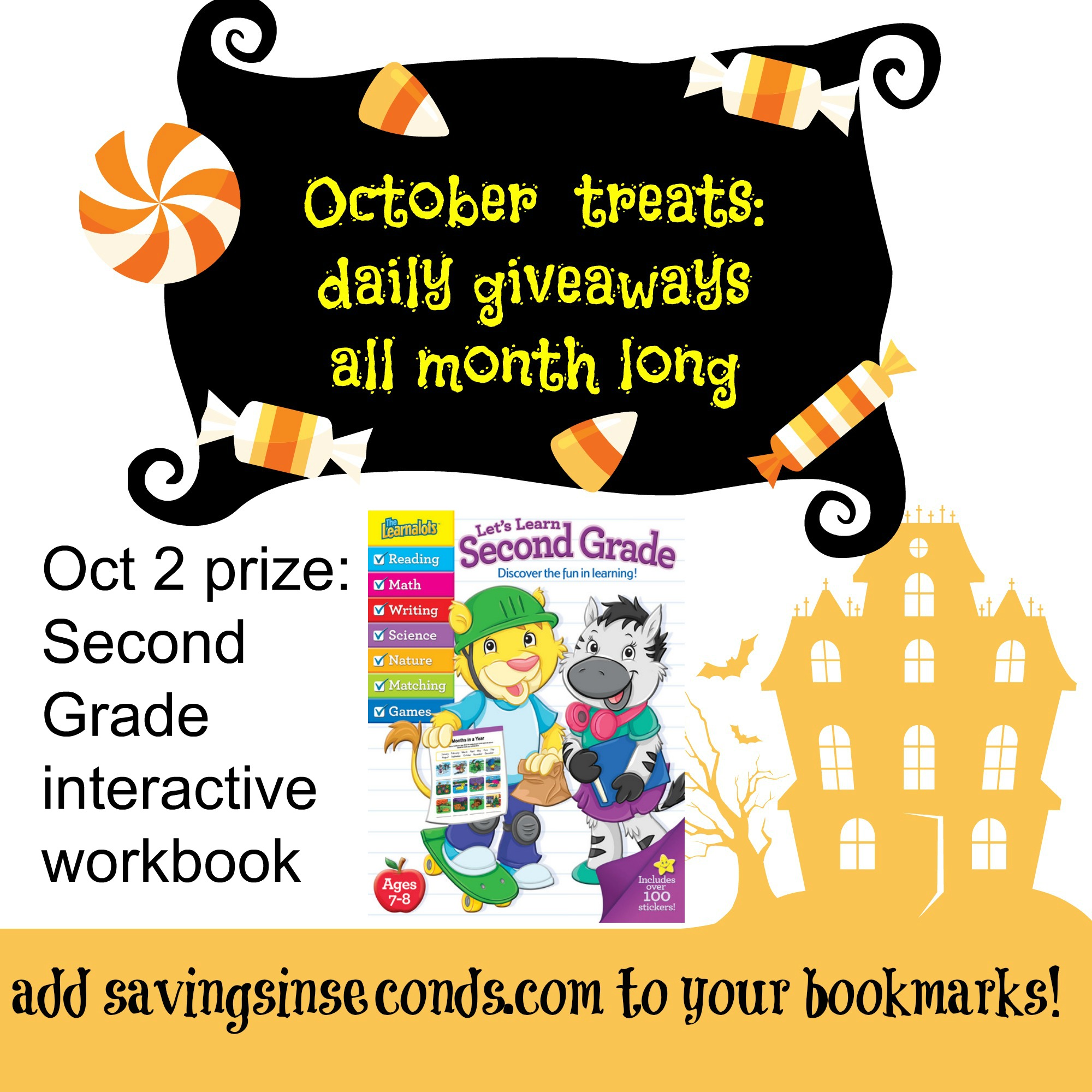 One lucky Savings in Seconds reader will win The Learnalots Second Grade workbook. The giveaway is open to US readers ages 18+. Void where prohibited by law. Enter on the form below. Good luck!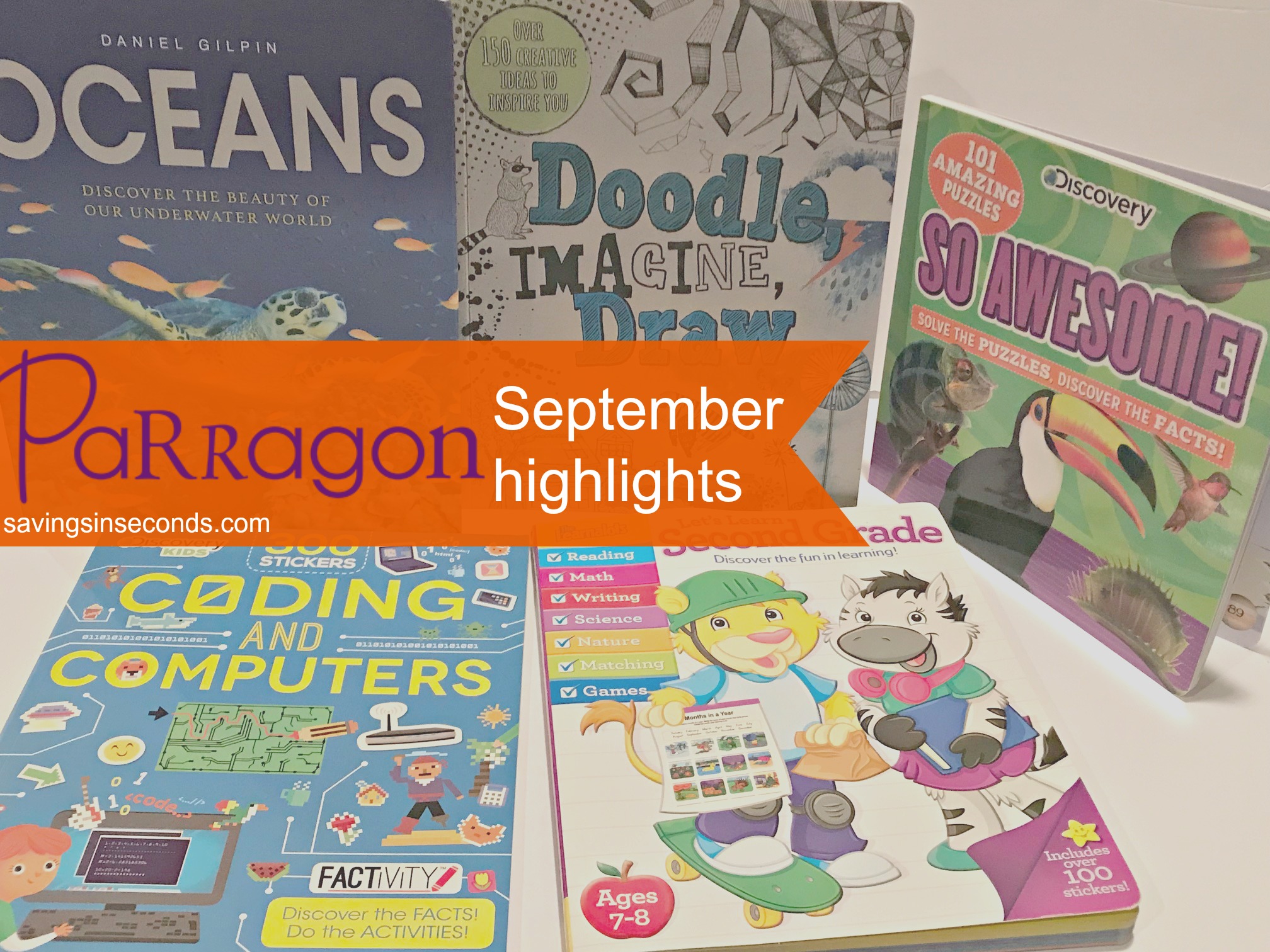 In late September, we received this fabulous book box from Parragon.  Each book will be featured in a separate post, so stay tuned for the other giveaways!
Oceans – This breathtaking book features amazing photography and facts that will enthrall your little ones!  Makes a great coffee table book.
Doodle, Imagine, Draw – Such a fun sketchbook that will inspire the doodler in you!
Discovery So Awesome – This Discovery Kids book is filled with puzzles, facts, and cool photos.
Coding and Computers – Explains the basics of computers and coding in a fun, kid-friendly way. Also, stickers!
Thanks to Parragon for sending me these titles.