Disclosure (in accordance with the FTC's 16 CFR, Part 255:  "Guides Concerning the Use of Endorsements and Testimonials in Advertising"):  Many thanks to Propeller Consulting, LLC for providing this prize for the giveaway.  Choice of winners and opinions are 100% my own and NOT influenced by monetary compensation.  I did receive a sample of the product in exchange for this review and post. Only one entrant per mailing address, per giveaway.  If you have won a prize from our sponsor Propeller /FlyBy Promotions in the last 30 days on the same blog, you are not eligible to win.  Or if you have won the same prize on another blog, you are not eligible to win it again.  Winner is subject to eligibility verification. This post contains affiliate links; opinions shared are mine. 
In the 1990s, my cousin introduced me to Christian music.  He was obsessed with rap at the time, so DC Talk was his favorite.  I preferred Jars of Clay and Twila Paris.  Our preferences didn't matter, though.  The important thing was the encouragement we received from the uplifting lyrics.  To this day, I find contemporary Christian music to be important part of my worship.  When my Laura Story "Open Hands" CD arrived, we listened to it on the way to school.  We have a long commute, so we were able to hear almost all of the songs during that drive! 
At first listen, Laura Story's soothing tones and gentle lyrics reminded me of Sandi Patty.  Her impressive vocal range carries the tune without being too hard to sing along.  My favorite songs were You Came Running, For the Love of My King, and Awake My Soul.  Click here to sample the album for yourself!
Perhaps the biggest accolade I can offer this album: my daughter wanted to listen to it again.  She "found" Christian music this year when she attended a Christian teen conference in January, and is starting to count her favorites.  Laura Story made an impression on her, too!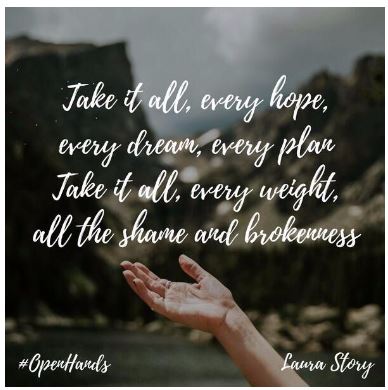 Thanks to FlyBy for sending us a copy of this CD.
---
Kutless Alpha/Omega CD giveaway bonus word list
11/27  rock
11/28   worship
11/29   encouragement
11/30    hope
12/1    faith
12/2   testimony