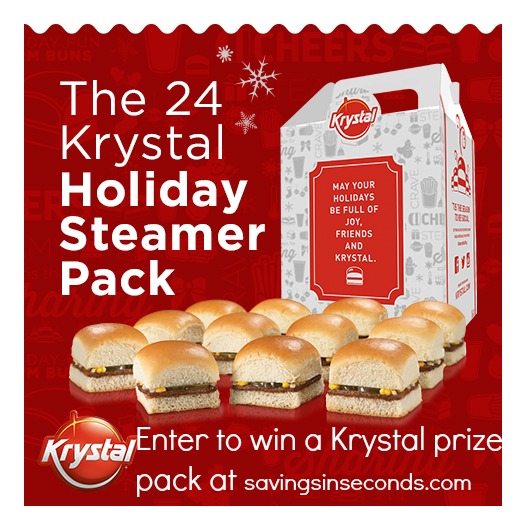 All my life, I thought stuffing was equivalent to Stove Top…. never knowing that you could make your own stuffing from a variety of ingredients.  Don't get me wrong, Stove Top is delicious.  My mother-in-law makes her own stuffing, and it's quite different from the dish of my youth.  After working with lots of Southern girls, it's become clear that my stuffing experience was next to nothing.  So when I heard that you can use Krystal menu items as a main ingredient in stuffing, it was worth a click.

Krystal wanted to help Savings in Seconds celebrate Thanksgiving, so they're sending us a prize package to make the holiday delicious. Even better, they're sending one lucky winner the same package! The prize pack includes measuring cups, a baking pan, a coupon for a $3 off steamer pack, and a Krystal apron as well as two free combo number ones. The steamer pack can be used to create Krystal's new secret stuffing recipe at home. This is a delicious alternative to the traditional stuffing. If you haven't heard about the new Krystal Holiday Stuffing recipe, you'll want to get right on it!  Do you think you'd like to try the Krystal stuffing recipe?
Join Club Krystal to find out about more goodies from Krystal.
Do you like to eat stuffing at Thanksgiving?