Disclosure: I received an ARC of The Innocence Treatment for the blog tour. Post contains Amazon affiliate links; if you make a purchase, I may earn commission. Opinions shared are mine.

On the front of The Innocence Treatment, what do you notice?  A Sinead O'Connor-like profile? Purple hair? Or, in the background, the confusing type of a paranoid rebel?  This story is a real page-turner….it kept me guessing from chapter to chapter!  The main character, Lauren, has an unusual neurological tendency to believe everyone without suspicion.  She takes everything at face value and doesn't pick up on sarcasm, little white lies, or even danger.  Lauren undergoes an experimental brain surgery to "fix" her problem.  The result is more than unexpected! 
The format of The Innocence Treatment is a bit unusual.  It alternates between Lauren's pre-surgery journal entries and post-surgery interview transcripts.  In certain areas, footnotes appear from Lauren's sister Evelyn.   Through these perspective windows, we get to piece together a patchwork truth.  In a post-Emergency world where the government tamps down any whisper of discontent, who can be believed?
This book ranks as 5 stars for me. It was so different from any book I've read this year!  I loved the psychology behind the story, especially when it related to Lauren's friends and family.  I'd love to see prequels that describe The Emergency, and perhaps a companion novel narrated by Lauren's sister Evelyn. 
Giveaway Details:
3 winners will receive a finished copy of THE INNOCENCE TREATMENT, US Only.  Enter on the form below!
a Rafflecopter giveaway

About the Book:
Title: THE INNCOENCE TREATMENT
Author: Ari Goelman
Pub. Date: October 17, 2017
Publisher: Roaring Brook Press
Pages: 304
Formats: Hardcover, eBook
Find it: Amazon, B&N, iBooks, TBD, Goodreads
You may believe the government protects you, but only one girl knows how they use you.
Lauren has a disorder that makes her believe everything her friends tell her–and she believes everyone is her friend. Her innocence puts her at constant risk, so when she gets the opportunity to have an operation to correct her condition, she seizes it. But after the surgery, Lauren is changed. Is she a paranoid lunatic with violent tendencies? Or a clear-eyed observer of the world who does what needs to be done?
Told in journal entries and therapy session transcripts, The Innocence Treatment is a collection of Lauren's papers, annotated by her sister long after the events of the novel. A compelling YA debut thriller that is part speculative fiction and part shocking tell-all of genetic engineering and government secrets, Lauren's story is ultimately an electrifying, propulsive, and spine-tingling read.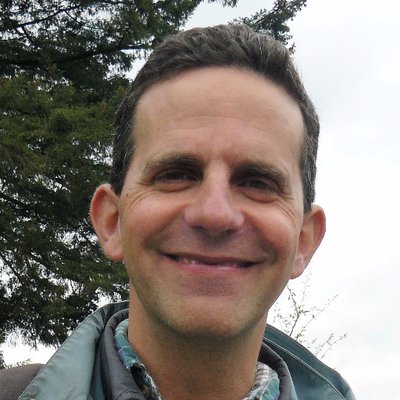 About Ari:
I'm Ari Goelman.  I write fantasy novels.  Stories, too.
My latest novel, due out in October, 2017, is The Innocent Treatment.  Lauren Fielding is a sixteen-year-old high school student with a cognitive disability – she believes everything her friends tell her, and she believes that everyone is her friend.  A cutting edge medical treatment helps Lauren, but after the treatment her mental condition soon veers into paranoia.   Or does it? The Innocent Treatment comes out in October, 2017, but in the meantime you can read (a little) more about Lauren here.  (You can also pre-order a copy here.)
My first novel, The Path of Names came out a few years ago.  It's a middle grade fantasy / murder mystery / ghost story.  You can read lots more about it here.  Or you could just read the book.  Honestly, that's probably a better idea.
Here's my blog and here's a list of the short stories I've published,  many of which you can read online for free.
Tour Schedule
Week One starts 10/9
10/9/17 A Dream Within A Dream– Excerpt
10/10/17 It Starts at Midnight– Review
10/11/17 BookHounds YA– Guest Post
10/12/17 Savings in Seconds– Review
10/13/17 Books at Dawn– Excerpt
Week Two:
10/16/2017- Howling Libraries– Review
10/17/2017- YA and Wine– Interview
10/18/2017- Here's to Happy Endings– Review
10/19/2017- Kendra Loves Books– Review
10/20/2017- Lisa Loves Literature– Interview
Thanks to Rockstar Books for sending me a copy of The Innocence Treatment.