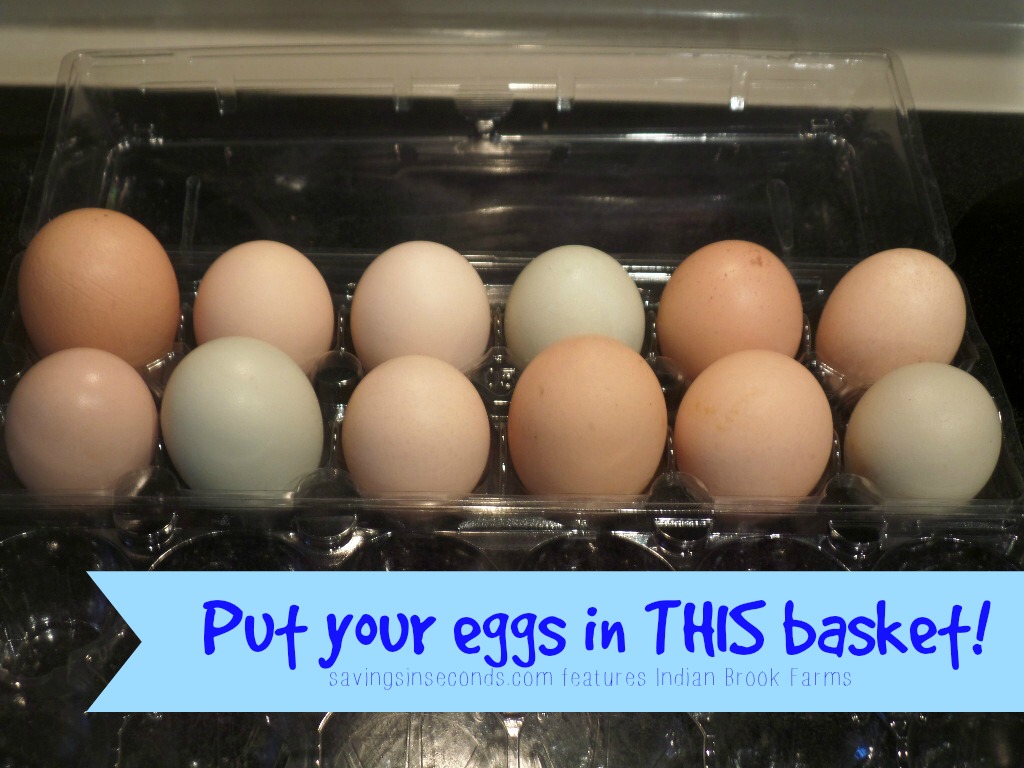 I heart natural stuff. Just take a look at my guest post over at Moody Sisters. Since my liver went defunct, we've really been making an effort to go natural as much as we can with our foods and personal care products. Growing an organic garden makes me smile and is my spring/summer obsession. At some point I have to draw the line, though, such as raising my own cattle. There's just not enough time in the day, nor room in my yard, to make that happen. That's why I'm so very grateful for local farmers who offer organic, non-GMO foods in our area. My very favorite new place to get my beef, produce, and eggs is Indian Brook Farm.
This week I drove by farmer Wendi's house to pick up our beef order. She had everything ready for me; all I had to was pick it up. It was easier than going to the store!! She took the time to show my kids her very cool eggs — from her special chickens that sometimes lay blue eggs. My kids thought it was awesome and so did I. We had to buy the eggs, too. At $3.50 per dozen, they are less expensive than buying an organic dozen at the store. Plus we know where they came from!  Beef was $5.99/pound which was also consistent with the prices at the grocery store. Was this a super cheap bargain?  No.  But in this case, I find that the improvement in quality exceeds the savings.  For me, it's valuable to know that I got these goods farmer to consumer, mano a mano, with no barcodes or freezer trucks in between.
We're excited to have a local source for extraordinary produce. It provides for our needs, is good for the environment, and helps our local growers.  I prefer this to a CSA or even the Farmer's Market (gasp) because it's so dang convenient.  Wendi had it all prepped, I walked five feet to pick it up.  No entering a store or even locking the car door.  I daresay that Wendi wouldn't have judged if I'd pulled up in my jammies.  She seems like that kinda cool girl.  If you're in the Tricities area, check out Indian Brook Farm!  Follow them on Facebook to find out what these chickens are up to.
I received no compensation for this post.  Just wanted to share a VERY cool opportunity with you!