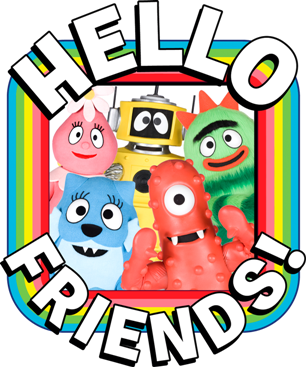 Do you have a Brobee fan in the house?  I sure do!!  My kids absolutely love Yo Gabba Gabba.  It's colorful, fantastical, and just plain fun.  They love the scenes where the kids dance around like crazy because they can get up and dance, too!   I really like the message that Yo Gabba Gabba sends about positive peer interactions.  Not many other kid's shows promote healthy eating in a fun, engaging way.  After all, who doesn't like to sing, "There's a party in my tummy"?  You know you want to say it — So Yummy, So Yummy!
We recently got invited to the Yo Gabba Gabba live show that will be coming to the area in February (can't wait!).  To bide the time until the show, we downloaded the Hello Friends app from iTunes.  It's a new app that features all the Gabba characters.   The games are fun to play and easy enough for my 3-year-old to navigate.  His favorite feature on the app is decorating the photos of the characters.  It allows him to dress the characters with fun accessories like hats, flowers, and more.  The characters will even talk to your child via the app!  He really enjoys playing it and I know it will keep his interest until it's time to go to the live show because new features are added monthly.  There are even little video clips to watch.  It's all very age-appropriate for my preschooler.
The app is available for  iPhone, iPad, iPod Touch and Google Android Devices at iTunes and Google Play.   You know what they say on Yo Gabba Gabba…….Try it, you'll like it!