Disclosure: I received this book from the publisher. Opinions shared are mine.
How did you spend Super Bowl Sunday?  I tried not to get sick.  Instead, I covered in a blanket and read books while my husband watched Super Bowl stuff ALL DAY.  I lifted my head a couple of times, mostly to see Pink and Justin Timberlake.  Other than that, though, it was enough to finish reading The Couple Next Door and Hearts Entwined.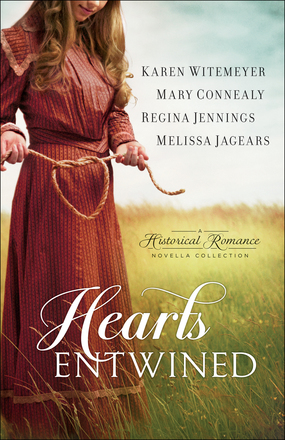 These stories come from some of Christian fiction's top authors.  I wasn't familiar with the characters from the book, but it's possible that the novellas stemmed from previous stories.  It was slightly disappointing that the stories had no common thread beyond the whole "tied" theme.  I do like it when a novella collection connects in some way.
Novellas are short enough to finish reading in one sitting, but reading all four at once didn't appeal to me.  It's kind of interesting that if asked, I'd rank these stories in order of appearance in the book.  The first story was The Love Knot and was definitely my favorite.  Claire, the main character, was self-sufficient and headstrong yet had a soft spot for The One That Got Away.
Though I didn't really enjoy the story The Tangled Tie That Binds, its historical information was fascinating.  Likewise, Bound and Determined had a surprising twist.  Just see how you think these two words go together….Camels and Texas.  Tied and True was my least favorite, unfortunately.  Its main character, Marianne, seemed very immature and selfish despite trying to demonstrate her maturity.
After adding Hearts Entwined, I now have 22 books read toward my goal of 118 in 2018.
---
About Hearts Entwined
Four Historical Romance Novellas of Love (With a Twist of Humor)

The ways of love can be complex. Sometimes a relationship full of unexpected twists and unlikely turns leads to a bond that's strong and secure. Join Karen Witemeyer, Mary Connealy, Regina Jennings, and Melissa Jagears for novellas that follow the winding path of romance in stories that celebrate a love that lasts forever.
The Love Knot
When Claire Nevin's troubled younger sibling sends her an unexpected package by rail, the gift and the man who delivers it–an unexpected face from the past–threaten to upend Claire's life forever. Fighting to hold on to all she has built, will she lose what matters most?
The Tangled Ties That Bind
Connor Kincaid returns home determined to win the hand of the woman he was too young for when he left. But Maggie is training to be a doctor in a distant town, while Connor's about to settle on a ranch. Will either be willing to give up their dream? Or will they both have to give up the love of a lifetime?
Bound and Determined
As punishment for his recklessness, Private Bradley Willis is sent on an errand to help a retired cavalry officer move a herd across Indian Territory. No one told him the herd would be camels instead of cattle, nor that the officer's headstrong daughter, Ambrosia Herald, would seem to be trying to undermine the whole enterprise. He's definitely been saddled with more than he's bargained for.
Tied and True
Wealthy Marianne Lister is in love with business assistant Calvin Hochstetler, but he can't see past the difference in their social status. When Marianne takes a job to prove that she is prepared for a life of hard work alongside the man of her dreams, will it be enough to convince Calvin to risk it all for love?
How did you spend Super Bowl Sunday?