Disclosure: I received this book from the publisher; post contains affiliate links. Opinions shared are mine.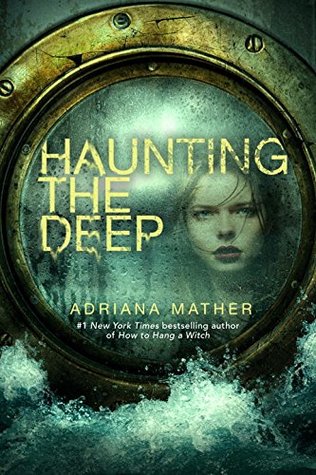 Last year, I had the chance to read How to Hang a Witch by Adriana Mather.  Immediately, my craving for a sequel set in.  I loved the characters and historical background of this Salem-based story.  When Haunting the Deep
was released, I was thrilled to receive a review copy!
Sometimes the second book comes as a mild disappointment when compared to the first.  For me, that happened with Haunting the Deep.  Familiar characters were welcomed with open arms, but Sam grated on my nerves in this story.  She was more of a typical teenager in this book than she seemed in the last.  Her friends act much more mature and self-aware, which made me wonder why they insisted on bringing her into their circle.  I also couldn't figure out why Jaxon was so drawn to Sam when she continuously played cat-and-mouse.
The Titanic storyline was breathtaking!  If you've visited my blog for a while, you'll know about my love for Titanic.  My husband and I went to the Titanic movie several times when we were dating, one of the movie's theme song was played at our wedding, and the Titanic museum is one of my favorite places to visit in Pigeon Forge.  Maher definitely stirred my heartstrings with her little drops of Titanic water throughout the story!  Historical fiction catches my interest because of the unknown facts and details that are typically mentioned, and Haunting the Deep had some of those elements.
Overall, I'd give the book 3.5 stars out of 5.  It still had major interest as a paranormal mystery. Once the action started, it was exciting and suspenseful.  It just took so long to get there!  If there's a book 3, I'd definitely give it a read.
Thanks to Blogging for Books for sending me this copy.
---
Comfy Cozy Winter Reads giveaway bonus word list
12/31   cozy
1/1    fireplace
1/2   cuppa
1/3   blanket
1/4   slippers
1/5   nap
1/6  snowflake
1/7  warmth
1/8  cabin
1/9   snuggle
1/10   soup
1/11   candles
1/12   happy ending
1/13   cookies
1/14   kittens
1/15  novels