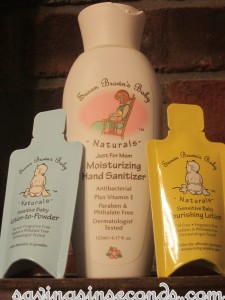 I recently had the opportunity to try Susan Brown baby products.  I received a full sized hand sanitizer and trial size lotion samples.  The hand sanitizer was really gentle and had a very pleasant scent.  It also doesn't have that really strong alcohol fragrance that other brands can sometimes have.  It wasn't drying like other sanitizers I have used.  Susan Brown's hand sanitizer has these tiny little moisture beads in it that really do work to moisturize my hands.  I keep this in the car instead of other hand sanitizers because I feel like it's safer to use on my children.
The lotion to powder sample was awesome.  It didn't have a greasy feel yet it moisturized my hands.  I would love to get these as gifts for baby showers. If I still had little ones in diapers, this is what I would use in place of cornstarch to keep their little bums dry in the diaper!  The moisturizing lotion was great for my hands. To be honest, I hoarded both of these samples for myself!  I loved the generous size and would stash these in my diaper bag if I still carried one.   The fact that these products are more naturally derived and gentle for baby's skin really appeals to me.
This giveaway was brought to you by the Sublime Media Connection. The participating bloggers cannot be held responsible for the delivery of this item, as that is the responsibility of the sponsor. If you have any questions regarding the delivery of the prize please email pr@sublimemediaconnection.info.