Disclosure: I will receive a product sample. The opinions shared here are 100% mine.
With Father's Day approaching, you might be scrambling to find the perfect gift for the guy in your life.  My husband never seems to want anything specific but I know he enjoys toys that he can use with the kids.  Sports equipment is always a hit because they can go outside and practice together.  Pool toys are a blast when the weather is hot.  He even enjoys kids toys that he can play with the kids — things like remote-control helicopters and such are fun for the whole family.
If you've got a grown-up kid called Dad in your house, check out the Battroborg!  It's the first robotics toy of its kind which is a huge bonus for the techie guys.   Battroborg uses advanced motion-control technology to bring you the rush and grit of true in-your-face combat action.Battroborg promises pure excitement for kids of all ages by demonstrating ultimate battling action and knock-out fun!  From what I could tell on the website, Battroborg looks like a real-life version of my son's favorite apps.  I can see him playing with the Battroborg for hours with his uncle who's also a gamer!
The new low price is $59.97($20 off original price) and you can even save an additional $10 off with this coupon for purchase at your local Walmart.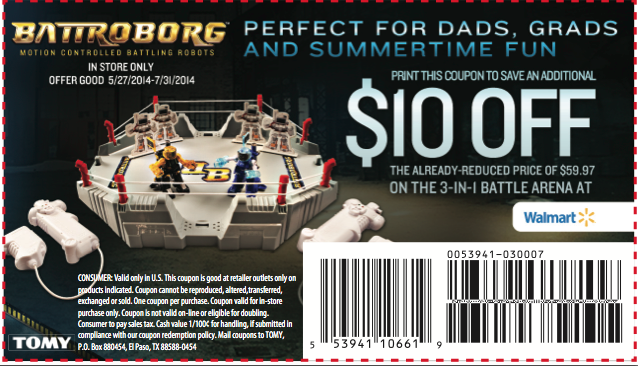 Would you like to see the Battroborg in a giveaway?