The hostess is celebrating belly3.0 and wants to help YOU get all the things a new mom/dad could want!   The participating bloggers have secured awesome prizes worth at least $25 fit for a baby shower! Be sure to hop around and to enter to win the GRAND PRIZE sponsored by  project pomona, daddyscrubs, buttons diapers and tiny love.  The grand prize is worth over $200!
Note: great expectations bloggers are not responsible for sponsors that do not fulfill their prizes.
Savings in Seconds is proud to partner with
A Happy Green Life
for this giveaway.   All moms, new and repeat, are destined to move mountains of laundry.  At least until the wee ones get old enough to do their own laundry.  Even then, they sometimes have to do more than their fair share of grown adult children's laundry.  Just ask my dear mother in law.  My family is very sensitive to chemicals and fragrances.  All 4 of us suffer from eczema and it's much, much worse depending on what laundry detergent we use.   Several months ago we tried A Happy Green Life laundry wash.  It's formulated to be really effective on cloth diapers, but it's really the best soap we've found for ALL of our clothes.   I've been using their laun
dry wash for over a year and it's now the only one we buy.  When we use it exclusively, we have NO problems with our eczema.  Truly, we are amazed at the difference it makes!   I keep bags upon bags stocked in my cabinet because I"m afraid we'll run out and that just can't happen.  We love that it's a natural wash so I don't worry about the chemicals we're putting on our bodies, but also love supporting an American business.
The scents offered at A Happy Green Life are absolutely fantastic.  For the longest time, my favorite has been Beach Baby.  It smelled just like a sweet baby on the warm sunny beach.  So delicious!!   I always try three or four new scents with each order and this time I found a new favorite.  Sunshine has the brightest scent and it lasts a long time on my clothes.  It's really wonderful.  We also like Blackberry Bling Bling, Bedtime Bath Baby, and Sweet Pea.  You just can't go wrong, they are all so unique and perfect.   We've also tried the body wash and oxygen booster, both of which I loved.  Ordering from A Happy Green Life is always an exciting day for me because I get to peruse the products and scents.  Which scent will you choose if you win this package?   Their prices are VERY reasonable . We have a HE machine so we can get 100 loads from one large bag of A Happy Green Life.  So, 100 loads of laundry wash for $11?  Yes please!  They only charge a flat rate of $5 for shipping, no matter how much I order.  WOW — the boxes I get are heavy so I get a HUGE bargain with that.  Also, they take Paypal which is a bonus!!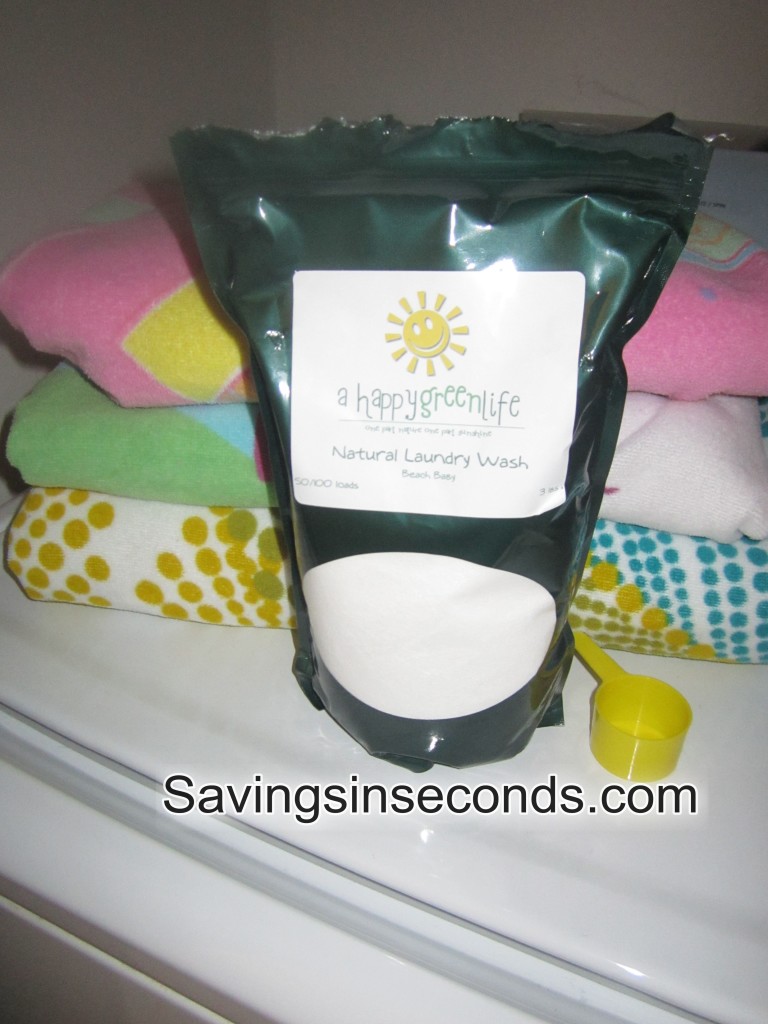 One winner will receive a bag of laundry wash, stripping powder, oxygen boo