Disclosure: This post contains affiliate links. If you make a purchase, I may earn a commission — used to offer giveaways like this one. Opinions shared are mine.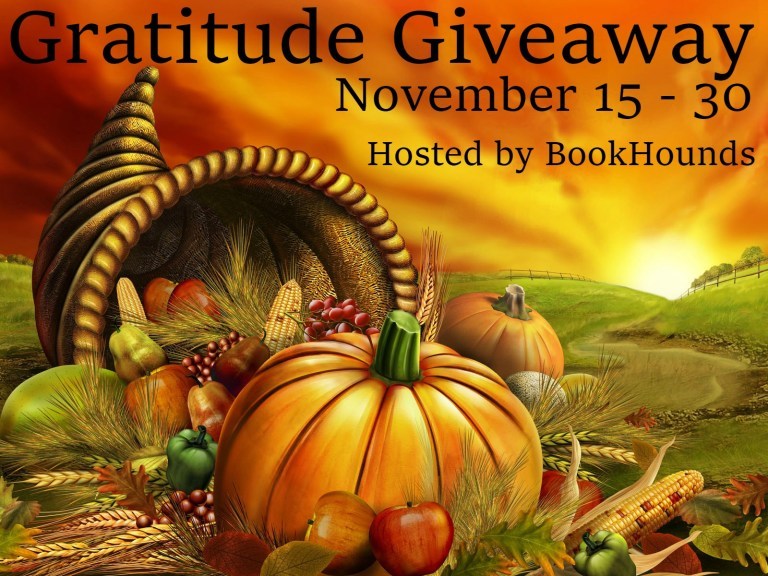 Another year, another Gratitude Giveaway Hop!  We're thrilled to join our host BookHounds and the participating bloggers to say THANK YOU to all of our beloved readers.  We want you to know that we're thankful for you.  Every single hop is EASY to enter.  Just head down to my giveaway form, then cruise right on through the rest of the giveaways.  I hope you win lots of great prizes!  Our prize is a $10 gift card – Amazon or PayPal – winner's choice.
This year had its ups and downs, and I'm grateful that we made it to Thanksgiving in one piece.  My biggest blessing in life is my precious family.  My husband had several surgeries this year (he's running out of optional body parts) and I had my own health challenges.  Our kids are healthy and happy, so that is a huge blessing.  We enjoyed our camping trips so much this summer.  Visiting Chattanooga was the highlight of our first year with the travel trailer.  We're so fortunate to have a modest home with many conveniences that we often take for granted.
With so many people struggling to make ends meet, I'm reminded to be grateful for my job.  It will provide me with a retirement and stability for the future, and for that I'm so glad.  Last year's losses of my dad and grandfather still weigh on my heart.  Both of them had financial problems that made it hard to even pass away without worrying about money. I don't want my family to suffer that heartache.
What are you thankful for this year?
As the year 2017 winds down, I hope you'll have a few moments to enjoy gratitude.
One lucky Savings in Seconds reader will win a $10 gift card sent via email – PayPal or Amazon, winner's choice!  Which would you choose?  The giveaway is open to readers worldwide, ages 18+. Void where prohibited by law. Good luck and be sure to enter our other giveaways while you're here!