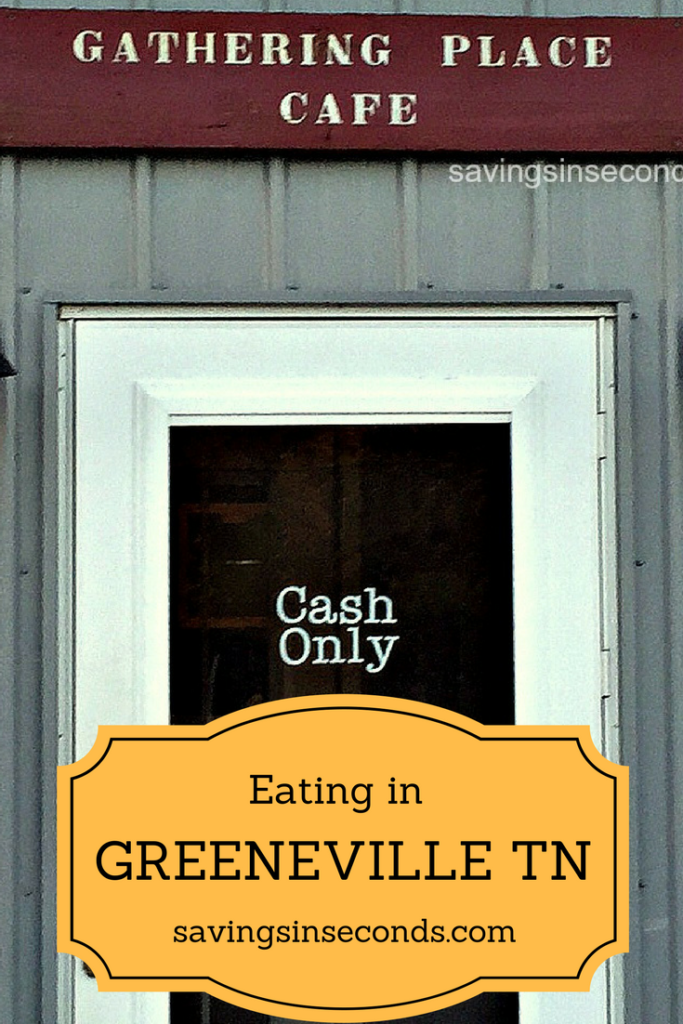 We recently took our camper on our first camping trip!  We went to Davy Crockett Birthplace campground in Limestone, TN.  On the last night of our trip, we decided to go out for dinner.  It was a welcome respite from outdoor cooking!  We tried to get in to the Butcher's Block, but it had an hour wait list.  After consulting TripAdvisor again, we headed for The Gathering Place Cafe.  I called ahead to see how busy they were, explaining that we could arrive by 7:30 (they close at 8 pm).  I  was told that outdoor seating would soon be available and my name was added to the list.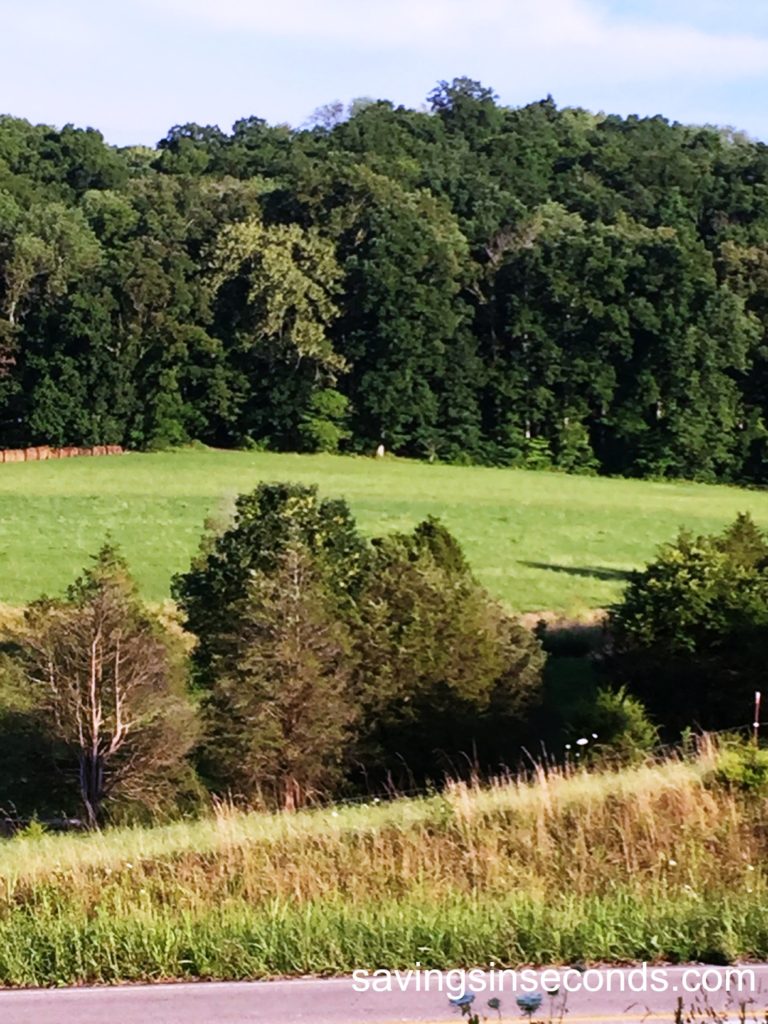 We enjoyed the scenic drive through the Tusculum College area while we traveled to The Gathering Place.  The restaurant is located at the back of the humble Crossroads Hardware store.  You may not notice it except for the abundance of cars parked all over the area!  That should be a good signal to you.   Now, we didn't know that this was a CASH ONLY restaurant.  As soon as we saw the sign on the door (pictured above), my husband went to the gas station next door. Luckily there was an ATM and he was able to get cash.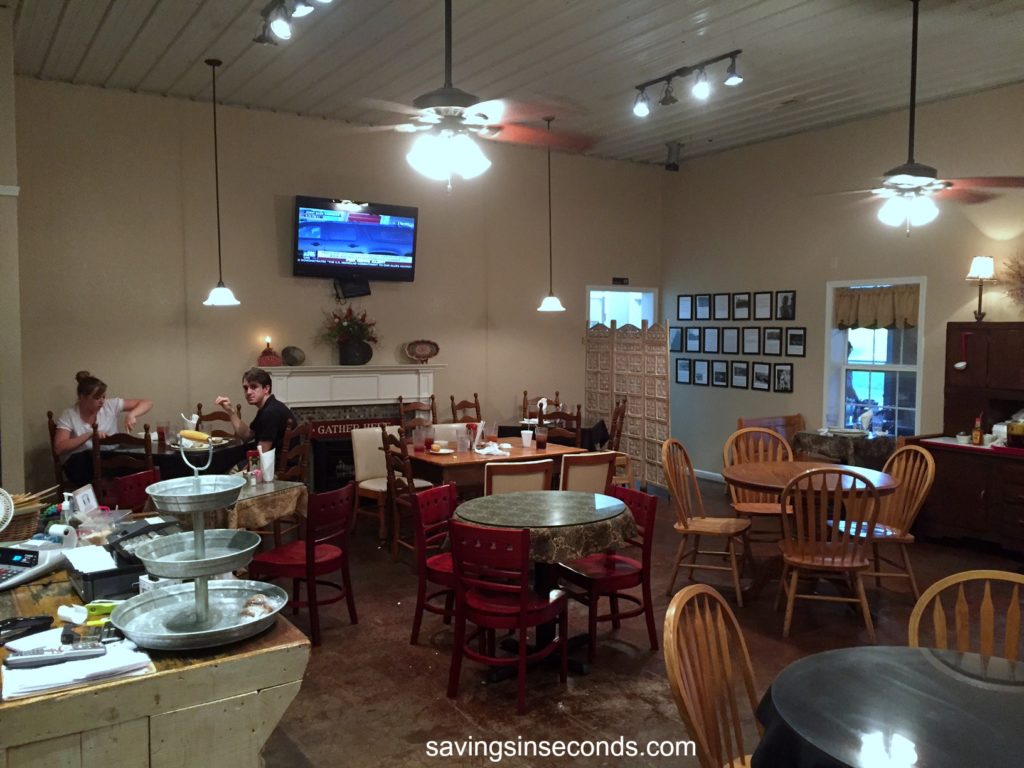 Upon entering, we were immediately struck by the happy energy that emanated from this cozy setting.  The seats were full when we came in, and everyone was chattering and smiling. The restaurant can seat about 50 people, with each table spaced enough that you don't hear the next group's conversation.  There's a big chalkboard in the back with the daily specials, as well as a cool red bench (old pew?) for seating.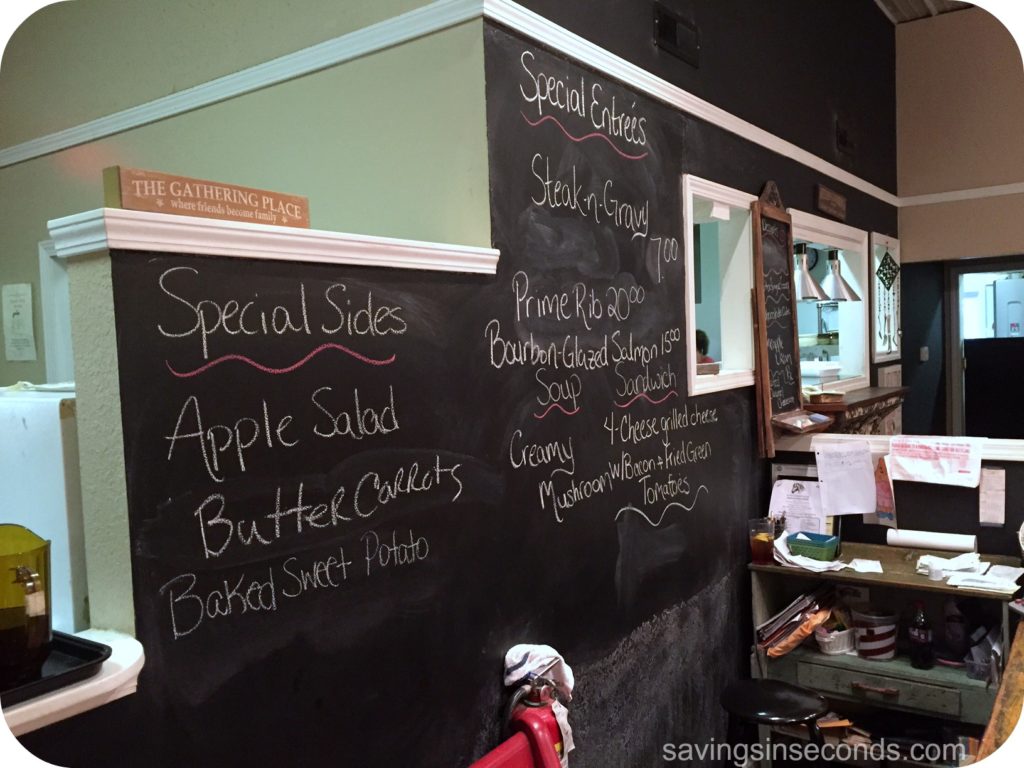 Though a friendly waiter talked to us when we walked in, no one else approached us.  There was a woman at the counter, in front of the chalkboard, who was answering phones and taking payment.  She breezed past us as we entered the restaurant, but didn't speak to us.   I wasn't sure who we needed to check in with!  Finally, the woman asked my husband for his name. When she confirmed we were on the list, she seated us in the front porch area.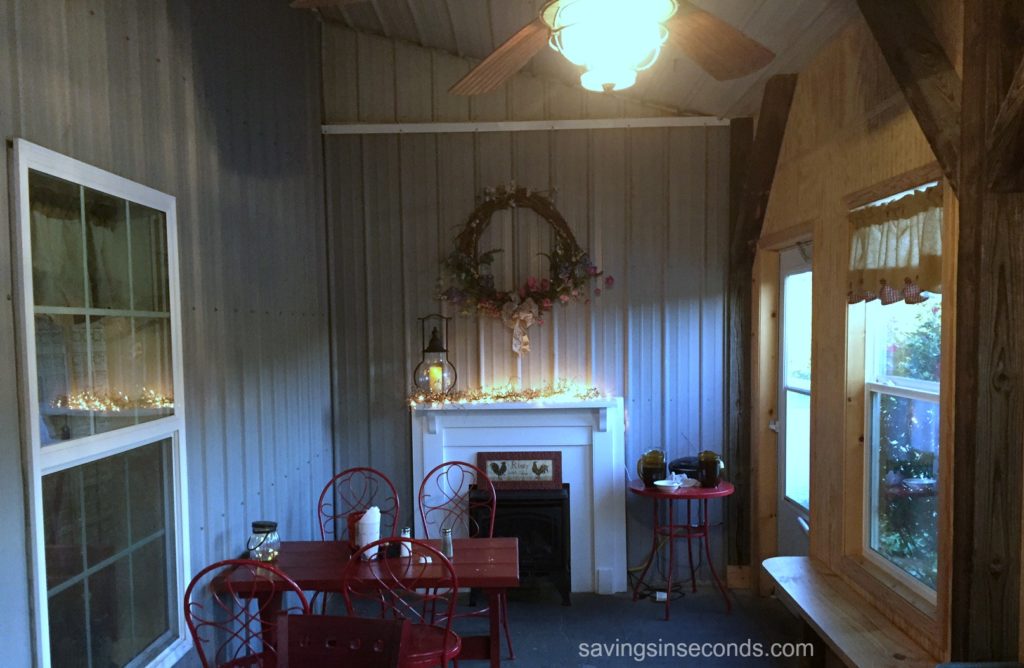 I loved this patio.  It was so charming, with the adorable red tables and sweet fireplace.  Though you'd expect it to be too warm on a hot summer day, it was perfectly air conditioned without feeling too cold.  I could have stayed all evening!  We perused the menu for a few minutes, but 3 of us wanted the night's special: Bourbon glazed salmon.  It was as yummy as it sounds!   My daughter got a loaded baked potato.
Want to see what else they offer? Click on the menu to open the PDF.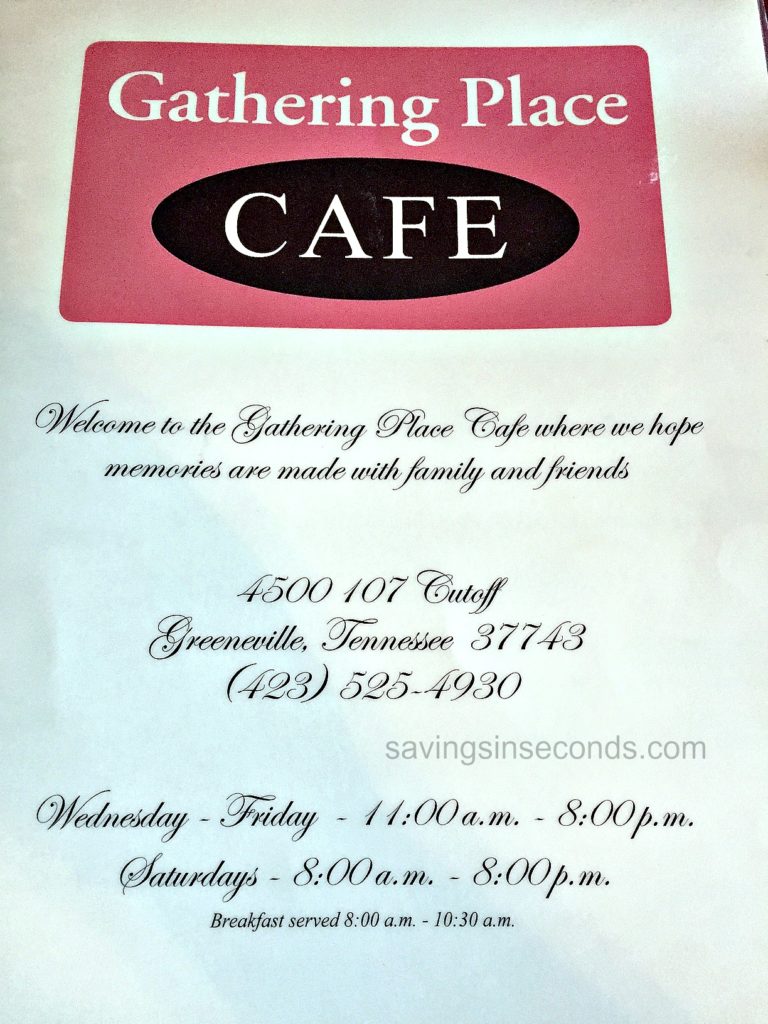 Our food took about 20 minutes to arrive.  You could tell that it was freshly prepared.  Everything was steaming hot and absolutely delicious.  My daughter, who is a self-declared fish hater, kept sneaking bites of my salmon.  She ate at least half of it!  After looking at it, can you blame her?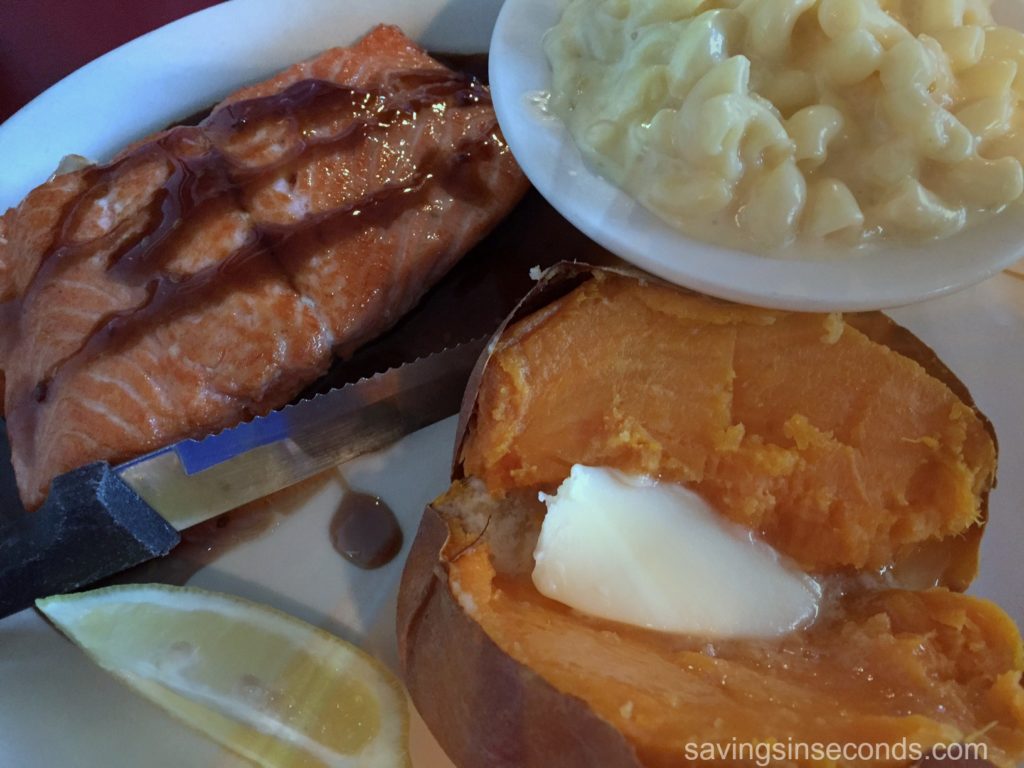 Though we would have loved to try their homemade desserts, we were already planning on a campfire and s'mores back at the camper.  My husband insisted on taking a photo of the Gathering Place Cafe staff before we left!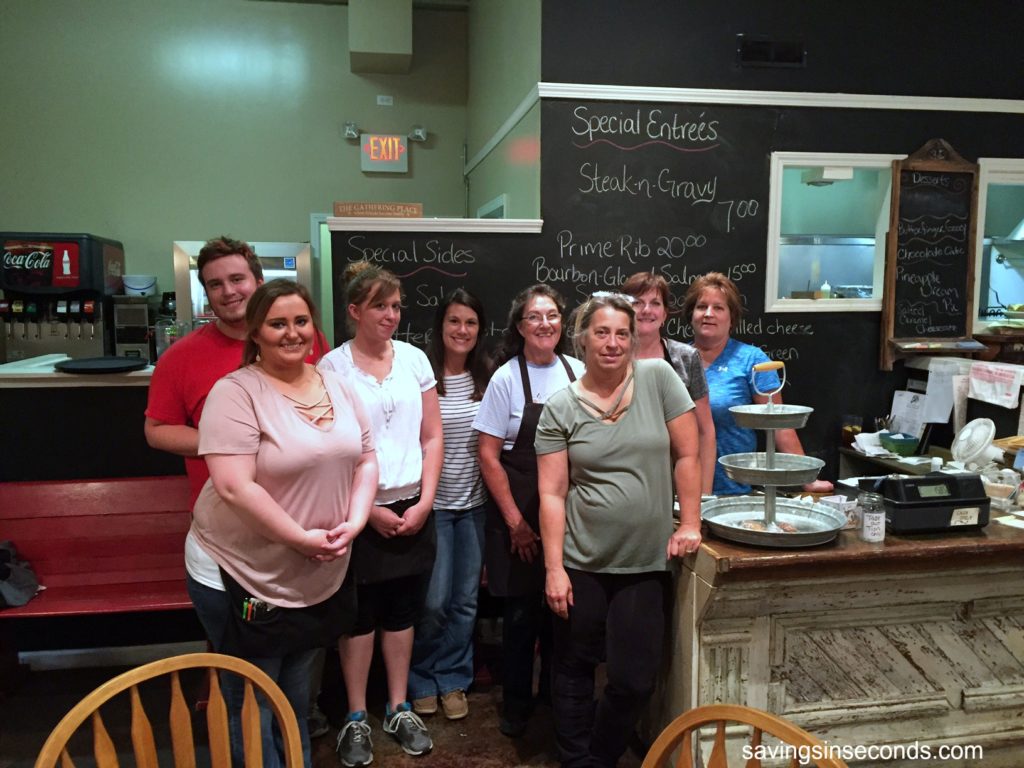 With full tummies and happy hearts, we headed back to the campground.  The mountains were framed by a stunning sunset and a sweet scent filled the air.  What a glorious  night!  All of us agreed that we'd be visiting The Gathering Place again in the future.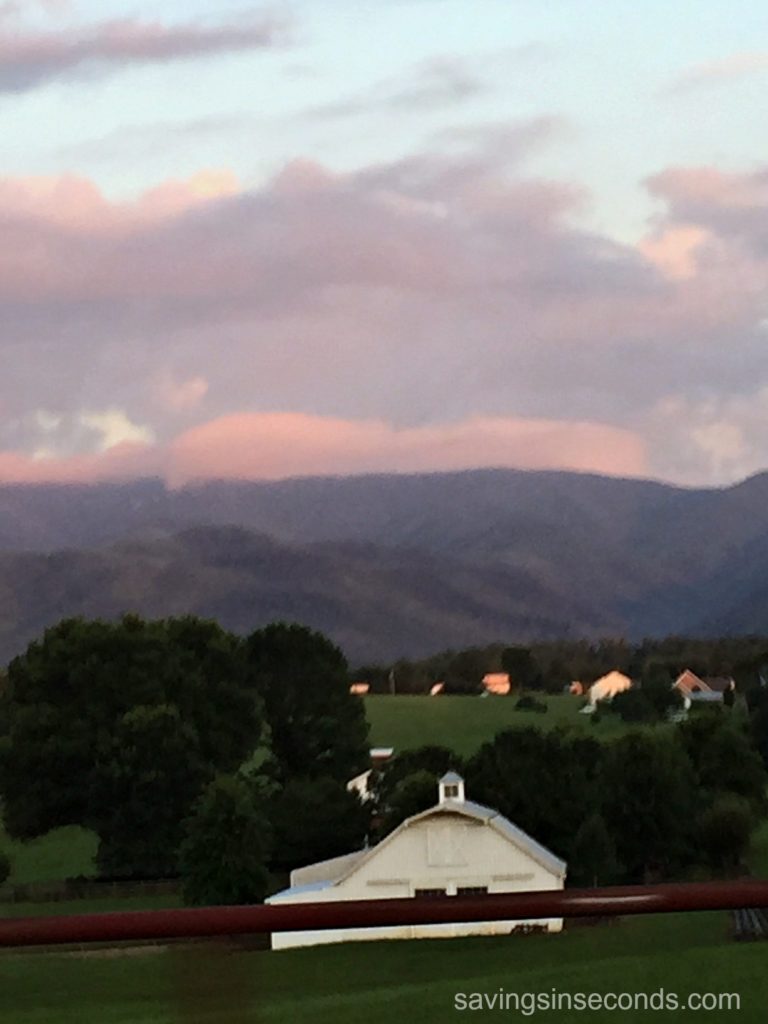 If you're in the Greeneville, TN area, make sure you stop by The Gathering Place Cafe.  It's located at 4500 107 Cutoff, Greeneville, TN 37743 and the phone number is 423-525-4930.   Tell them Savings in Seconds sent you!   Meanwhile, go to my TripAdvisor page and check out  my other reviews!
(We paid for this meal; no compensation was offered.)