Disclosure: I received this book to review. The opinions shared here are 100% mine.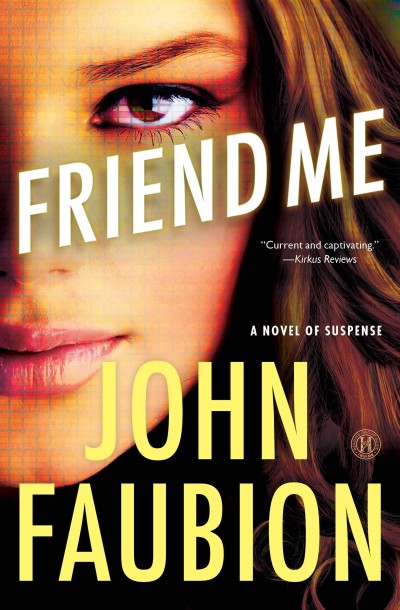 If you are looking for a thrilling, suspenseful read that leans more toward scary than gory, you've gotta pick up Friend Me. Psychological thrillers tend to frighten me more than horror films because of the mere fact that they can actually happen. And once you read Friend Me, you'll think about it more than once when you're clicking away on Facebook or Twitter!
Friend Me is a relevant topic for our society. It's based on the idea that people would be willing to reach out for friendship so badly that they would activate a "virtual friend."  You know, it doesn't seem so far fetched to me. After all, it's no big deal to engage in communication with friends on Facebook that I haven't seen in over 20 years.  There are some relationships I've built through blogging with people whom I've never actually met face-to-face.  Siri and I can carry on a conversation for several minutes before she gets snarky.  Would it be so unrealistic to design, create, and converse with a virtual friend?  I don't think so.  After all, Max Headroom seemed pretty real to me in the 80's.  It's not really a completely new concept, right?  But holy crappola.  It's not a concept we need to be exploring.  Here's why.
When Rachel and Scott start having a valley in marital blissdom, they both turn to the computer for a friendly face.  Their situation doesn't really seem all that bad to me.  Maybe they aren't communicating as well as they used to, but that can be pretty easily excused by the two small kids running around their house.  Scott feels the pressures of being the sole provider; Rachel feels neglected as the homemaker.  Sounds like a pretty common situation, really; these are lives that many of us lead.  Melissa isn't common, though.  She's the brainchild behind the Friend Me screen and she's more than a little bit creepy.  Melissa turns out to be a complete looney tune in a scary freakazoid way and when you find out what she's doing behind the scenes it's seriously disturbing.  In a very twisted way I sometimes felt sorry for Melissa. As the story of her childhood is shared, it's easy to see how she became a monster.
Friend Me attacks you from three points of view (Melissa, Scott, and Rachel) so you see it from several angles.  It was a great read, capturing my attention from the first page and threatening not to let go.  The book also explores that gray area between marital fidelity.  Does it count if you are crushing on someone who's not real ("book boyfriends", for example?)  Friend Me put a knot in my chest, thinking about how lucky I am to have a faithful and godly husband.  Author John Faubion explains what's going on between Scott and his Friend without getting too explicit, which I appreciated.  The emotions that rolled off the characters was thick, from the grief Rachel felt over losing her best friend to the need for reassurance that Scott tries to find. You know that jerky stop you come to at the end of a roller coaster just as your car is gliding back to the loading dock?  That's how I felt after reading Friend Me.
John Faubion is celebrating his debut novel, Friend Me, with a Kindle HDX giveaway!
One winner will receive:
A brand new Kindle Fire HDX
Friend Me by John Faubion
Enter today by clicking one of the icons below. But hurry, the giveaway ends on February 22nd. Winner will be announced February 24th on John Faubion's blog.
Don't miss a moment of the fun; enter today and be sure to stop by John's blog on the 24th to see if you won.