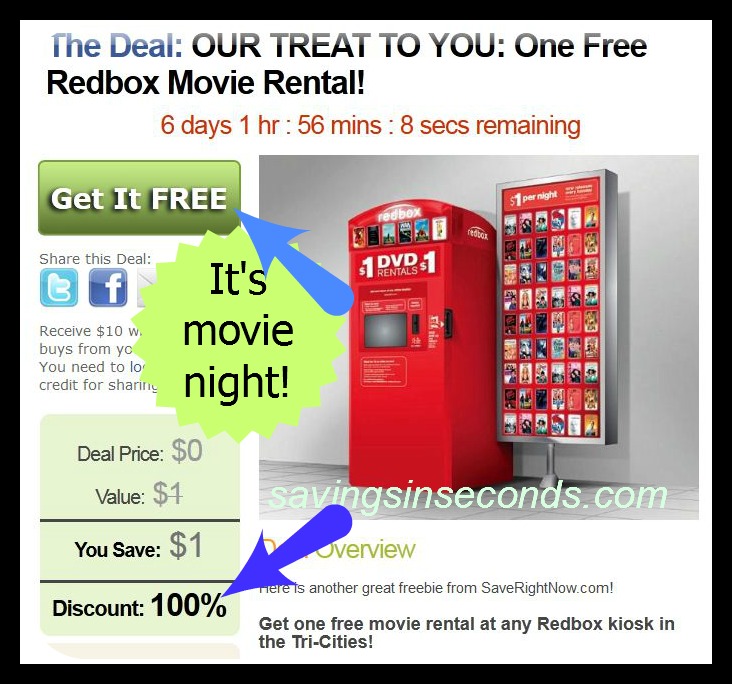 If you're a Redbox fan like we are, you will want to snag your free rental today!   If you opt for a Bluray or game rental, you may have to pay a little extra.  But hey, every extra bit helps right?  And so many people are on spring break right now that this might be a way to break the monotony.  You could even use this to pass the time in the van (thank God for DVDs in cars) and then you can just return it to any Redbox the next day.   Since the temps are getting cold here in the Tricities this weekend, it'll be nice to have a new movie to watch.  Although the offer states that it's good for Tricities Redbox locations, it might not hurt to try it if you live elsewhere. After all, it's FREE!
If you live in the Tricities area, you will want to check out the other deals that Save Right Now has today.  Looking great for spring weddings or prom will be easy with a spray tan from Bella Dona.   You also still have a few hours to save on a pizza from Domino's.  There are also new deals posted each week on Daily Deal Tricities.  Today's deal is an aqua massage but it expires in less than a day, so I'm interested to see what the new one is.  I like to subscribe to emails from these local sites so that I can grab their offers before they expire. I also set up a reminder to use the deal before it expires.  It does take a few extra seconds of searching for these offers, but your budget will thank you.  And look at how you can save money with just a few extra clicks or seconds!  Those pennies add up to big bucks, so always check out the local deals pages before making your purchase.
Do any of those deals appeal to you?  What kinds of deals would you like to see more of?