Disclosure: This is a sponsored post on behalf of Review Wire Media for Paramount Pictures. I received information to facilitate my review as well as a promotional item to thank me for my participation.
There are some names that just create buzz.  Then there are the names that ARE the buzz.  Having Denzel Washington and Viola Davis star together in the Fences movie makes the DVD entirely buzzworthy.  Plan to get your copy when the DVD releases on March 14!
Though this movie's setting is the 1950's, there are so many current issues abounding in the plot.  Troy Maxson's personal obstacles clashed with his dreams, and it's quite uncomfortable to watch him proceed with life after his Negro league baseball career is over. He's angry, bitter, and somehow still charming. The heartbreak is real, and it affects every area of his life. Truly, he carries the viewer along the waves as well. Every detail, down to the scenery and clothing, just makes the entire experience so realistic.
One might be tempted to classify this as a racially charged movie, but it's really more about humanity as a whole. Parental choices, marital strife, and overcoming crushed dreams are totally relatable in this century just as in the 1950's. Washington and Davis offer such a tremendous elevation of performance that I cannot imagine anyone else in these roles. Watch the trailer and experience the depth of emotion for yourself!

I love getting Blu-ray Combo Packs like this because of the extras.  We don't have cable service at our rural home, so we rely completely on our DVD player. Having the digital HD copy is a great bonus, since we can access the movie when we're away from home, too.  Plus, this pack includes some delicious bonus content!
Do you think fences keep people out, or keep people in?
One lucky reader will win the Blu-ray Combo Pack. The giveaway is open to the US, ages 18+. Void where prohibited by law. Please note, prize shipment may take 4-6 weeks. Good luck!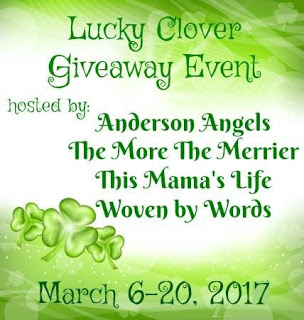 Can you believe that Spring is right around the corner? I know that we are all getting excited for the weather to start warming up! But we don't want to forget the month we're in. Anderson's Angels, This Mamas Life, The More The Merrier and Woven by Words, are very excited to bring you the Lucky Clover Giveaway Event! We've teamed up with over 20 other wonderful bloggers, to bring you another great giveaway event! Each blog has gathered a prize package worth $25 or more so be sure to visit each blog and enter! Hosts & participating hop bloggers of the Lucky Clover Event are not responsible for sponsors or self-sponsoring bloggers that do not fulfill prize obligations.