Welcome to the Fall Into Green Giveaway Hop, hosted by Happy Mothering and Happy Green Mama through the Green Moms Network. Each participating blog is hosting a green or eco-friendly giveaway worth at least $25. You can find the list of participating blogs at the bottom of my post.
We also have a fabulous Grand Prize for this giveaway hop, sponsored by Maggie Bags. Two lucky winners will each receive The Tote of Many Colors in The Fall of Leaves or Camo – Maggie Bags' most eco-friendly bag! Made of super durable recycled seat belt webbing, this roomy tote will hold everything you need and want, even that extra pair of shoes!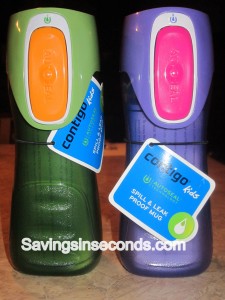 Savings in Seconds is pleased to recommend Trekker Cups to you as our first sponsor for this event. Contigo makes these cups with kids in mind.  They are truly leak-proof and spill-proof.  Believe me, my kids tested them!!  My son took his Trekker cup on a trip to Dollywood a couple of weeks ago.  My husband put it on top of the van as we loaded the kids and gear into the van, then drove away forgetting the cup.   It rolled onto the driveway and down the hill…..but not a drop spilled!!  It suffered a couple of scratches but I was SUPER impressed with its durability.  I have seen Trekker Cups at Sears and other retailers but they are much cheaper online.  I know that I'll definitely be buying more of them in the future!!   My kids take their reusable water bottles to school each day to sip during school.  I like knowing that their Trekker cups won't make a mess.   They're also BPA-free and come in really fun colors.   Plus, they're dishwasher safe!  Money-saving and time-saving are always good at our house.  These would make a great stocking stuffer, too, if you're already thinking along those lines.  I would even tuck inside some fun flavor packets that all the kids like these days.   Contigo's Trekker Cups make going green actually fun!!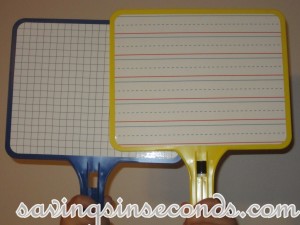 Our second sponsor for this event is KleenSlate.   You know when you see a product and say, why didn't I think of that?!  KleenSlate was that product for me.  In my classroom I have a crate full of dry erase boards. I won them as a door prize a few years ago at an inservice.  My students love using them; writing on a dry erase board can make even mundane skill and drill seem like fun.  After my students use the boards, my classroom looks like a storm blew through.  The markers and their lids are scattered about.  Whatever we used to clean the boards (tissues, clean socks, etc) are randomly tossed aside.  Sixth graders just don't have the same "cleanup" standards as adults.  One of my colleagues suggested having my students turn the boards over and rub them on the carpet to clean them, which works but I fear that it leaves that black residues on the carpets.  That also doesn't solve the marker issue.   The folks at KleenSlate clearly thought all of this through.  The paddle-style boards are easy for children to hold.  Even my three year old was able to handle the boards. The boards are double sided so you can use the grid side for math and have students write a response or reflection on the handwriting lines on the reverse side. So convenient!  The handle has a little grooved spot for holding the marker (which, incidentally, has an eraser in its cap).  The best part, though, is the little ring that holds the microfiber cloth in place.  Genius!  With everything right on the board, passing out supplies is a snap and ceanup is a breeze.   This tool makes it so easy to use formative assessment.  Just ask students to write a response and hold it up.  This is so non-threatening and sill encourage all students to engage in the activity.  Additionally, it makes it easy for the teacher to observe mastery within seconds.  Even if you only have a center with a few slates, you could use them for small groups or centers.  Students could use the boards for quick response.  KleenSlate offers additional board templates and  I think it would be really easy to create more based on your classroom needs by laminating papers such as maps and graphs you are using in your lesson.  Can't you just imagine the possibilities!  Homeschooling parents can use these too.  They would make a cute stocking stuffer, too.    Heck, we'll even be taking these along on our next roadtrip!   I just hope my kids don't hold them to the windows with a big HELP message.
One lucky Savings in Seconds reader will receive a Trekker Cup prize AND a KleenSlate package. How fun!!!   This is open to US readers; please enter using the Rafflecopter form below.  Good luck!