Disclosure: I received a free membership to Faithful Workouts.  Opinions shared are mine.
My family and friends are too nice to comment about it, but it really bugs me that I've gained 90 pounds in 13 years.  I remember the day the scale showed 150 pounds when I was walking into the hospital to deliver my first child…that seems like my SKINNY days now!  There are a lot of barriers to losing the weight, but time is the primary factor.  Between work, commuting, parenting, wife-ing, and all the other responsibilities I shoulder, going to a gym does not appeal to me at all.  We live on a busy road where walking=a death wish.  Most of my activity happens on camping trips when we swim, walk, and ride bikes.  What to do in between those weekend excursions?  I was invited to try Faithful Workouts and decided it was time to stop making excuses.

I'm looking forward to starting this program.  This year, I've noticed that my energy level is really low.  Maybe it's just what happens as a person gets older, but my fingers are crossed that Faithful Workouts can help me regain some of my endurance.  My family and my students depend on me!
Want to see what all the fuss is about? Faithful Workouts offers a FREE 30 day trial. If you decide to go with the membership plan, it costs $70 per year, which is less than the family rate at our local gym. It's accessible from my computer so I can even complete workouts when we're at the campground. Bonus? The kids and the husband can participate, too.
Before we get into the mission of Faithful Workouts, enter the giveaway here…it's open to INT readers ages 18+ who have a valid email address, which is required to join Faithful Workouts. Void where prohibited by law. Good luck!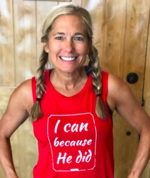 Meet Michelle from Faithful Workouts. Her energy is contagious!  I smile at her emails all the time.  Here's what she says about her program:
For me, God's work looks like coming alongside people to help strengthen their body and soul. I love that I get to partner with you to begin making some healthy changes. If you haven't had a chance to try our workouts or go through our online cookbook, I hope you will make it a priority to go and check them out HERE. They really are pivotal parts of our program, I've always heard that today is the best day to start making healthy changes.

So many people, especially women, walk around with shame and guilt because of their exercise habits, body size or dietary choices. They feel sluggish and lack energy because they aren't making the time to take are of their health. Often, women need permission to invest in themselves. On an airplane the flight attendants always tell us that, in case of an emergency, we should put on our own oxygen mask before helping those around us. We often feel it's selfish to spend time on ourselves, when really it's one of the least selfish things we can do. When we exercise, eat healthy and spend time alone with God each day, we are truly better moms, wives, daughters, employees, friends, etc.
Thanks to Faithful Workouts for providing us with a membership.