I'm always in the mood to look at timeless, well-made furniture.  Our family loves to browse furniture stores and antique shops for gorgeous pieces.  In fact, that's mostly what my husband and I did for the first few years of our marriage!  We even spent our honeymoon looking at the antique shops of Charleston, SC.  We went to our small-town auction every week, learning about history and furniture collecting.  So when I saw this gorgeous chest from HGTV HOME FURNITURE (retail value is $999) and had an opportunity to participate in the giveaway, it was a no-brainer!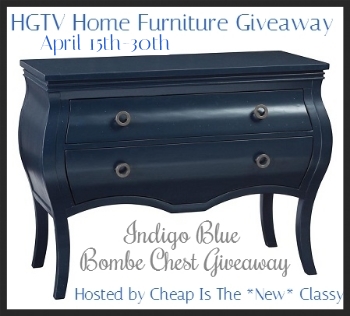 Cheap Is The *New* Classy is proud to host this awesome group giveaway, sponsored by HGTV HOME FURNITURE. HGTV HOME FURNITURE is providing a Bombe Chest in Indigo Blue for giveaway. If the winner does not want Indigo Blue, there are also several other color options to choose from.
The winner must live in the Continental US. This giveaway will run from April 15-30, and will coincide with the HGTV Smart HOME Giveaway.