Disclosure: I received this book to review. The opinions shared here are 100% mine.
In recent years there's been a huge shift from movies geared toward adults to books-turned-movies that appeal to teens, too. Teen fiction is taking hold in a bold new way, revealing fascinating yet terrifying ideas about the future.  Remember the days of 1984?  I do.  That book always seemed more than a bit creepy, albeit ridiculous with the walking/talking animals.  Books like The Hunger Games or Divergent don't seem so ridiculous to me, though, and that's maybe even more terrifying.  When I reviewed Aquifer, it gave me the same chill factor.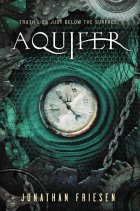 Okay, a brief overview is in order.  It's the year 2250 and the water supply is in high demand.  Luca has to find his way in a world where trust is an emotion he can't afford to show.  The mental images from this book were tough for me to conjure simply because I had so many books rattling around in my brain.  The story kind of reminded me of The Giver sprinkled with a bit of Divergent.  There's a little bit of The City of Ember thrown in for good measure, too.  The idea of having teens fight for their lives is not a pleasant thought, but Aquifer has a ring of truth that is probably what frightens me most.  I like the way that author Jonathan Friesen leaves this book open to any teen to read.  There's no profanity or sexual situation that makes me want to hide this book from my tween.  While that might make this story a bit soft for others, it makes me give Aquifer high marks.
Overall, this is a story that can really spark good discussion with teens.  Can they imagine a world where water is the most valuable resource?   How would they handle a survival situation?  Read this book with your kids and let the games begin.
Another book on my shelf this week is Claiming Mariah by Pam Hillman.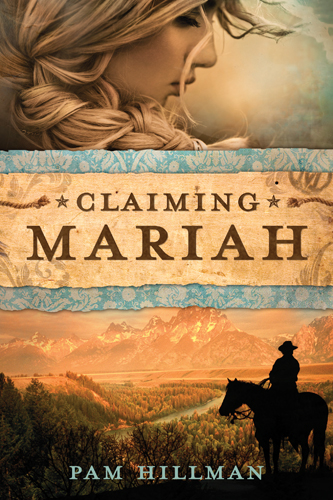 Fans of Western romance, dusty roads, and life on a ranch will enjoy this novel.  Although I didn't love it instantly, the story grew on me as the pages turned.  Near the midpoint of the novel, a pair of poverty-stricken children cross Slade's path.  Seeing his reaction to them, feeling his compassion for their obvious need, helped me to understand why he was such a fighter. I really  liked author Pam Hillman's writing style.  Her words were exactly how I pictured the conversations.  Realistic and honest, the story really pulled me in.  I also loved how Mariah explained the concept of charity to the two children that I mentioned earlier.  Truthfully, every gentle nudge of faith in this book just made me smile.  I enjoyed Hillman's description of the acceptance of grace.  Some people expect an earth-shattering event to take place.  The change is spiritual and therefore intangible.  It's still there, though, prompting us forward to continue to walk in the Lord's path.