Disclosure: Thanks to Hatfield & McCoy Dinner Feud for providing us with tickets. We enjoyed it! Groupon referral links are used; opinions shared are mine.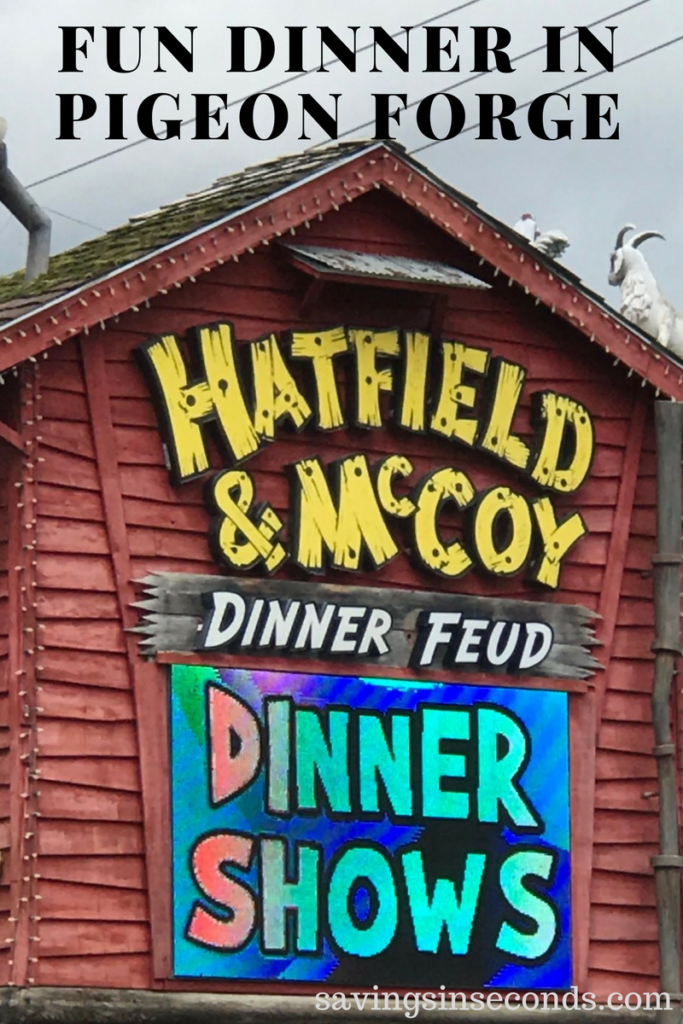 Every time we drive through Pigeon Forge, my kids ask if we can go to the Hatfield and McCoy Dinner Feud. The building is so eye-catching, you can't miss it!  We were grateful to receive deeply discounted tickets to attend the dinner show this weekend.  The show was scheduled to start at 5:00 pm; make sure you arrive at least 45 minutes early.  I advise going at least an hour early so that you have time to enjoy the atmosphere before heading in for the show!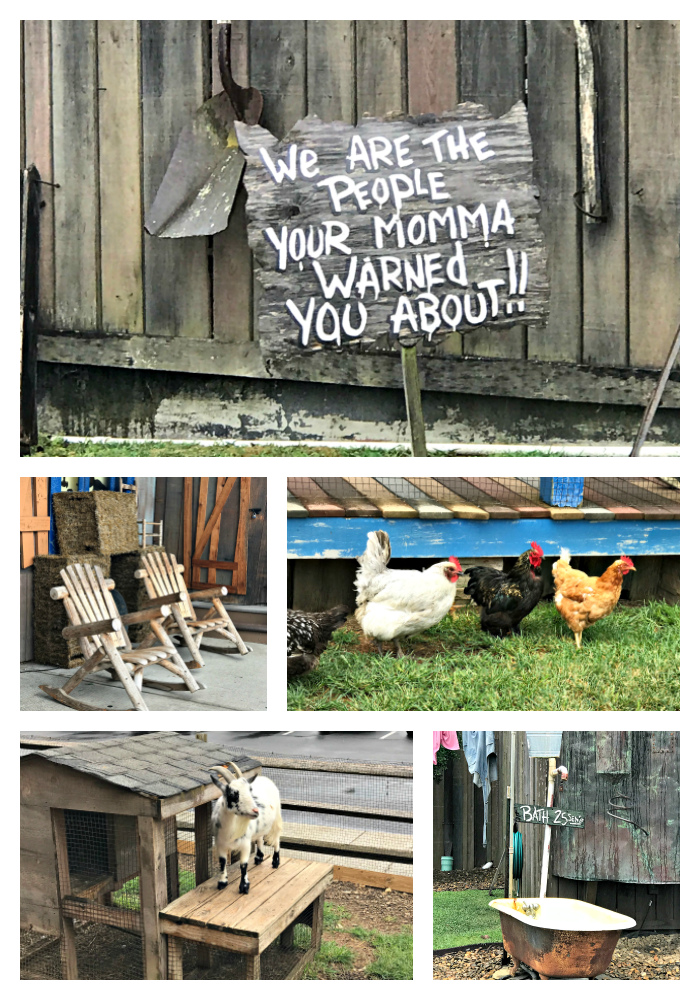 You can tickets for the dinner show on many online sites.  Groupon offers a limited-time deal for $52 per ticket, but be sure to note the fine print.  Tickets are also available onsite.
Once you get your tickets, head outside.  You'll find plenty of areas for photos and fun.  "Set awhile" on a rocking chair or enjoy the antics of the clucking hens and ornery goats. The music playing is just a prelude to what you'll enjoy in the show. My kids loved seeing the rusted cars, animals, and funny signs.  There are many chairs on the porch, which was helpful since there was a good drizzle.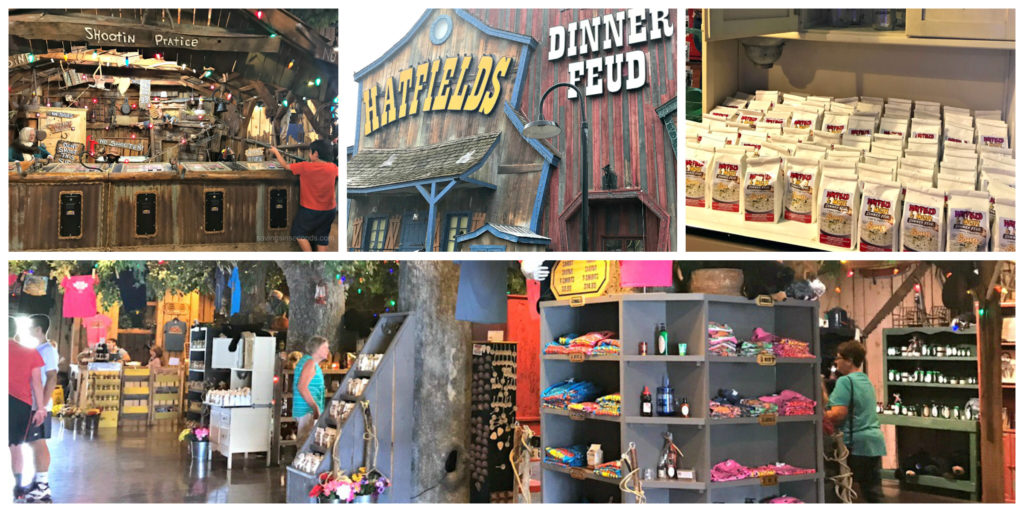 Make sure take some time to shop around!  Inside you'll find a well-stocked store full of souvenirs to take home to all your friends.  You'll want at least one bag of the creamy vegetable soup — it's amazing!  The store has so many funny iconic hillbilly items like corn-cob toilet paper.  There are many tasteful gifts as well, including candles and home decor.  My kids wanted t-shirts and such.  There is an unusual aquarium with an eel that my kids couldn't stop watching. My son also played a few rounds at the "Shootin' Practice" range.  Before you head into the theater, you can have a family photo made.  It will be brought by your table just a few minutes later ($20 for photo only, $40 with DVD of the night's show.)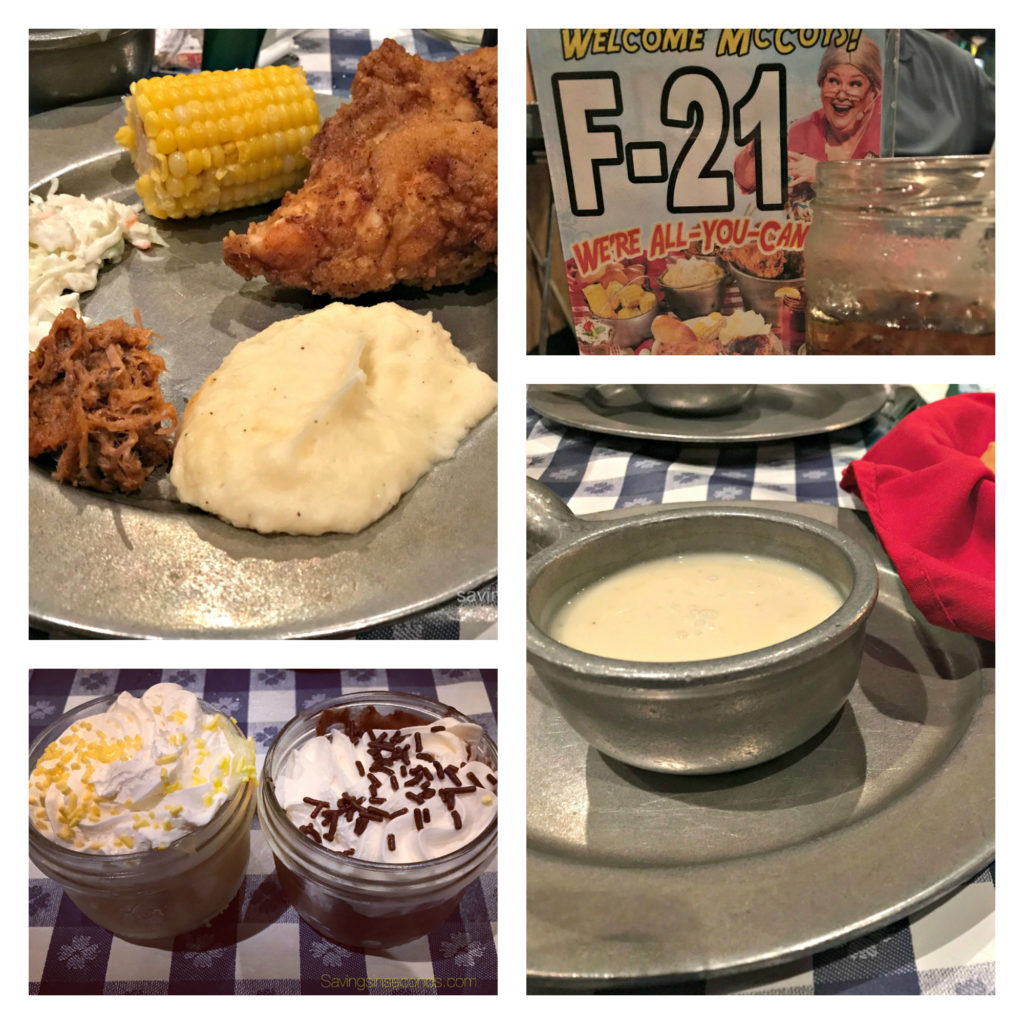 We were in line at 4:15, which was 45 minutes before the feud started.  Within moments we were whisked to our seats at table F-21.  I don't think there's a bad seat in the house.  Each row is seated high enough that the table below isn't even visible, so you're not looking over strangers' heads.  A basket of delicious rolls were waiting at our table.  As we were seated, our waiter took our drink order and delivered the hot, creamy soup, then brought literal buckets of food so we could eat family-style.  Servers walked around the auditorium offering adult beverages, so if you prefer moonshine or beer, you'll be pleased to have that with your meal. Otherwise, soda and tea are offered.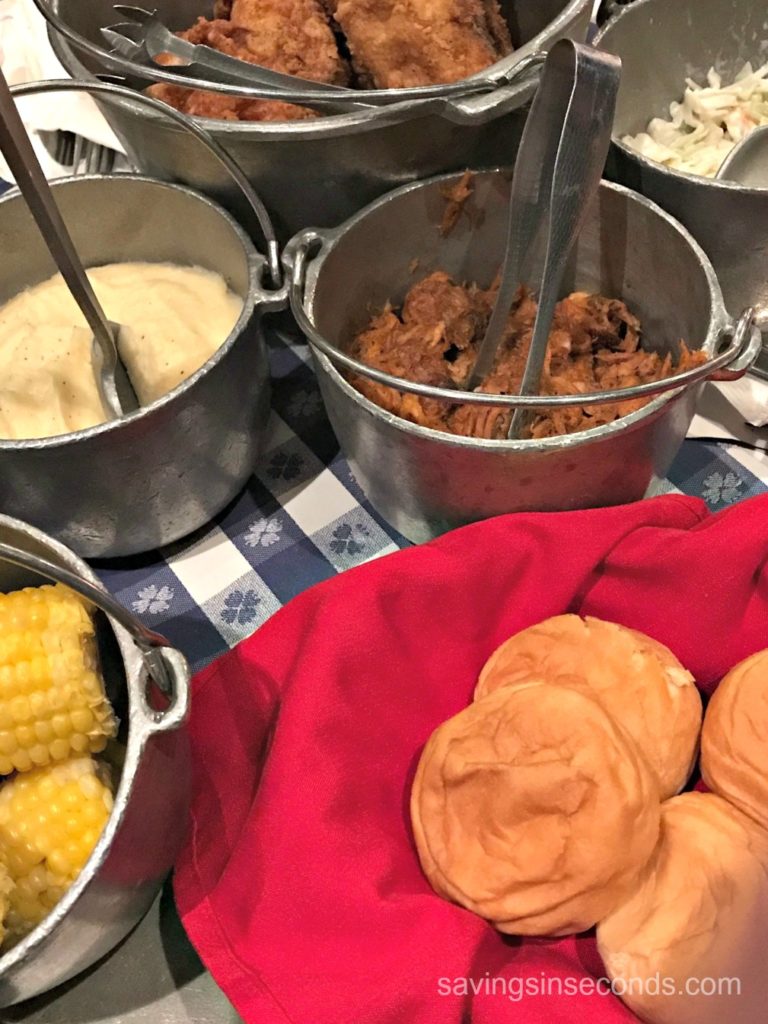 Our table was loaded with fried chicken, barbecue pork (the waiter called it "squirrel"), cole slaw, corn on the cob, and mashed potatoes. The fried chicken was a hit with our family, and everyone loved the mashed potatoes!  I was surprised they didn't have baked beans, especially since that's part of the in-show humor later.  There were screens on each side of the stage where funny quips were posted.  As people finished eating, a Kiss-Cam started up with hilarious reactions from the audience.  The pre-show hour was almost as funny as the show itself!  Our meal wrapped up with our choice of chocolate or banana puddings.
There is no intermission during the show itself, so the "mayor" gave us time to visit the restroom after our meal.  Since we'd finished eating, our waiter left the dining area.  I was glad we set out the tip before he left!  A note about gratuity — tips are NOT included in the price of the Hatfield & McCoy dinner show tickets.  Plan to take about $4 cash for each member of your party to leave as a tip. Our waiter was very attentive and friendly.  We were happy to leave him a generous tip.
Once the show started, we were mesmerized. The lighting is great and, as I said, you can see everything!  The screens do not show the stage during the show.  Now, you should know that the show is not historically accurate. It's more of a funny spin-off using legend and imagination.  We were really impressed by the music and dancing. Several musical genres were represented including country, bluegrass, pop, and even gospel. The gospel songs at the end were my favorite!  It's hard to find entertainment that's truly family friendly, but this is absolutely clean fun.  It's also a challenge to find entertainment that appeals to both of my kids (ages 8 and 13) so it was great to see both of them laughing, clapping, and singing along with the performers.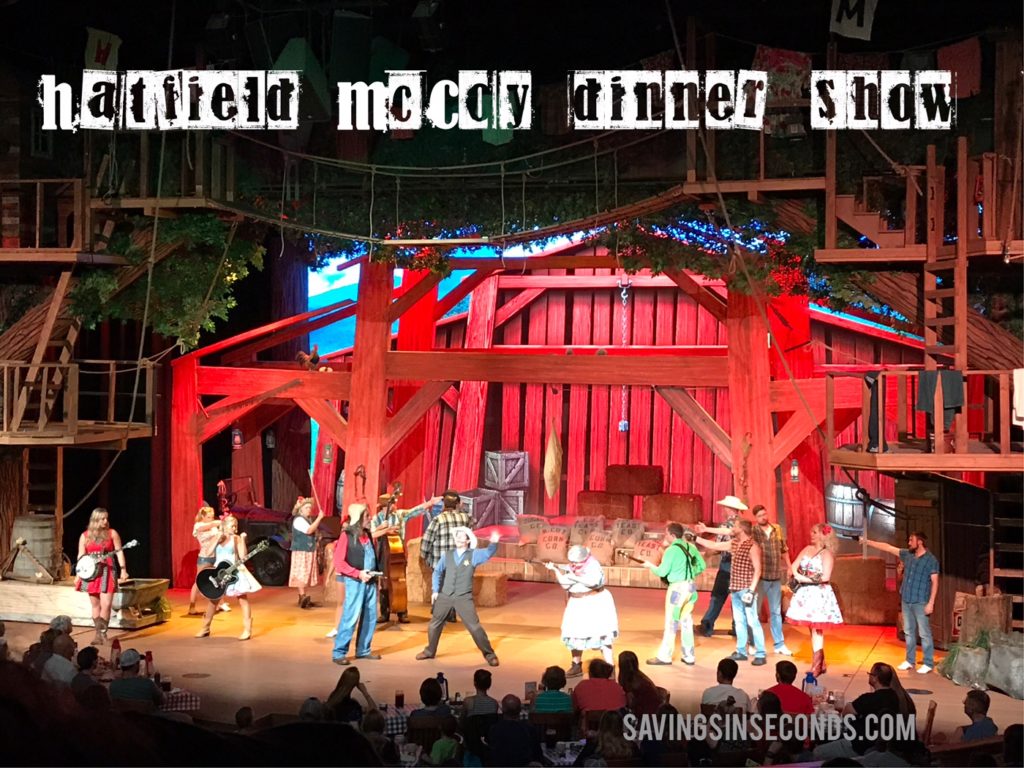 We've enjoyed dinner shows from many trips, but this was the best one we've seen anywhere. The entire event lasted about 3 hours.  As we left, the kids asked if we could come back! They also insisted that I buy some of the soup mix to take home.   We left the Hatfield & McCoy Dinner Show with smiles and chuckles.
Follow Hatfield & McCoy Dinner Feud!
Twitter: @hatfieldmccoypf
Facebook: hatfieldmccoy
Pinterest: hatfieldmccoy
Instagram: hatfieldmccoy
Google+: +HatfieldMcCoyDinnerShow
Would you enjoy seeing the Hatfield & McCoy Dinner Show? 
One lucky reader will win a $10 gift card — choose from Amazon or PayPal — by showing this post some love.  I'm paying for the giveaway prize.  It's open to INT readers who can receive the gift card via email.  Void where prohibited by law.  Enter on the form below. Good luck!
Thanks to Hatfield & McCoy Dinner Feud for having us over!