Disclosure: Litfuse sent me this book as part of the blog tour. Opinions shared are mine.
As a fan of Lisa Scottoline's legal thrillers, I really enjoyed Rachel Dylan's Deadly Proof.  Set in Atlanta, this story gives the reader a peek into the inner workings of a corrupt pharmaceutical company.  It's all Erin Brockovich kind of stuff, with hunky Landon James as a good side character.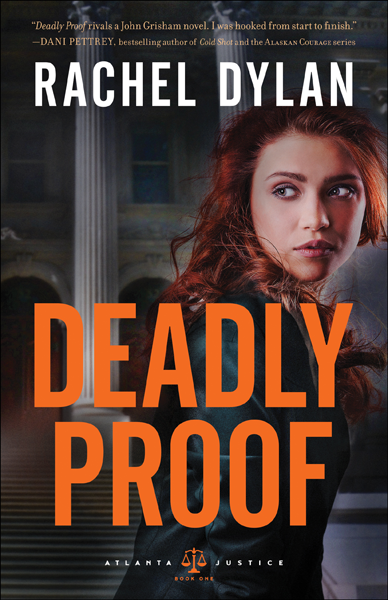 This story has a lot more than just legal suspense, though. It's about proving yourself, and others, that you're worthy.  Kate Sullivan must stand up for her beliefs and trust her gut.  We all know that's not easy to do!  To her credit, Kate is up for the challenge.  She took pride in her role as an advocate.  From the negotiating table to dangerous pursuits, she handled herself professionally and courageously.
I'm usually pretty conscious of triggers in books, since so many of my friends and students have "hot topics" they avoid when they read.  A few sensitive issues are brought up in Deadly Proof, including brain tumors and death.  If it makes you feel any better, though, Kate is a cat person!
Be sure to enter the giveaway for Deadly Proof!  5 winners will receive the book.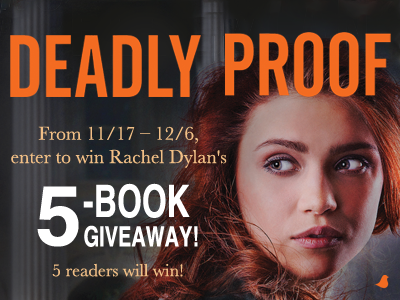 About the book:
Riveting new series offers legal suspense with a romantic twist
In the biggest case of her career, attorney Kate Sullivan is tapped as lead counsel to take on Mason Pharmaceutical because of a corporate cover-up related to its newest drug. After a whistleblower dies, Kate knows the stakes are much higher than her other lawsuits.
Former Army Ranger turned private investigator Landon James is still haunted by mistakes made while serving overseas. Trying to forget the past, he is hired by Kate to look into the whistleblower's allegation and soon suspects that the company may be engaging in a dangerous game for profit. He also soon finds himself falling for this passionate and earnest young lawyer.
Determined not to make the same mistakes, he's intent on keeping Kate safe, but as the case deepens, it appears someone is willing to risk everything-even murder-to keep the case from going to trial.
Rachel Dylan writes Christian fiction including legal romantic suspense. Rachel has practiced law for over a decade and enjoys weaving together legal and suspenseful stories. In addition, Rachel writes the Danger in the Deep South including "Lethal Action" and "Devoted Defender," which appeals to fans of edge of your seat romantic suspense. Rachel also writes the Windy Ridge series including "Trial & Tribulations" and "Fatal Accusation." These legal thrillers with elements of spiritual warfare are great for fans who enjoy books by Peretti or Dekker. "Trial & Tribulations" was a Selah finalist in 2016. Rachel lives in Michigan with her husband and five furkids-two dogs and three cats. Rachel loves to connect with readers.
---
Thanks to Litfuse for selecting us for this book tour!