Normally DIY projects turn out to be DIDon't for me.  I kind of gave up on the whole thing when I spent all weekend making a Martha Stewart-inspired cranberry wreath for my future mother-in-law.  I used fresh cranberries and toothpicks, stabbing them into the styrofoam  wreath form until my fingertips were raw.  My sweet mother-in-law was delighted with the gift and hung it on the front door.  We walked back into the house (I was more than a little smug with pride) just as we heard a loud splat-slash-bang.  We ran outside to discover that the meticulously tied ribbon bow holding the wreath on the door had ripped, causing the wreath to fall on the doorstep like a smashed pumpkin.  Grrrr….    Since then, I've just bought whatever was needed.  If it needed to look crafty, I bought it at Hobby Lobby or the Farmer's Market.
There was, however, one day when DIY could have been my initials. Notice that I say it was a day.  One.  It all started with the big wooden fire station set I purchased online for my son's Christmas gift.  One of our family's traditions is that Santa assembles at least some of the kids' toys before Christmas morning so they're ready for play.  I'll be up front and let you know that when "some assembly required" is on the package, it immediately gets passed on to the other Santa in the house because Mrs. Claus doesn't do assembly, she pays the elves to do it.   This time, though, Santa bypassed the big fire station box and opted for the other toys instead.  The fire station never even made it to the fireplace that morning!
Huh.  Not wanting to naggravate my husband, I just let the box sit there.  For WEEKS.  My son's birthday is in April and the box taunted me every time I passed it in its hiding place.  Finally, one day when my husband was out of town and I had nothing to do, I decided to put it together.  Once the kids were in bed I unpacked the box, which weighed at least thirty pounds.  There was no going back once everything was on the floor; it had to be assembled.  It took me all night but I finally got all three levels put together.  This was the finished product: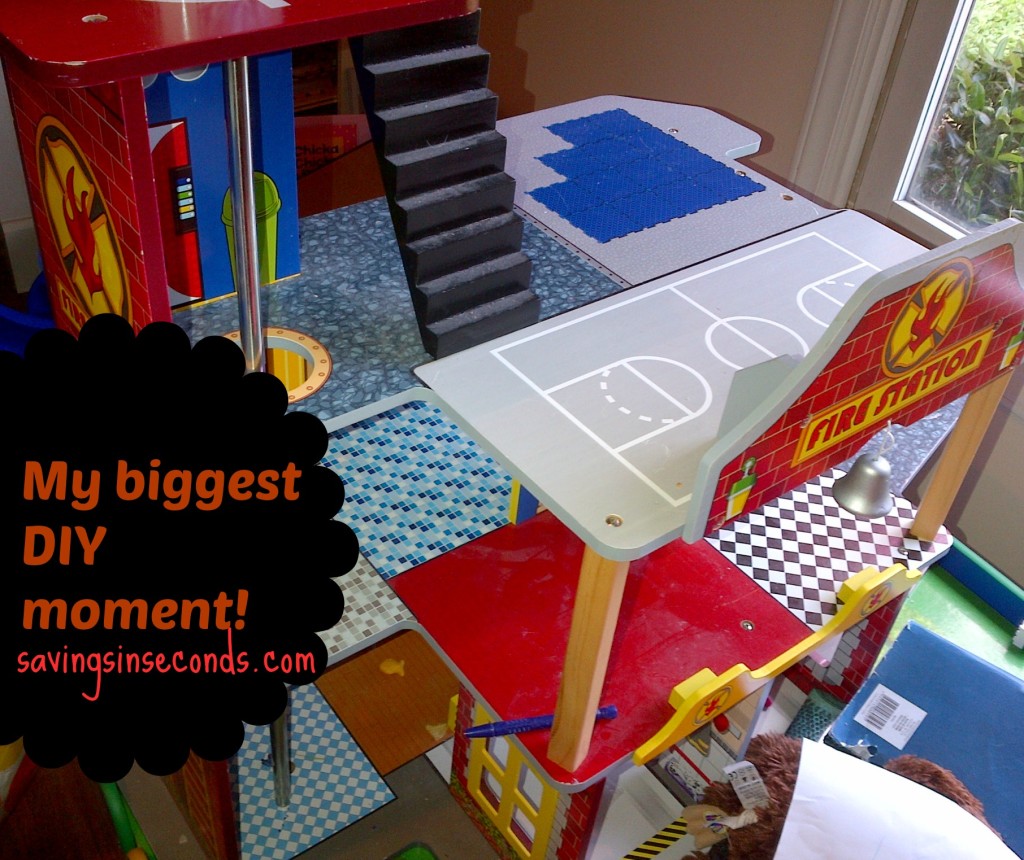 I set it out on the train table for my son to find.  He played with it for maybe 10 minutes.  Ten glorious minutes of fun.  My DIY moment was over but as you'll notice, we still use the fire station as a tiered makeshift coffee table.  It's a symbol of my determination to keep it all together.
I shared my DIY story, and now I'm entered to win a custom KitchenAid mixer! Find out how you can enter too at PartSelect !!