Just a few days ago, we celebrated Memorial Day. My daughter asked why Memorial Day is important and I tried to explain that freedom is never really free.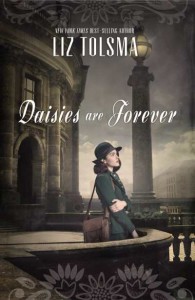 So many men and women sacrificed a great deal, even their lives, to ensure our freedom. One day is not really enough to say "Thank you" for that sacrifice, but it's a start. I come from a military family; my parents even met at a military base during the Vietnam war. I received Daisies Are Forever to review and decided that this was a great time to read it. The book was a huge reminder of the cost of war. In this book by Liz Tolsma, young Gisela fights for her life while protecting her charges.
Daisies Are Forever portrays the harrowing tale of a patched-together group of refugees. As I read, I couldn't stop thinking how grateful I am for the luxuries I take for granted every day. Sleeping on a mattress? Having food and water for my children? Not having to hide in a bomb shelter? Those situations would have been like heaven for those living in Germany in 1945. The realities that those families endured knew no age nor circumstance. Oh my goodness. This book was just too heavy for my heart. Tolsma has an excellent informational section at the end of the book that explains the history (and true stories!) behind the book. Knowing that the book was based on real people's experiences made it even more heartbreaking.  Some of the parts were just so vivid that I had to skim over them.  My mind knew that they were the truths of history, the horrors of war, but I just couldn't stomach it.   The atrocities that came to pass during WWII are now in the spotlight for the world to see, but has it really only been 70 years ago? Has mankind changed to be more accepting, more peaceful, more loving? I pray that it will be so.
The characters in this book are extremely well-rounded.  Although Gisela was quite young at the time of her escape from the Russians, she handled herself with great maturity and strength of character.  At first I didn't really understand why the groups stayed together; it would seem easier to split up into smaller parties.  Later it became evident that everyone just learned to help each other out.  Still, it seemed difficult when loyalties were divided and it wasn't clear who could be trusted.   I really struggled with the idea of being separated from one's children. This is probably my biggest worry as a parent. What would happen in an emergency if I couldn't keep hold of my kids?  What if I were injured and unable to get them to safety?  I hope that there would be a Gisela standing nearby, ready and able to offer a helping hand.
I enjoyed Liz Tolsma's other book called Snow On The Tulips as well.  Daisies Are Forever, in contrast, seemed more polished and sturdy.  If you like WWII stories, definitely check out Daisies Are Forever.  Just be prepared to give up at least a day because you won't want to put this one down!
Liz Tolsma's latest WWII historical fiction novel, Daisies are Forever, is getting rave reviews. 
". . . compelling and fast-paced tale about the atrocities and tremendous losses. . . ." —Library Journal
"Excellent storytelling, accurate historical reporting and gritty, persevering characters make this WWII-era novel a must-read." —CBA Retailers + Resources
Liz celebrating the release with a Kindle HDX giveaway!
One winner will receive:
A Kindle Fire HDX
Daisies are Forever by Liz Tolsma
Enter today by clicking one of the icons below. But hurry, the giveaway ends on May 31st. Winner will be announced June 2nd on Liz's website.
Don't miss a moment of the fun; enter today and be sure to stop by Liz's website on June 2nd to see if you won.