Disclosure: I received passes for the museum; opinions shared are mine.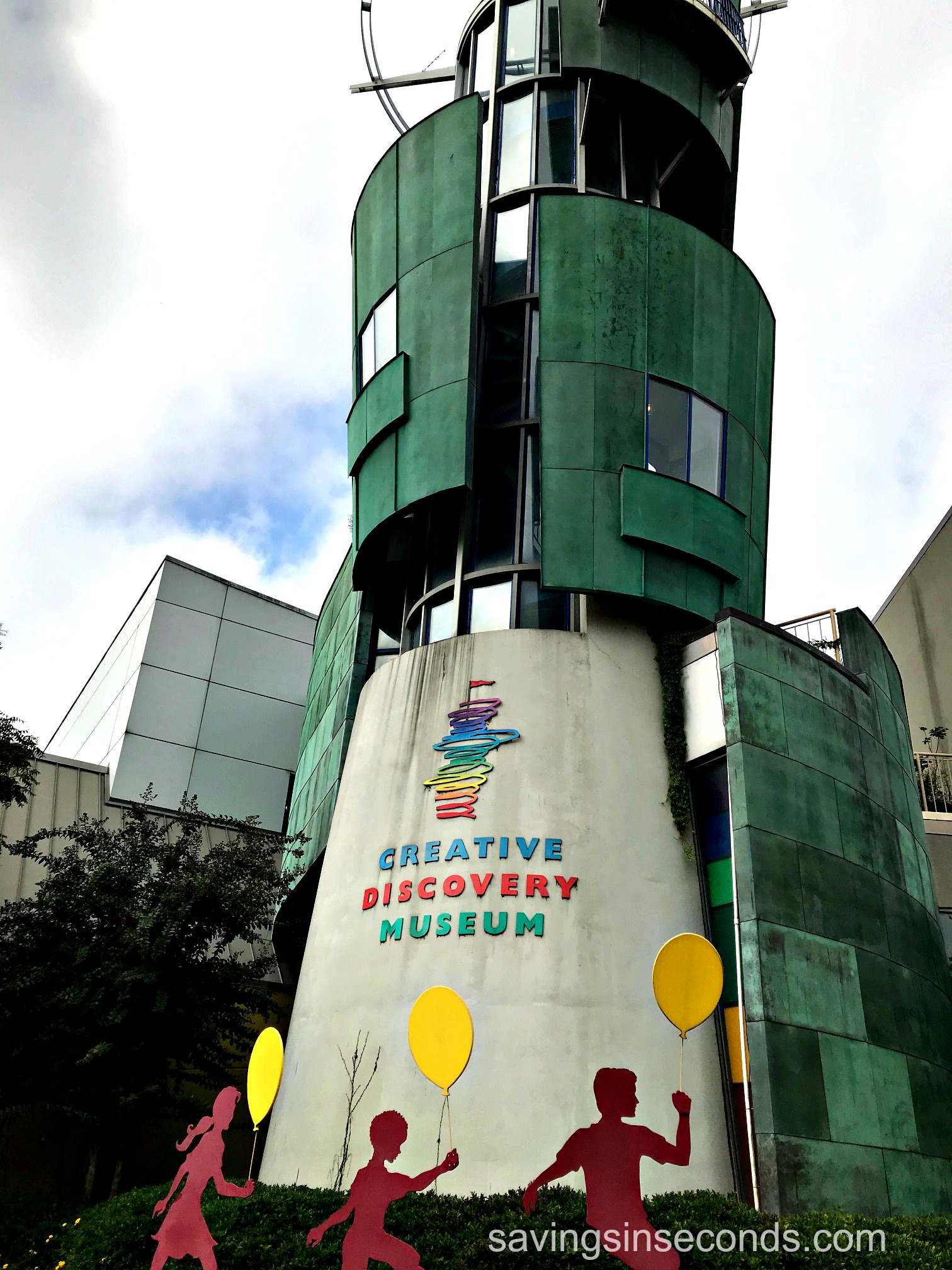 Now that we've crossed off the Christmas box on the calendar, let's start planning adventures for 2018!  During fall break, we had the chance to go to the Creative Discovery Museum located in downtown Chattanooga, Tennessee.  My last Chattanooga trip was 20 years ago, but I remembered taking my students to this children's museum. It was wonderful to take my own children there!  If you're starting to think about a spring break trip with the kids, here's why your family will LOVE the Creative Discovery Museum.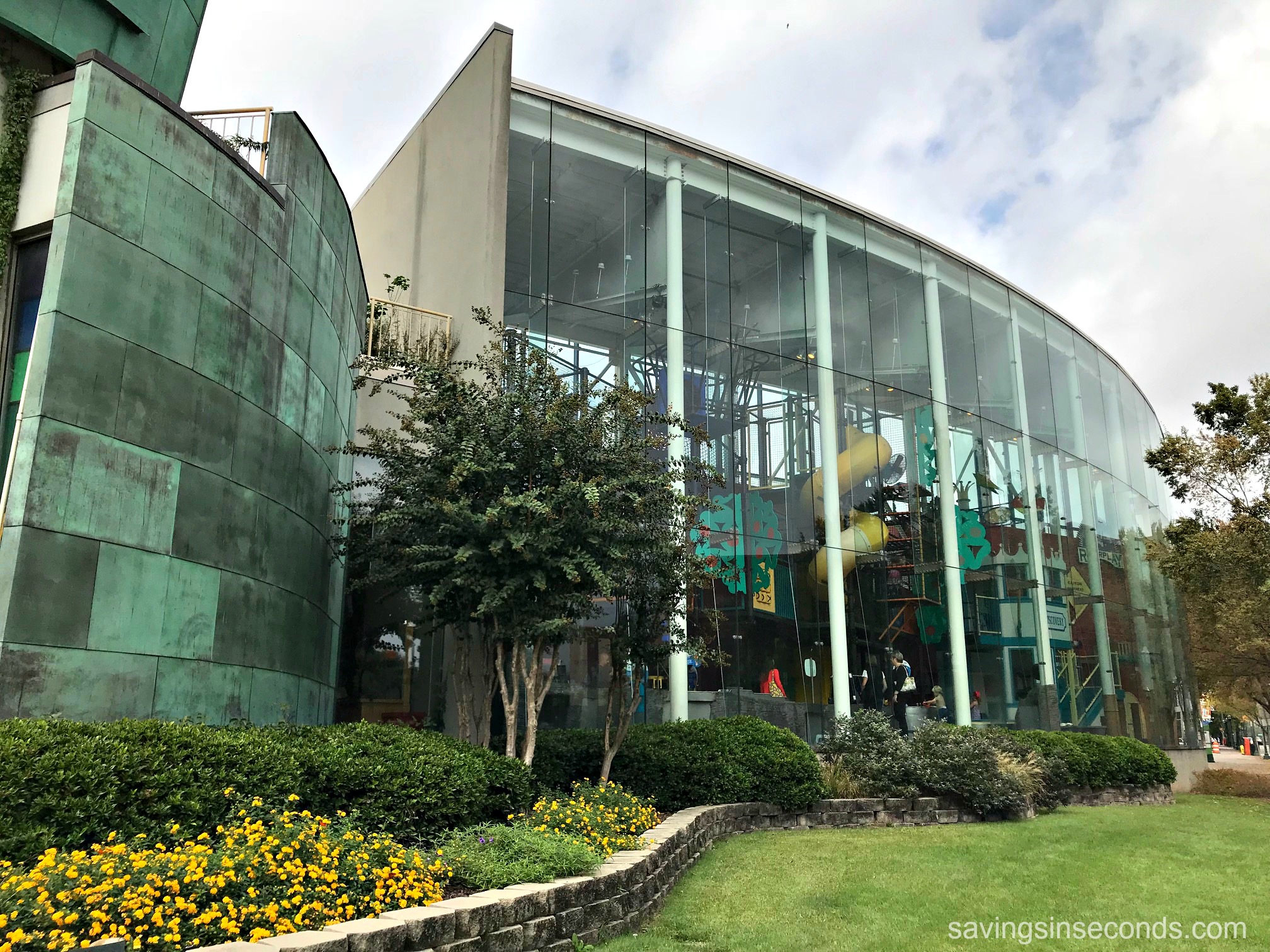 The museum is ever so easy to find downtown.  It's tremendously attractive from the outside. My kids saw these floor-to-ceiling glass windows and started cheering about going there.  We found an affordable parking lot just a block from the museum.  The hours were 9-5 and we arrived around 11.  Next time, I'll try to get there at opening just because there was so much to do. I felt like we were pressed for time.  We spent about 4 hours at the museum and could have really stayed all day.    Check out the exhibits list to see what I mean!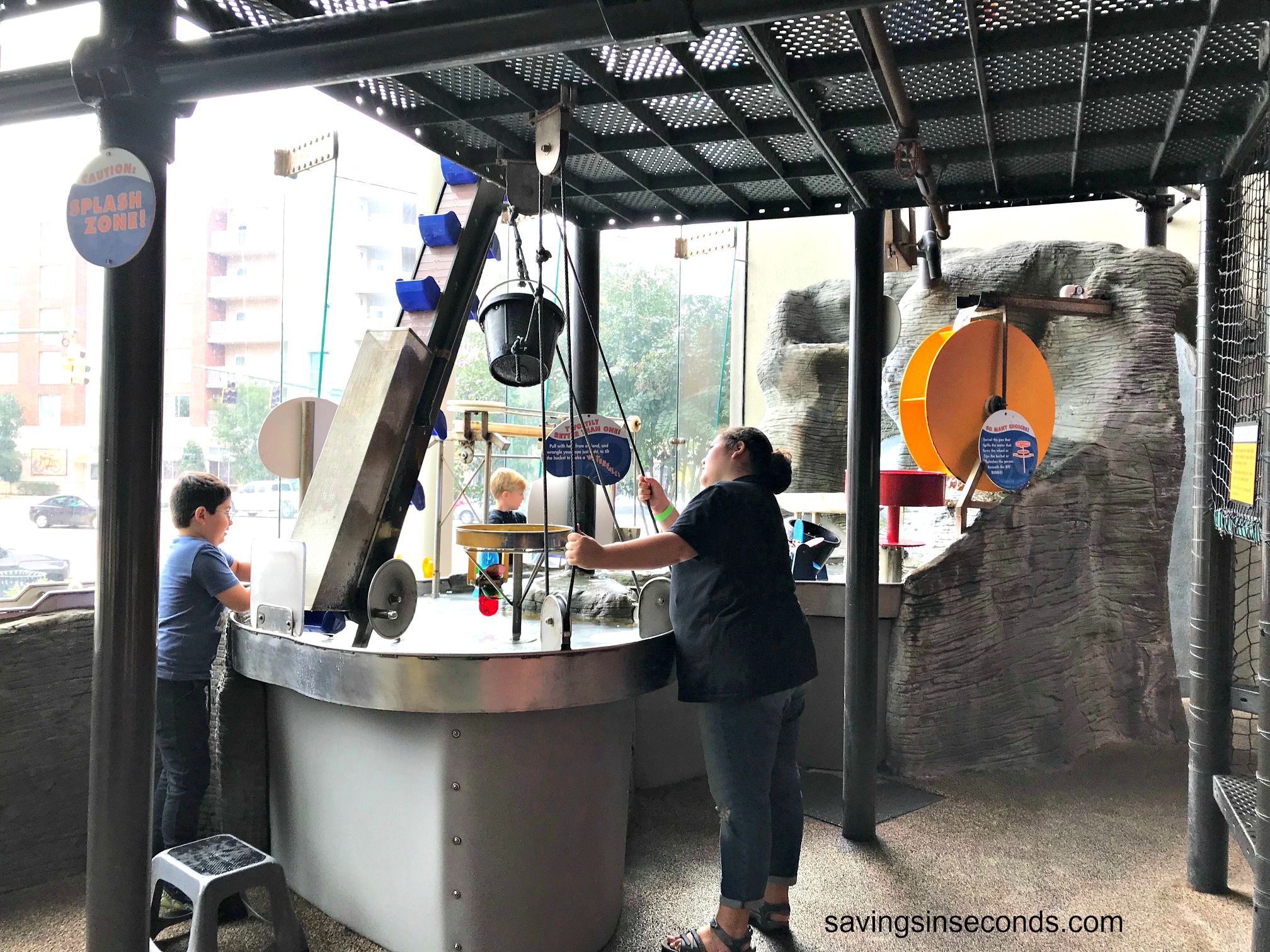 At the front entrance, there are fun little activities. Outside there's a stand-in bubble platform, statues, and interactive art.  My kids were keen to get in and play in this water feature, though.  It's incredibly huge; imagine a Chick-fil-A playground times ten plus water buckets.  There were adults playing, too.  I appreciated that there were kid-sized smocks and hand dryers nearby.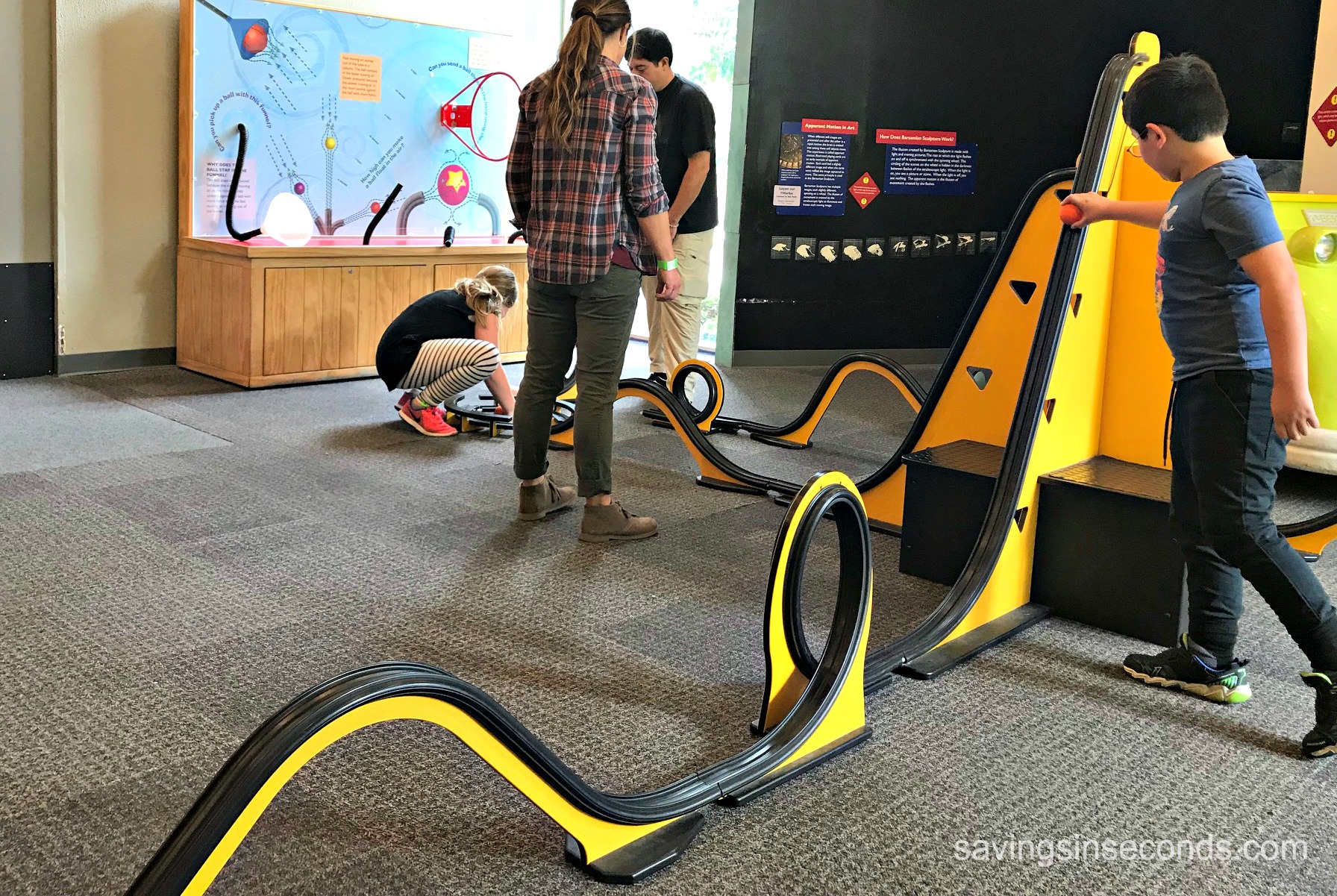 Once we made it past the water (which took a while, my kids were enamored!)  there were so many choices. Right? Left? Straight ahead?  It seemed that every corner had a new, interesting activity to pursue.  What I loved most is that EVERY activity was child-friendly.  Each learning station encouraged inquiry, trial and error, and hands-on manipulation of objects.  It was truly so engaging.  There are some benches for parents — not enough, really — but most parents were fully involved in helping their kids build and create.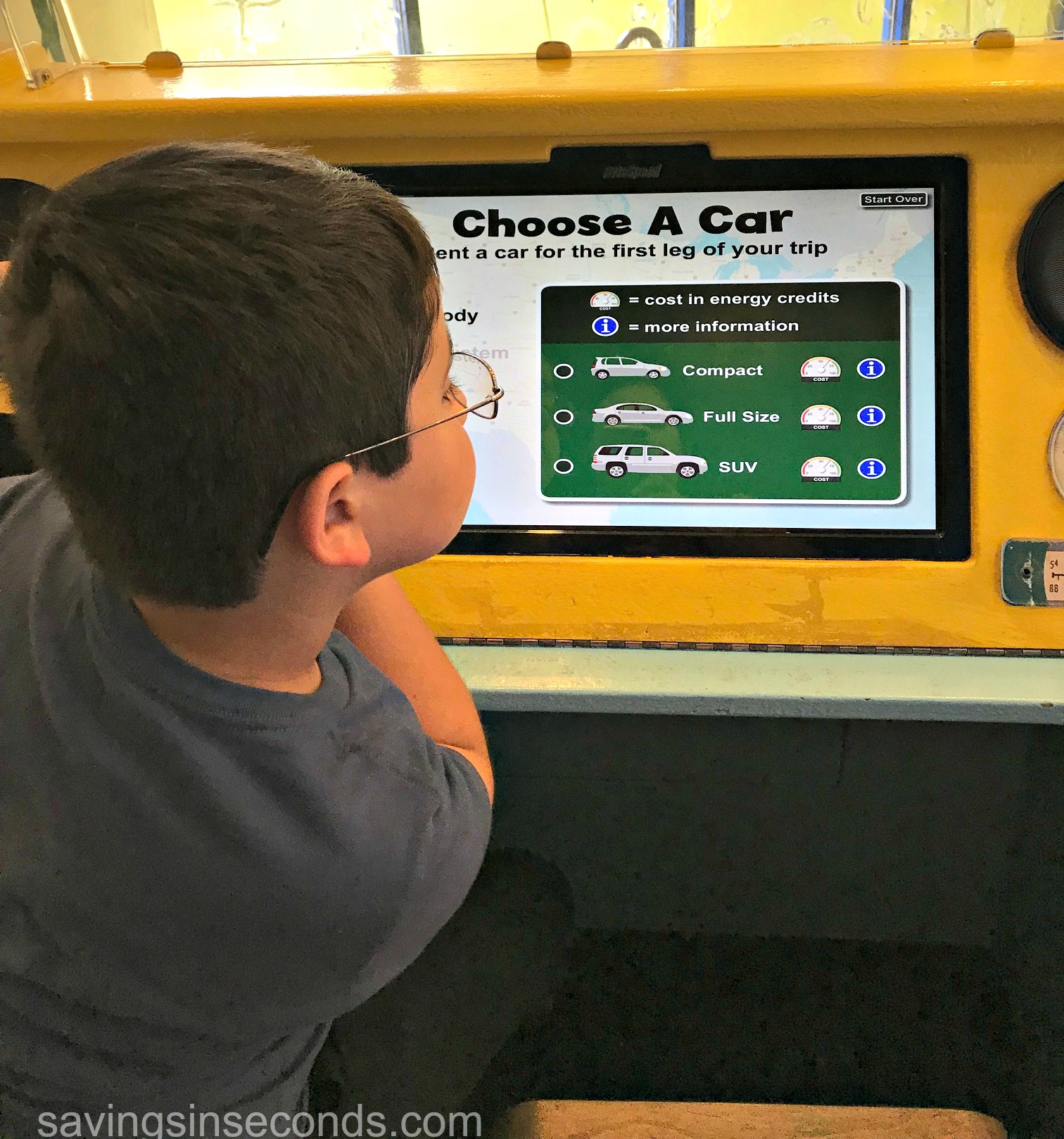 "Choice" is a big buzz word in education these days.  Allowing children to choose factors and evaluate outcomes is key in developing their own sense of prediction.  In this area, the Creative Discovery Museum really excelled.  So many of the exhibits were developed with choice in mind, so that kids have to decide what materials, directions, or tools to use for a desired result.  I also loved that there was enough room for everyone.  I never felt like we were being pushed out of a space, or that we were rushing someone else to finish.  Even though the museum was quite busy the day we visited, there was plenty to do for all.  My daughter is 13 years old and thought she'd be too old to enjoy this museum.  She was pleasantly surprised to find things she liked, from musical instruments to the science experiments.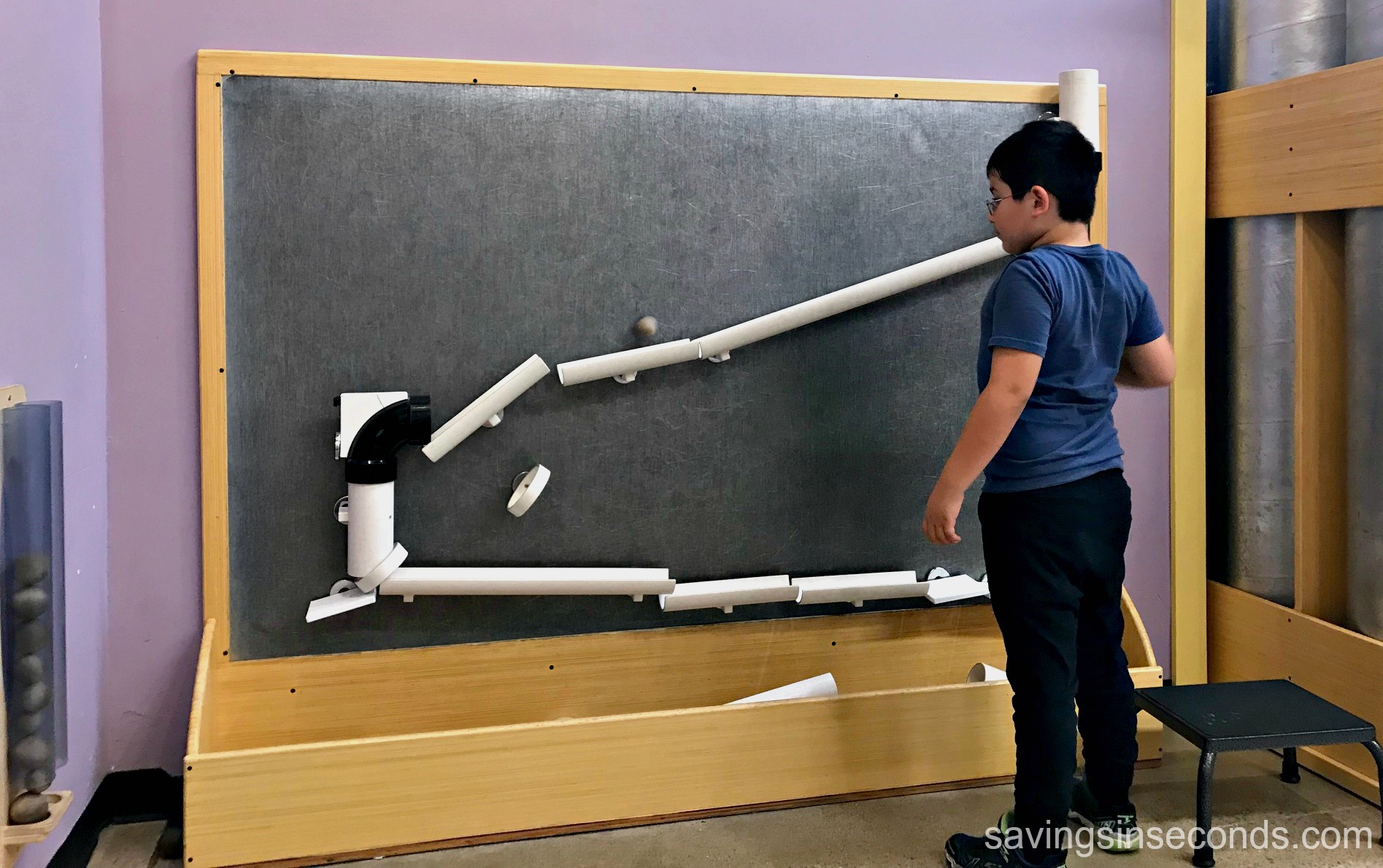 I took LOADS of photos as we walked through, but there are so many things to do and see…these photos just don't do the museum justice!   There were a few things I didn't know going in, and I wish I'd done a little more research.
 Listen to the announcements.  There was a culinary area where the kids were baking cupcakes, but we didn't make it there in time.
Allow enough time to go through all of the museum.  With so many exhibits, you might want to take a lunch break, then go back for more.  We really could have spent the whole day and, for the price, it's a bargain if you make a day of it!
Pack some quarters.  When you climb the stairs to the tower top, you're rewarded with a view of downtown!  Your kids will want to look through the view finder.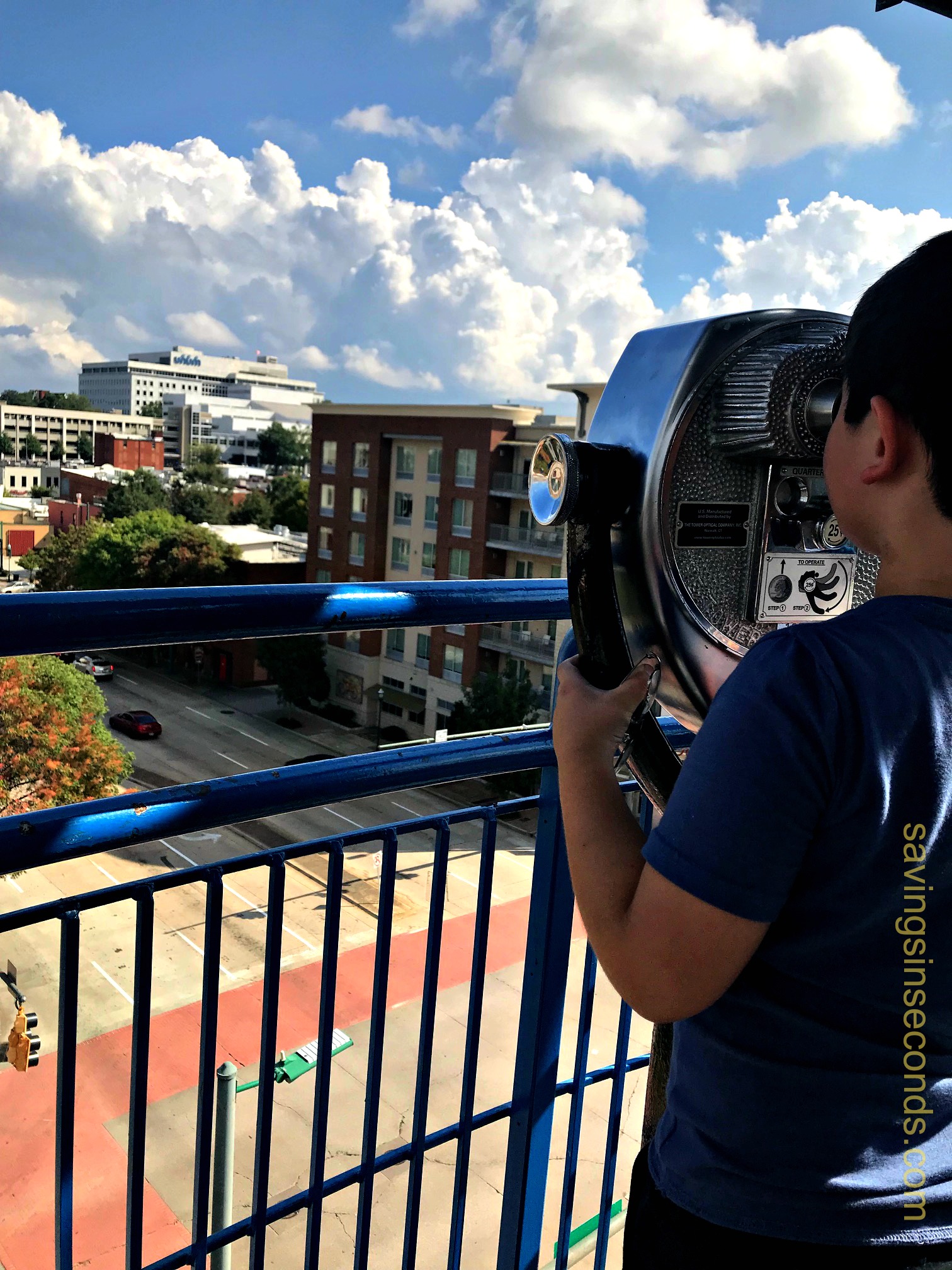 The museum is reasonably priced with tickets starting at around $14.  Many discounts are available, so be sure to check their website.  Also, make sure to look at the Special Events calendar to see if there's something going on when you visit!   This is a wonderful field trip location for school groups, too.
We'll definitely plan to visit the museum again when we're in Chattanooga.  My son absolutely loved his time there!   Many thanks to the Creative Discovery Museum for letting us visit.
Have you visited Chattanooga?