Disclosure: I'm excited to bring you this post from Yoplait Greek 100 Whips! The thoughts and opinions shared are mine.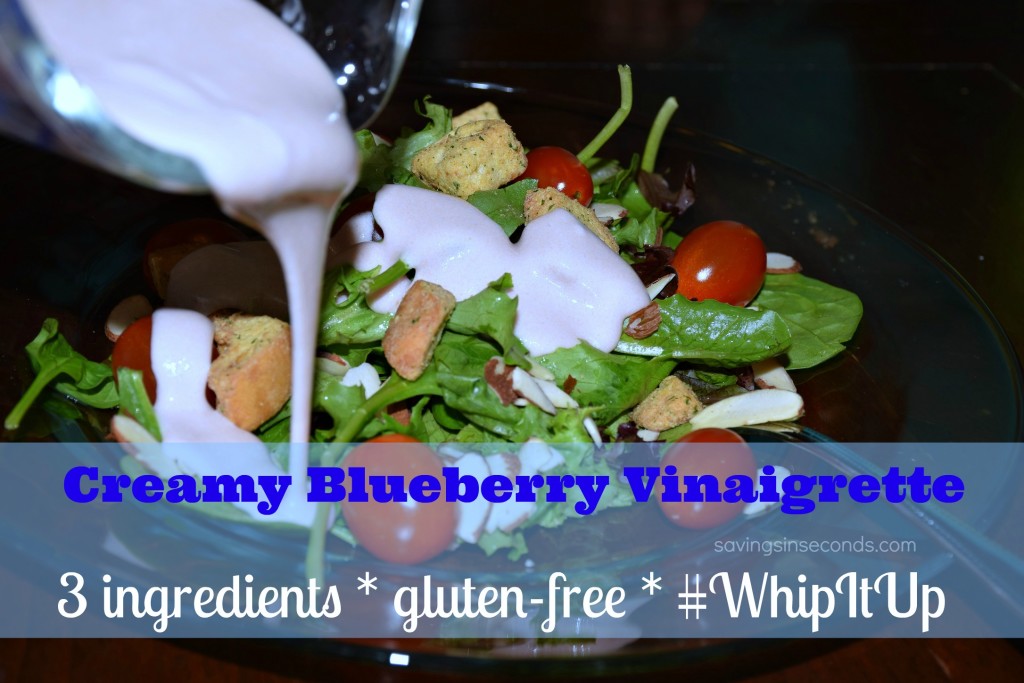 Remember that time when you opened the fridge and decided to eat the rest of that salad you made, only to find that you're out of salad dressing? We've all been there. Next time I'm in the mood for a fresh take on salad, I'll whip up this delicious, creamy vinaigrette using Yoplait Greek 100 Whips as the creamy base instead of buttermilk or mayonnaise. Sweet salad dressings appeal to me, but my regular poppyseed dressing has over 200 calories per 1-oz serving. Ouch! When I factor in the preservatives and other ambiguous ingredients, it's also hard to tell what I'm actually eating.  When my daughter saw the Yoplait Greek 100 Whips in the store, she asked it we might be able to make homemade dressing with it.  I thought that was such a great idea!  Three ingredients and about one minute went into preparing this delicious Creamy Blueberry Vinaigrette. My kids loved dipping croutons in it; I preferred it with raw veggies and greens.  In fact, our homemade dressing was so simple and scrumptious, I may never buy prepackaged dressing again!  Ready to get started?  First, be sure to click here for this printable coupon to get $1 off the purchase of 5 Yoplait Greek 100 Whips! 
Note:  Before you can print the coupon, you'll have to set up a free Publix account, or sign in to your current account.  The coupon is for one free Yoplait Greek 100 Whips! yogurt (size 5.3 oz).  The coupon is printable beginning on 3/15/15, while supplies last.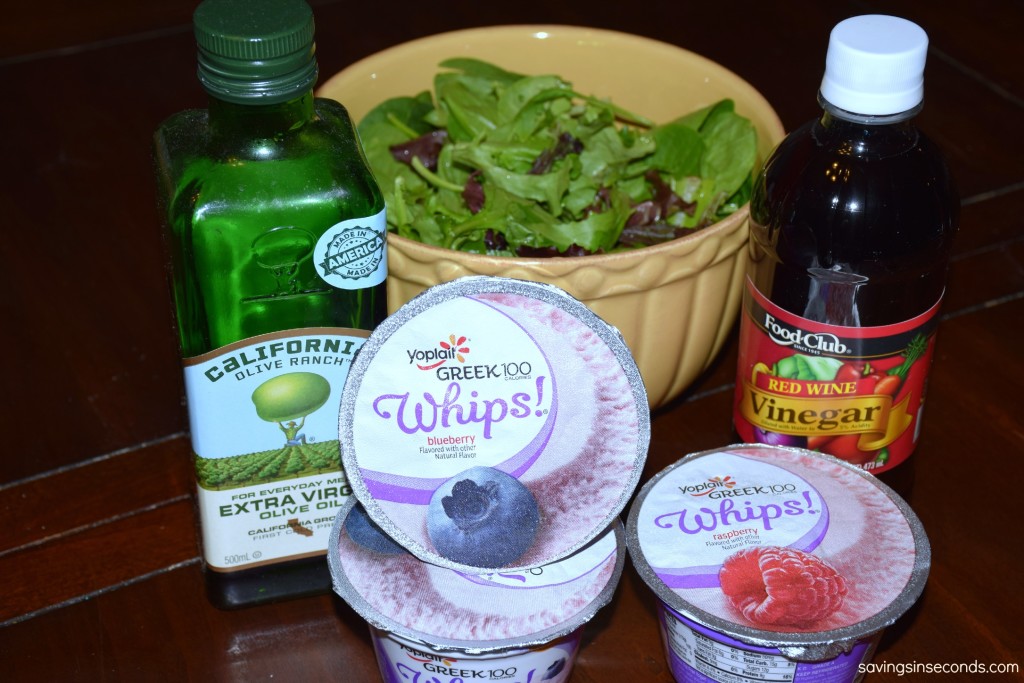 For this dressing, you need one package of Yoplait Greek 100 Whips! yogurt, 1 tbs olive oil, and 1 tbs red wine vinegar.   Now, are you ready for my very complicated process?  Brace yourself.
First, open the yogurt.  Note the fluffy goodness that is Yoplait Greek 100 Whips!  I used the blueberry flavor, but you could easily choose one of their other options. Would you be better suited for a peach dressing? I think raspberry, strawberry, and even cherry would be delicious alternatives as well. Note that this yogurt is gluten free.  That means that if you choose gluten-free versions of the other two ingredients, you could potentially have a GF dressing to grace your salad.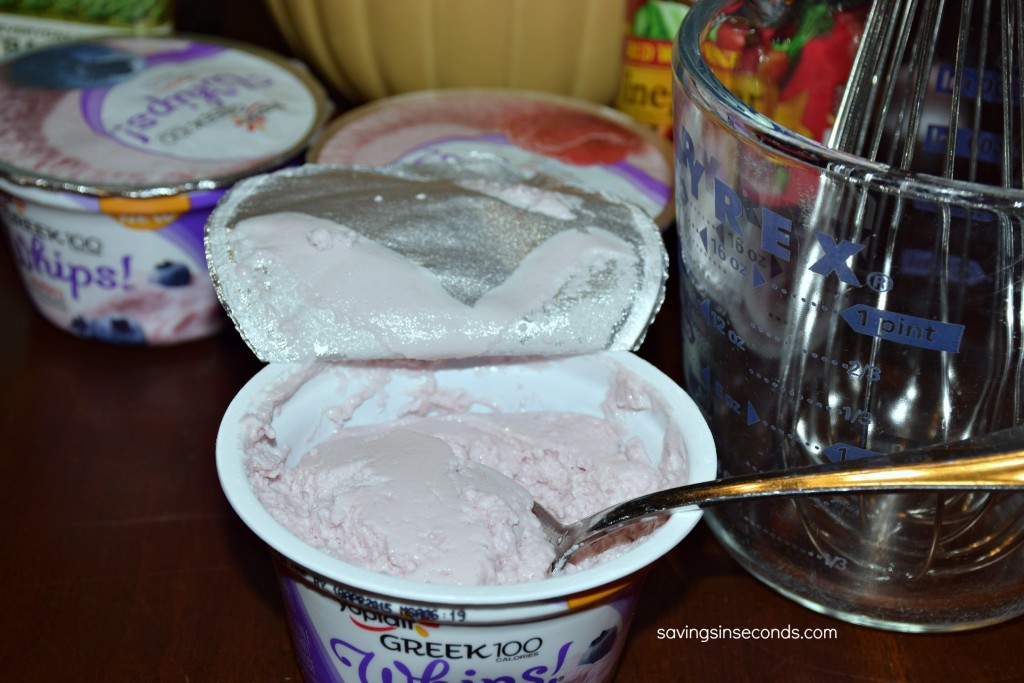 Now, add the splash of red wine vinegar and the tbs of olive oil.  You can afford to be a bit more generous with the red wine vinegar if you like your dressing a bit tangy. It's only 3 calories per tablespoon!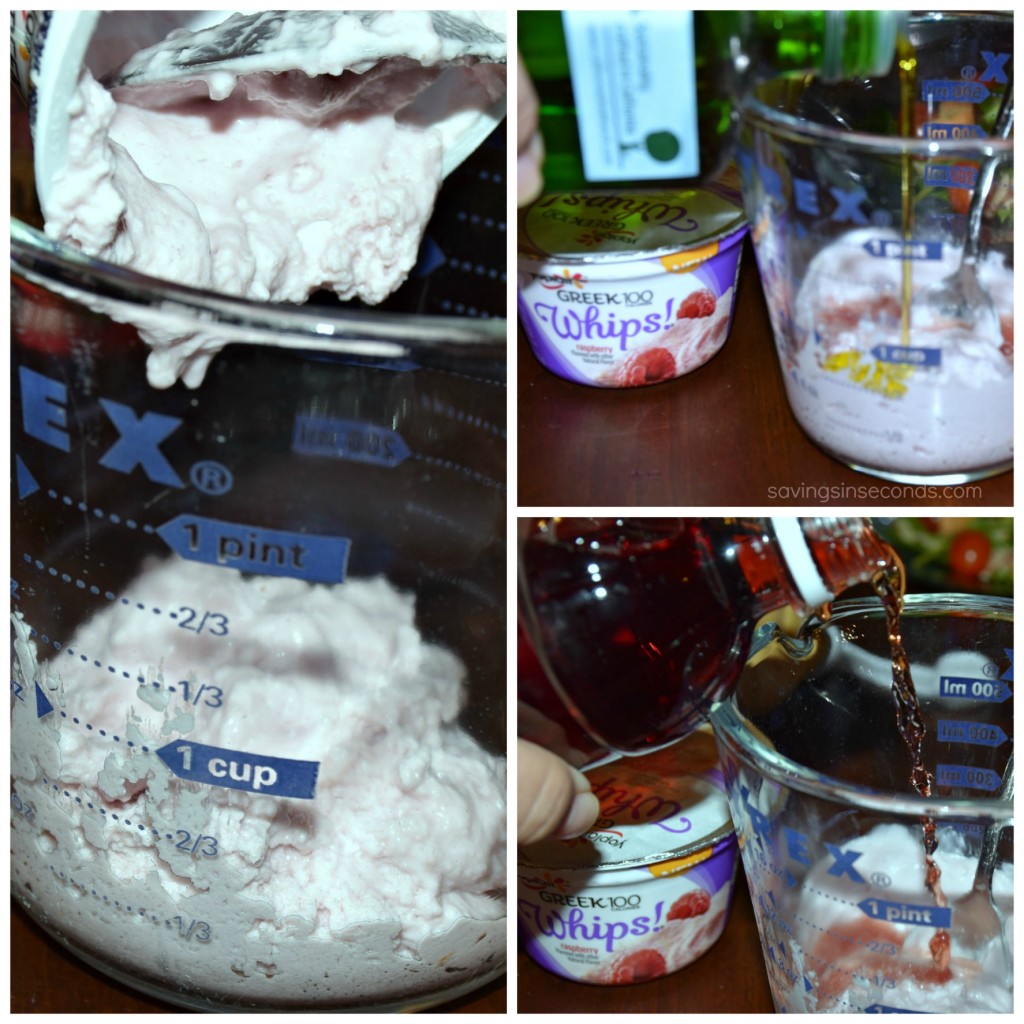 Give it all a stir with a whisk (or even a spoon, if you're in a real rush.)  Although it might look lumpy at first, it will smooth out to a creamy consistency in no time.  For my meal, I made a quick salad of baby sweet greens and spinach, then added sliced almonds, grape tomatoes, and a few croutons. Drizzle on the Creamy Blueberry Vinaigrette and relish the delight of your own homemade dressing, with a fraction of the calories!  Serve dressing on the side by pouring a serving into the empty Yoplait Whips container.  Obviously, I am not a dressing-on-the-side kind of girl.  I have no shame in pouring this dressing right on my my salad.   My recipe made enough for four salads, so this was approximately 56 calories per serving. Indulge without the guilt has become my motto!
Ready to enter the giveaway? Head down to the giveaway form below. The giveaway is open WORLDWIDE to readers ages 18+, as long as you can accept Paypal. Void where prohibited by law. The prize is $15 Paypal cash. Good luck!