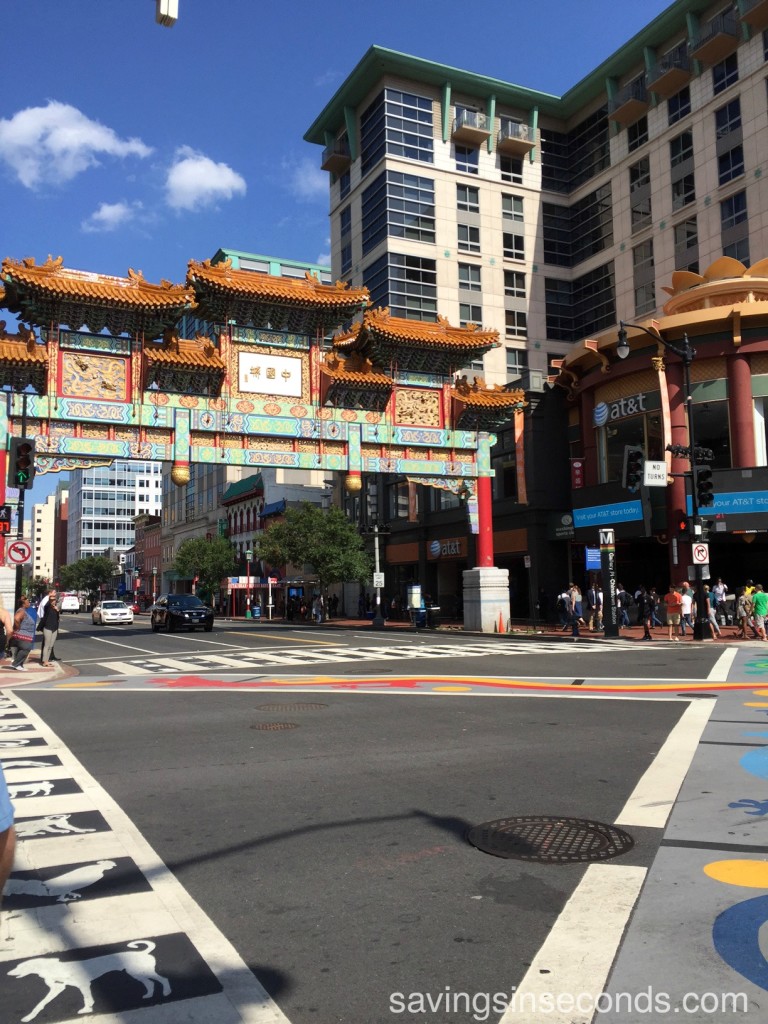 It occurred to me that lately I've been posting mostly book reviews, neglecting to share other topics that are usually popular on this blog.  My goal is to help you save time and money in a variety of ways, so I apologize for being so single-minded lately!   One thing I've been meaning to share — our trip to Washington, DC.  Over the summer, our family had the chance to take a long weekend in DC.  This was my first time getting to really see the sites (I was there overnight once many years ago, but didn't get to do much).  My kids had never been there at all.  I'll share our trip over a series of posts.  Our first evening, we walked about 3 blocks from our room at The Embassy Suites to Chinatown.
Just getting around town was a bit of an adventure for us! The concierge mapped out the basics, so we knew the direction we needed to head.  Along the way, there were some gorgeous fountains and high-end shops to admire.  The kids enjoyed simple things like the crosswalks. We don't do a lot of in-town walking at our rural home!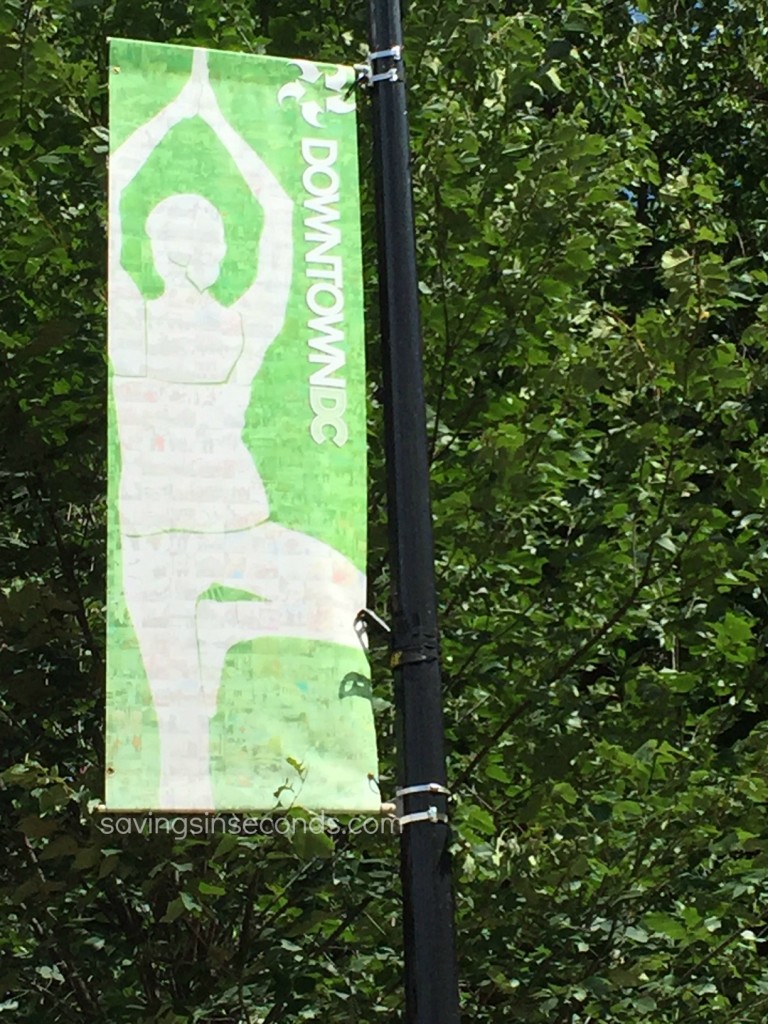 We had a really difficult time deciding which restaurant we'd try for dinner.  Clearly it was the time for Chinese food, but how to choose?  There were so many options!  Many of the restaurants appeared to serve authentic Chinese food, and I wasn't sure my finicky family would try much.  Trip Advisor was some help, since I could search by distance as well as reviews.  We finally settled upon a typical-looking restaurant called Ming's.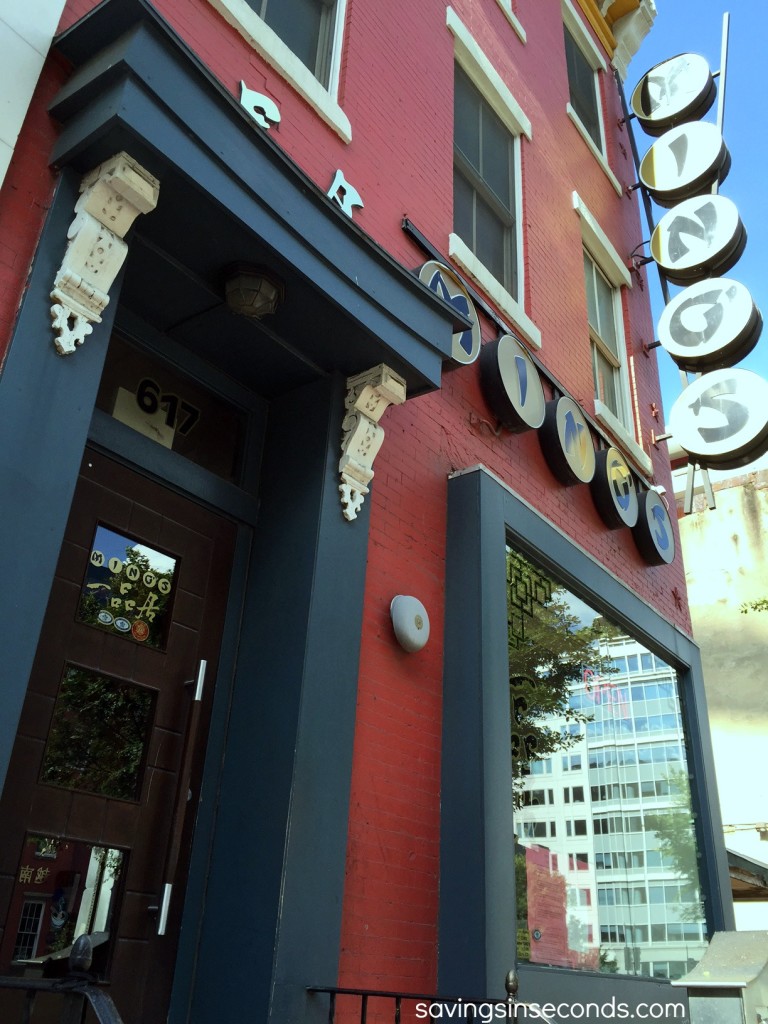 On the day we traveled, it was HOT and muggy.  The air conditioning inside Ming's was a welcome relief.  We'd been driving for about 8 hours, so we were really tired by the time we made it to the restaurant.  Upon entering, we noticed that all the tables were empty.  It was a little disconcerting, making me wonder if people avoid this place, but we allowed ourselves to be led right to our table.  The aroma of Chinese food was very strong — not unpleasant, just that distinct Chinese-restaurant smell.  The kids enjoyed looking at the beautiful aquarium inside the restaurant while my husband and I decided on our entrees.  The kids ordered lo mein (chicken for my son, beef for my daughter).  My husband, a vegetarian, had spring rolls and a vegetable platter.  I requested the cold sesame noodle appetizer as my meal.  Price-wise, the menu seemed to be on point with our local non-buffet Chinese restaurants.
Unfortunately, I completely forgot about taking any pictures by the time we made it to our seats.  The spring rolls and sesame noodles came before our entrees. While the rolls were delicious, I didn't really like the sesame noodles. I guess I'm used to an Americanized version!  Luckily, the entree portions were enormous.  My son couldn't finish even a third of his generously portioned meal, so I ate the rest of his delicious lo mein.  Of course, the meal wrapped up with some fortune cookies.  That's always the most fun part of a Chinese restaurant experience, don't you think?
Overall, Ming's was a good choice for us. We all left feeling full and refreshed.  The walk home wasn't as pleasant, as the sun was setting and the city night life was beginning to pick up.  There was a Walgreens just around the corner from Ming's, so we stopped to pick up some snacks to keep in the hotel room.  The kids were thrilled to find a serve-yourself FroYo station inside the drugstore.  They still talk about that evening!  It was a really good night for our first DC trip.
Have you traveled to Washington DC?