Disclosure:  Minted compensated me for this post. This post also contains affiliate links, and I will be compensated if you make a purchase after clicking on my links. Opinions shared are mine.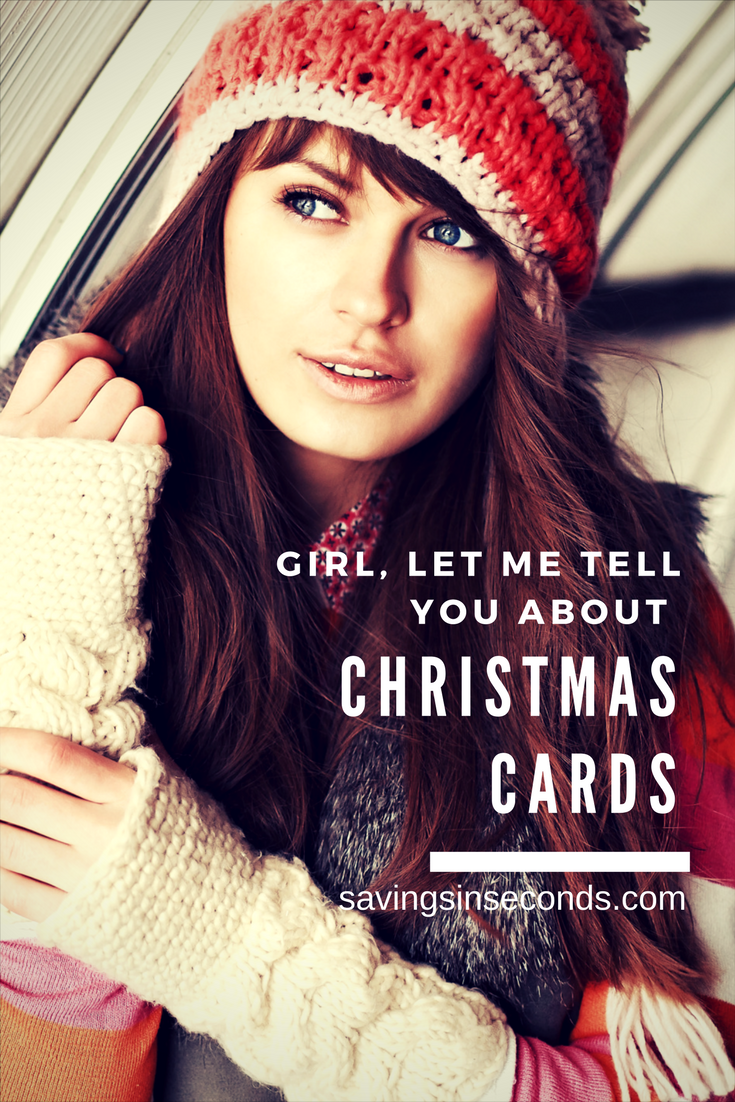 Last year I went through the whole portrait studio process and ordered 100 photo cards. We waited for an hour for them to be printed (which I thought was pretty fast) and I took them home. Since it was just September, the cards went right into the office cabinet….where they still sit to this day. That's right, I have 100 photo cards from last year that were never mailed. Why? The reasons are many….never got around to stuffing the envelopes, addressing the envelopes, or mailing them.  Why didn't anyone tell me about Minted?  Don't worry, friend  I've got the details about holiday cards for you!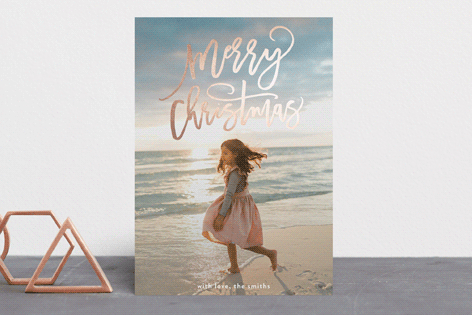 First, you need to find a decent photo on your phone.  Like a good marriage, it's best if the design and photo work well together.   My advice: Find the photo, THEN look for a card that you like. Don't try to go the other way around!   The photo doesn't have to be winter-themed, either.  As you can see, this beach scene makes a beautiful card!   Don't worry if the background isn't perfect; that's what editing is for. Crop out the hairy man who photo-bombed the corner of the shot.  If the kids wore mismatched colors, go for a black-and-white filter.  There are many ways to fix imperfections in photos.  Don't you wish life had a prettier filter sometimes?
Once you have a photo in mind, look for cards that will make that photo a standout.  Special details, like rose gold foil for the lettering, turn a card into a work of art.   Definitely check out the Top-Voted Card Designs.  I love the cards that have a blended background, or a white background that makes the photo really pop.  What are your favorites?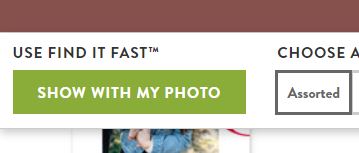 If you'd like to see your photo in multiple cards at once (because, why not?) find the "Find It Fast" button at the top left corner.  Your photo will appear in EVERY holiday card available.  You can peruse the designs all at once instead of going through the design process one at a time.  Such a time saver!

If you still can't design decide, no worries.   Minted is willing to be your BFF when it comes to holiday cards.  Text your photo and they'll style it into 5 different designs AND they'll add recipient addressing to the cards for free.  See, if this happened last year, my cards would have had a much better chance at getting out of my house!   My actual BFF doesn't have time to do squat, much less figure out which card designs I should use, so she probably appreciates that I found Minted, too.
Once you've uploaded your photo to the perfect card, don't be afraid to play with the design features.  Color options, card shapes, and even paper upgrades make your card unique and special.  I have a friend who created an ornament card one year; we still like to hang it up!
Many people like to include a chronicle of the year in addition to the requisite family photos.  This is a nice touch for your friends and family who don't get to catch up with you on a regular basis.  It's a cute way to update everyone about the major events of the year.  Still, you don't want the card to read like a board room briefing.  If you want to make yours stand out as a warm "Here's What's Up With Us" kind of greeting, consider adding some funny statistics about the family.  Ours might show some fun facts like:
5 teeth lost  *  $80 earned with report cards  *  8 campfires, 40 s'mores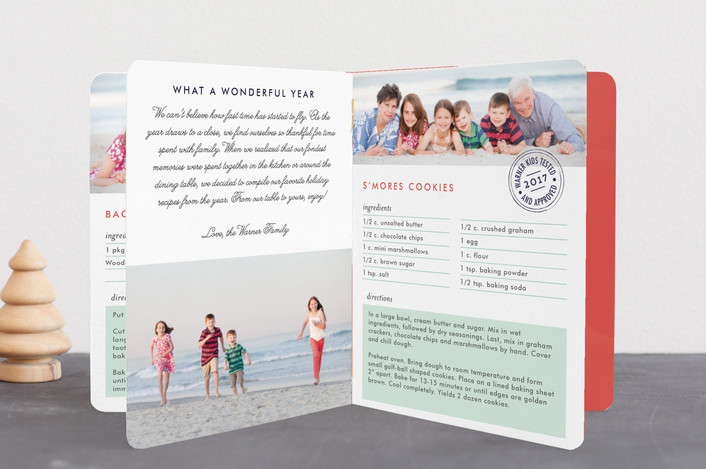 For really special recipients, a family card can serve as a thoughtful gift.  Minted goes beyond traditional cards with their Booklette options.  These are like mini-books that you personalize with text and photos.  What a wonderful momento to send to family and friends!  Fill the pages with recipes, poems, memories, or anything else you can think of.  This is a card your family will look forward to finding in the mailbox.
Now, let's talk about the promotions that are offered now through crunch time.   Sometimes the cash flow doesn't always coordinate with what the heart wants, right?  So take advantage of Minted's great deals with their Buy Now Personalize Later option.  You can snag the great deal now, then finish the personalization options later.  Now, that's a great deal!
Which cards do you love?
One lucky Savings in Seconds reader will win a $5 PayPal gift card as a thank-you for checking out the Minted holiday card options.  To enter, visit the giveaway form below. The giveaway is open worldwide to readers ages 18+. Void where prohibited by law. Good luck!
Many thanks to Minted for making this post possible.