Disclosure: I received this book to review; opinions shared are mine.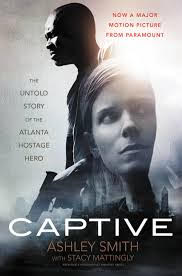 The Captive story vaguely floated through my mind when I started reading the book. It seems that I'd heard the headline in a newspaper or newscast. The Captive book and movie are based on the true, harrowing experience of a young woman named Ashley. She's quite the unlikely heroine, to be honest.
Ashley wasn't the mother of the year, struggled with recurring drug addiction, and seemed to make one poor choice after another. She wasn't my favorite character in a book, but I still didn't want anything bad to happen to her. As I read her story, it dawned on me that it really didn't matter what I thought of her. God loves her, and thought her worthy of His grace, therefore I need to put aside my prejudice.
I don't want to give away too much of the story; however, you need to know that some major changes take place in the hearts of the Captive characters. It's a meaningful lesson to be learned within these pages. Captive will make you stop to think about your own life. What's your purpose? Have you followed it?
One lucky reader will win a copy of the book Captive. To enter, be sure to read the guidelines from the sponsor (FlyBy). The giveaway is open to US/CAN readers, ages 18+. Void where prohibited by law. Good luck!