"Disclosure (in accordance with the FTC's 16 CFR, Part 255: "Guides Concerning the Use of Endorsements and Testimonials in Advertising"): Many thanks to Propeller Consulting, LLC for providing this prize for the giveaway. Choice of winners and opinions are 100% my own and NOT influenced by monetary compensation. I received a sample of the product in exchange for this review and post. Post contains affiliate links."
It's a beautiful snowy morning here in east Tennessee. We sat watching the snow fall outside while viewing the movie Captive, and I was struck by the dichotomy of God's glory battling against sin.  The snow covers all ground – no matter how desolate or beautiful.  Snow could cover a wasteland and still be breathtaking. Likewise, God's forgiveness can cover even the darkest of souls.  No one is above God's redemption.  The movie is based on the true story that was featured on my site a few months ago. It's a great reminder that God truly can work everything to His good.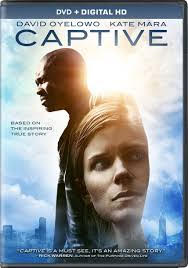 Having seen both the movie and the book, my preference leans strongly toward the movie.  The performances by Kate Mara as Ashley, and David Oyelowo as Brian, are superb. Considering that the story relies heavily on scenes that only include those two, it was imperative that they stay true to character. Oyelowo was entirely convincing as Nichols; his spiritual torment was vividly portrayed. I cannot say enough about the way these actors shined.  Side characters, including Michael K. Williams as the detective, provided excellent support as the story unfolded.  Even though I knew the outcome of the story, I sat spellbound as I tried to fight the fear that bubbled inside.  The movie retails for $19.99 for the DVD, and is $12.99 on Amazon Video.  Definitely worth the rental, in my opinion!
Although faith was a strong point in the book, it took a back burner in the movie.  I was disappointed that there wasn't a stronger emphasis on Ashley's unlikely ministry. In just a few short hours, Ashley shared her faith with Brian, and empowered him to stand strong as he faced the consequences of his terrible actions.  Her decision to finally give up drugs was a meaningful moment in the book, but wasn't truly celebrated in the movie.  I think this is because the book allowed readers to see inside Ashley's thoughts, while the movie was completely from a third-person standpoint.  At the end of the movie, we get to see some clips of the "real" Ashley, and find out what happened to the characters. It was a great way to wrap things up.
The movie has some violent scenes, and drug related content.  Because of this, it has a rating of PG-13.  Our 11-year-old daughter watched the movie with us, and it gave us a good opportunity to talk about the dangers of drug use.  I wouldn't hesitate to show this to teens.  I wouldn't, however, allow our 6 year old to watch it.  Captive has a profound message —- God can use anyone to do good works, and He can forgive anyone, too.
About the movie:
Based on a miraculous story about the power of faith, 
Captive
 is an "amazing, inspiring" drama about the spiritual collision of two lost souls, Brian Nichols (Golden Globe Nominee David Oyelowo), on the run from police and desperate to make contact with his newborn son, takes recently widowed mother Ashley Smith (Kata Mara) hostage in her own apartment.  Fearing for her life and desperately hoping to see her daughter again, 
she turns to Rick Warren's The Purpose Driven Life for guidance.
  Ashley and her captor face a crossroads where they discover hope and light in the midst of despair in the moving film that Dick Rolfe, CEO, Dove Foundation hailed as "powerful."
DVD Release Date: January 5, 2016
Runtime: 96 minutes
Rating: PG-13 (for mature thematic elements involving violence and substance abuse) 
There are over 30 minutes of bonus content on this DVD including Journey Through Darkness: Filming 
Captive
 and Faith and 
The Purpose Driven Life.  
Also included with this DVD is a Digital HD copy that can be instantly streamed and downloaded.
Tell me about a movie you enjoyed recently!