Disclosure: I received these books to review. The post contains affiliate links; opinions shared here are 100% mine.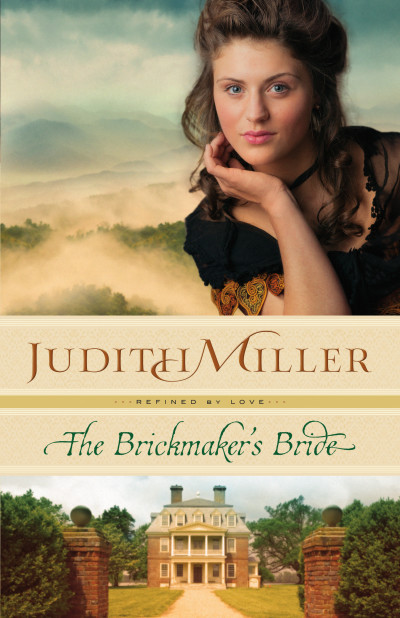 You just can't go wrong with Judith Miller's books. The Brickmaker's Bride is a great example of how Christian authors can take a tired topic and revive it with beautiful words and spunky women. The story reminds me of how lucky I am to live in an era where speaking my mind doesn't land me in house arrest.  In The Brickmaker's Bride, there are subtle references to faith that will revive your spirit as well.  For example, I love the part where Ewan explained why the burning bush symbol is important to him. Ewan was a Moses persona in the story, paving the way to success in a land and society that wasn't particularly accepting of what he had to offer.  There's a great pay-it-forward mentality in this book.
The Brickmaker's Bride is also a great reminder that hard work was the formula for success in a foreign land.  Although there are stories of pain in slavery, pioneering, and other New World endeavors, no one had success without a lot of hard work.  It's inspiring to remember that hard work still gets the same results in our modern day.  On the flipside, there are some things that haven't changed.  Many of the women in The Brickmaker's Bride live in a world of frivolity and shallow thoughts.  Having children is the only real contribution women are expected to make in life.   Aren't you glad we live in a whole new world?
Check out the Brickmaker's Bride and the giveaway below—you just might win!
Don't miss Judith Miller's latest novel, The Brickmaker's Bride. CBA Retailers + Resources raves, ". . . a wonderful story about faith and love throughout life's trials."


Judith is celebrating with a Kindle HDX giveaway and  a "Refined by Love" Facebook author event on November 4th.
One winner will receive:
A Kindle HDX
The Brickmaker's Bride by Judith Miller
Enter today by clicking one of the icons below. But hurry, the giveaway ends on November 4th. Winner will be announced at the Refined by Love Facebook Author Event. Connect with Judith for a fascinating evening centered around her new Civil War-era series. She'll be hosting a book club discussion, giving away prizes, answering your questions, offering an exclusive peek at the next book in the Refined by Love series, and much more!
So grab your copy of The Brickmaker's Bride and join Judith and friends on the evening of November 4th for a chance to connect and make some new friends. (If you haven't read the book, don't let that stop you from coming!)
Don't miss a moment of the fun; RSVP today by signing up for a reminder. Tell your friends via FACEBOOK or TWITTER and increase your chances of winning. Hope to see you on the 4th!